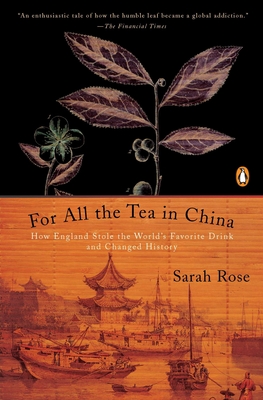 For All the Tea in China: How England Stole the World's Favorite Drink and Changed History (Paperback)
How England Stole the World's Favorite Drink and Changed History
Penguin Books, 9780143118749, 259pp.
Publication Date: February 22, 2011
Description
"If ever there was a book to read in the company of a nice cuppa, this is it." -The Washington Post In the dramatic story of one of the greatest acts of corporate espionage ever committed, Sarah Rose recounts the fascinating, unlikely circumstances surrounding a turning point in economic history. By the middle of the nineteenth century, the British East India Company faced the loss of its monopoly on the fantastically lucrative tea trade with China, forcing it to make the drastic decision of sending Scottish botanist Robert Fortune to steal the crop from deep within China and bring it back to British plantations in India. Fortune's danger-filled odyssey, magnificently recounted here, reads like adventure fiction, revealing a long-forgotten chapter of the past and the wondrous origins of a seemingly ordinary beverage.
About the Author
Sarah Rose is a journalist and author of the critically acclaimed For All the Tea in China: How England Stole the World's Favorite Drink and Changed History. As a journalist, Rose has covered a broad range of beats, including international politics and economics during the Hong Kong handover, finance and business during the end of the dot-com bubble, and the environment. She now writes about food and travel for the Wall Street Journal, Men's Journal, and Bon Appetit, among others.
Advertisement