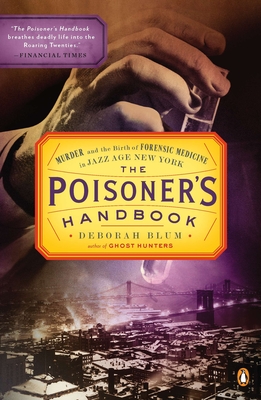 The Poisoner's Handbook (Paperback)
Murder and the Birth of Forensic Medicine in Jazz Age New York
Penguin Books, 9780143118824, 336pp.
Publication Date: January 25, 2011
* Individual store prices may vary.
Description
Equal parts true crime, twentieth-century history, and science thriller, The Poisoner's Handbook is "a vicious, page-turning story that reads more like Raymond Chandler than Madame Curie" (The New York Observer)

A fascinating Jazz Age tale of chemistry and detection, poison and murder, The Poisoner's Handbook is a page-turning account of a forgotten era. In early twentieth-century New York, poisons offered an easy path to the perfect crime. Science had no place in the Tammany Hall-controlled coroner's office, and corruption ran rampant. However, with the appointment of chief medical examiner Charles Norris in 1918, the poison game changed forever. Together with toxicologist Alexander Gettler, the duo set the justice system on fire with their trailblazing scientific detective work, triumphing over seemingly unbeatable odds to become the pioneers of forensic chemistry and the gatekeepers of justice.

In 2014, PBS's AMERICAN EXPERIENCE released a film based on The Poisoner's Handbook.
About the Author
Pulitzer Prize winner Deborah Blum is a professor of science journalism at the University of Wisconsin. She worked as a newspaper science writer for twenty years, winning the Pulitzer in 1992 for her writing about primate research.  She is the author of Ghost Hunters, coeditor of A Field Guide for Science Writers, and has written about scientific research for the Los Angeles Times, The New York Times, The Wall Street Journal, Slate, Psychology Today, and Mother Jones. She is the president-elect of the National Association of Science Writers and serves on advisory boards for both the American Association for the Advancement of Science and the National Academy of Sciences.
Praise For The Poisoner's Handbook: Murder and the Birth of Forensic Medicine in Jazz Age New York…
"The Poisoner's Handbook breathes deadly life into the Roaring Twenties."—Financial Times

"The Poisoner's Handbook is an inventive history that, like arsenic, mixed into blackberry pie, goes down with ease."—The New York Times Book Review

"Deborah Blum has not lost the skills of good storytelling she honed as a Pulitzer Prize–winning journalist." —Chicago Sun-Times

"Reads like science fiction, complete with suspense, mystery and foolhardy guys in lab coats tipping test tubes of mysterious chemicals into their own mouths." -- NPR: What We're Reading

"Fans of those TV forensic shows or of novels by Patricia Cornwell, Kathy Reichs or Jefferson Bass will find plenty to satisfy their appetites here." —The Washington Post

"Blum's combination of chemistry and crime fiction creates a vicious, page-turning story that reads more like Raymond Chandler than Madame Curie."—The New York Observer

"The Poisoner's Handbook opens one riveting murder case after another in this chronicle of Jazz Age chemical crimes where the real-life twists and turns are as startling as anything in fiction. Deborah Blum turns us all into forensic detectives by the end of this expertly written, dramatic page-turner that will transform the way you think about the power of science to threaten and save our lives."—Matthew Pearl, author of The Technologists and The Dante Club

"With the pacing and rich characterization of a first-rate suspense novelist, Blum makes science accessible and fascinating." —Publishers Weekly (starred review)