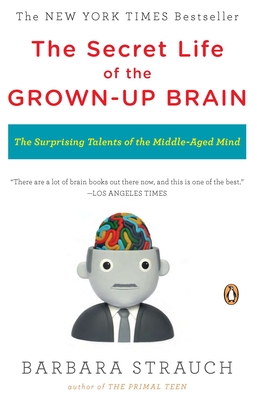 The Secret Life of the Grown-up Brain (Paperback)
The Surprising Talents of the Middle-Aged Mind
Penguin Books, 9780143118879, 256pp.
Publication Date: February 22, 2011
Other Editions of This Title:
Hardcover (4/15/2010)
Paperback (1/1/2011)
Paperback (4/1/2011)
Hardcover, Large Print, Large Print (9/1/2010)
* Individual store prices may vary.
Description
A leading science writer examines how our brains improve in middle age.

Pulitzer Prize-winning science writer Barbara Strauch explores the latest findings that demonstrate how the middle-aged brain is more flexible and capable than previously thought. In fact, new research from neuroscientists and psychologists suggests that the brain reorganizes, improves in important functions, and even helps us adopt a more optimistic outlook in middle age. We recognize patterns faster, make better judgments, and find unique solutions to problems. Part scientific survey, part how-to guide, The Secret Life of the Grown- up Brain is a fascinating glimpse at our surprisingly talented middle-aged minds.
About the Author
Barbara Strauch was a reporter and newspaper editor who directed health and science coverage for the New York Times for a decade. Prior to joining the New York Times, she had covered science and medical issues in Boston and Houston and directed Pulitzer Prize–winning news at Newsday. She was also the author of two books about the brain. Strauch died in 2015 at the age of 63.
Praise For The Secret Life of the Grown-up Brain: The Surprising Talents of the Middle-Aged Mind…
Praise for The Primal Teen by Barbara Strauch

"Provocative...A contender for every parent's reading list."
-Newsday

"Upends the longstanding belief that the teenage brain is largely complete, concluding instead that it is undergoing dramatic changes that can help explain what appears to be a gap between intelligence and judgement."
-The Hartford Courant

"This is such a smart book...Barbara Strauch acts as a world-class guide to a mysterious place, taking us on a journey through the teenage brain and making sense of the scenery. In turns funny, curious, explanatory, vivid, she does an absolutely compelling job of helping us to understand our children-and ourselves."
-Deborah Blum, author of Love at GoonPark: Hanny Harlow and the Science of Affection

"Through interviews with parents, physicians, neuroscientists, and teens, Strauch has compiled impressive insights about the nature of being a teen or the parent of one."
-Science News

"Entertaining as well as informative."
-Teacher magazine

"An intriguing look at cutting-edge studies that now tell us the brain is not finished growing in a child's early years but continues into the teens."
-The Plain Dealer

"Can knowing more about the teenager's brain help us to understand the teenager's behavior? Can an account of the neuroscience of adolescence be lively and readable? Barbara Strauch provides convincing evidence that the answer to both questions is yes."
-Judith Rich Harris, author of The Nurture Assumption: Why Children Turn Out the Way They Do

"Readers will be struck by the wonderfully candid comments by those interviewed as well as Strauch's insightful narrative."
-Publishers Weekly

"Strauch's well-researched book explains studies that were impossible, without such advanced technology as the MRI in clear, compassionate, layperson's language...A parents' must-read."
-Booklist

"Strauch [has]...a light, anecdotal style and a sense of humor. This is a very useful book...[These] are conclusions parents will want to consider carefull."
-The Washington Post Book World

"Strauch tackles [loaded questions] with all the scientific instruments at her disposal...the latest findings neurological, biochemical, and psychological, with an illuminating dose of anecdote thrown in."
-The New Scientist

"An important book...Strauch writes masterfully, making scientific research understandable to lay readers."
-Library Journal (starred)
or
Not Currently Available for Direct Purchase