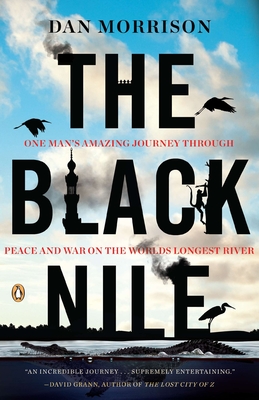 The Black Nile (Paperback)
One Man's Amazing Journey Through Peace and War on the World's Longest River
Penguin Books, 9780143119371, 352pp.
Publication Date: July 26, 2011
* Individual store prices may vary.
Description
"A supremely entertaining work, and also an important one." -David Grann, author of The Lost City of Z

Upon hearing the news of tenuous peace in Sudan, foreign correspondent Dan Morrison bought a plank-board boat, summoned a friend who'd never left America, and set out from Uganda, paddling the Nile on a quest to reach Cairo-a trip that tyranny and war had made impossible for decades. With the propulsive force of a thriller, Morrison's chronicle is a mash-up of travel narrative and reportage, packed with flights into the frightful and absurd. From the hardscrabble fishing villages on Lake Victoria to the floating nightclubs of Cairo, The Black Nile tracks the snarl of commonalities and conflicts that bleed across the Nile valley, bringing to life a complex region in profound transition.
Praise For The Black Nile: One Man's Amazing Journey Through Peace and War on the World's Longest River…
"This is hard-core African travel...[With] Mr. Morrison's peppery anecdotes, his refreshing honesty and his ability to show how Africans view their difficulties ... the book gives us a compelling portrait of life along the Nile-from lonely fishing communities on Lake Victoria to the cacophonous collisions of Cairo."
-Hugh Pope, Wall Street Journal

"Dan Morrison takes the reader on an incredible journey in The Black Nile. Weaving together intense travel writing and history, he has produced a supremely entertaining work, and also an important one."
-David Grann, author of The Lost City of Z and The Devil and Sherlock Holmes

"Morrison's determined travelogue-cum-political reportage...excels in bringing the place, politics and history of this fragile region alive."
-Ethan Gilsdorf, Boston Globe

"Marvelous...A beautifully written tale of an American on a journey to find out who else is out there, what they're thinking, why they do what they do...Every time you think a stretch of Africa is beyond redemption, Morrison strikes up a conversation with another thoughtful pilgrim with a funny, interesting, and often hopeful things to say."
-Tom Robbins, The Village Voice

"Beautifully written. A masterful narrative of investigative reportage, travel writing, and contemporary history...The Black Nile is all at once thrilling, sad, and-most of all-thoughtful."
-The Daily Beast

"Dan Morrison is too young to have been part of the Gonzo movement. But if Hunter Thompson decided to travel the Nile, from its Ugandan source to Alexandria, encountering gun-toting whackos, crazed religious zealots, scary profiteers and a rich cast of characters in one of the world's most contested regions-well, I think he would have loved to share his trek with Morrison. Fasten your seat belts, readers!"
-Laurie Garrett, Pulitzer Prize winner and author of The Coming Plague

"[The Black Nile] vacillates between racy travel tale and political commentary... [as] Morrison combines wit with deep reporting about the region."
- Laura Speyer, Bloomberg News

"Part travelogue, part crazy adventure tale, part political reportage . . . Morrison's African river journey is a paradoxical mixture of awe-inspiring discoveries, eye-opening human interactions and perilous escapes."
-Chuck Leddy, Minneapolis Star-Tribune

"The Black Nile reveals a traveler of dark humor and insight, equal parts Paul Theroux and Bill Buford."
-Robert Twigger, author of Dr. Ragab's Universal Language and Angry White Pyjamas

"[Morrison] avoids the evangelical zeal and nanve prescriptions other Africa books fall victim to...[while] the more adventuresome portions of The Black Nile keep it from reading like a textbook...[He] teeters dangerously close to gunfights, disease, and run-ins with the authorities while relying on former rebels, proto-entrepreneurs, and crooked bureaucrats to get him through."
-Outside

"Morrison's account transcends the travel genre to provide authentic and timely information on a complicated part of the world. Highly recommended."
-Melissa Stearns, Library Journal

"An unorthodox travelogue... packed with illuminating, gritty detail."
-Kirkus

"Part On the Road, part Fear and Loathing in Africa, Dan Morrison takes us with him on his journey down the Nile-teaching us, by example, to be explorers of both the world and ourselves."
-Kevin Sites, author of In the Hot Zone

"The only thing more vivid would be traveling the river yourself. Then again, you may be a little more skittish about contested borders, rampaging militias and tiny plank-board boats than Dan Morrison is. The Black Nile is eye- opening, breath-taking, heart-pounding and, frankly, all the adventure I'm up for now."
-Ellis Henican, Fox News Channel
or
Not Currently Available for Direct Purchase