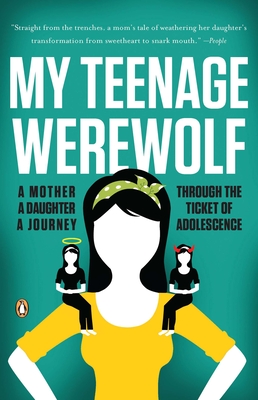 My Teenage Werewolf (Paperback)
A Mother, a Daughter, a Journey Through the Thicket of Adolescence
Penguin Books, 9780143119456, 256pp.
Publication Date: August 30, 2011
Other Editions of This Title:
Hardcover (8/5/2010)
* Individual store prices may vary.
Description
"Straight from the trenches, a mom's tale of weathering her daughter's transformation from sweetheart to snark mouth." - People
With the eye of a reporter, the curiosity of an anthropologist, and the open-and sometimes wounded-heart of a mother, award-winning author Lauren Kessler launches an eighteen-month mission, embedding herself in her about-to-be-teenage daughter Lizzie's life. Everywhere from middle school classrooms to the mall, from summer camp to online chat groups, Kessler observes and chronicles-and sometimes participates in-the vibrant, dynamic, and scary life of a twenty-first-century teen.
About the Author
Lauren Kessler's articles have appeared in The New York Times Magazine; O, The Oprah Magazine; and The Nation. She lives in Eugene, Oregon, with her husband and three brilliant and faultless children.
Praise For My Teenage Werewolf: A Mother, a Daughter, a Journey Through the Thicket of Adolescence…
"With grace and skill...Kessler writes with true fascination and appreciation for what her daughter is experiencing... With every description of epinephrine or serotonin, it is clear that she, too, is learning, keeping the passages accessible rather than didactic...Reading about Ms. Kessler's struggle and gradual catharsis will bring a sense of peace to the mothers of teen girls in realizing they are not alone. And for those of us who have been werewolves ourselves, reading about her journey will inspire new appreciation for those who put up with the snarling."
-Emily Fuggetta, Pittsburgh Post-Gazette

"Straight from the trenches, a mom's tale of weathering her daughter's transformation from sweetheart to snark mouth."
-People

"Having the final word in an argument doesn't count for much when you're trying to help your daughter negotiate the bumps and blind curves in the road through adolescence...Lauren Kessler captures these debates and dilemmas with pitch- perfect humor and rue...[and] dives into a mountain of research and interviews with experts to understand how social structures, peer pressure, shifting societal norms and biological imperatives all affect teen behavior...My Teenage Werewolf is painfully funny, occasionally shocking, tender, maddening and wry. Ultimately, it's reassuring."
-Barbara Lloyd McMichael, Seattle Times

"Poignant...Enlightening...[Kessler] embeds herself in a world and writes about it as objectively as possible, Margaret Mead-style."
-Jamie Passaro, Eugene Register-Guard

"When best-selling nonfiction author Lauren Kessler turns upon her own household with the sharp eye and reporting skills of an embedded journalist, the life of an American teenager-of her American teenage daughter-becomes a window onto childhood, adulthood, and all the markers in-between. A child's precarious climb from immaturity to maturity, with the strong hand of a mother for balance, is illuminated here by a young woman who has given her mother access, and by the mother who has handled that access with respect, empathy, humor, and boundless love."
-Melissa Fay Greene, author of Praying for Sheetrock and There Is No Me Without You

"The astute, intrepid Lauren Kessler dives into the deep end of teenage culture in this witty, entertaining, and ultimately wise tale of surviving her feisty daughter's middle school years. Her book belongs on the nightstand of every parent, and everyone who thinks she may one day become a parent (they're not adorable babies forever, folks!)."
-Karen Karbo, author of The Gospel According to Coco Chanel and Motherhood Made a Man Out of Me

"Those of us who long identified as 'daughters' are suddenly on the other side of the divide: We are the mothers. Of teenage girls. Who are perpetually annoyed by us. What's more, their present dredges up our own past. Yet therein lies the opportunity for a better future-better relationships not only to our girls but to our own mothers and even to ourselves. I can think of no better guide through that process than Lauren Kessler, who reports from the front lines with wit, grit, insight-and truly impressive sangfroid."
-Peggy Orenstein, author of Waiting for Daisy and Flux

"...a hilarious and insightful read that's sure to resonate with any mom."
-Ladies' Home Journal

"Readers who live with Lizzies of their own will enjoy this glimpse into the adolescent brain, which is 'not yet open for the business of wise and measured living.'"
-More

"To find out what's up with teenage girls, Lauren Kessler goes where no mother has gone before -- like the girls' locker room in middle school. If you're battered by a daughter who's 10 times smarter and 100 times cooler than you are, this book could save your sanity. It turns out that that teen monster is still your little girl -- just don't let her know that you know it!"
-Barbara Ehrenreich, bestselling author of Bright-Sided, This Land Is Your Land, and Nickel and Dimed

"Few relationships are deeper, more fraught, and, when they go right, more blissful than the relationship between a mother and a daughter. But how do we traverse this sometimes rocky terrain? Intelligent, open-hearted and witty, Lauren Kessler's MY TEENAGE WEREWOLF supplies a map for mothers of teenage daughters everywhere."
-Peg Tyre, bestselling author of The Trouble With Boys
Book Videos
or
Not Currently Available for Direct Purchase