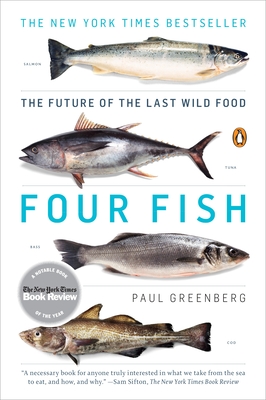 Four Fish (Paperback)
The Future of the Last Wild Food
Penguin Books, 9780143119463, 304pp.
Publication Date: May 31, 2011
* Individual store prices may vary.
Description
"A necessary book for anyone truly interested in what we take from the sea to eat, and how, and why." -Sam Sifton, The New York Times Book Review.

Acclaimed author of American Catch and The Omega Princple and life-long fisherman, Paul Greenberg takes us on a journey, examining the four fish that dominate our menus: salmon, sea bass, cod, and tuna.

Investigating the forces that get fish to our dinner tables, Greenberg reveals our damaged relationship with the ocean and its inhabitants. Just three decades ago, nearly everything we ate from the sea was wild. Today, rampant overfishing and an unprecedented biotech revolution have brought us to a point where wild and farmed fish occupy equal parts of a complex marketplace.

Four Fish offers a way for us to move toward a future in which healthy and sustainable seafood is the rule rather than the exception.
About the Author
Paul Greenberg
is the author of the
New York Times
bestseller
Four Fish: The Future of the Last Wild Food
.
Four Fish
has been published throughout Europe and Asia and was picked by
The New York Times
,
The New Yorker
and
Bon Appetit
as a notable book of 2010. Greenberg has just completed his next work,
American Catch: The Fight for Our Local Seafood
(Penguin Press, June, 2014) a book that explores why the United States, the country that controls more ocean than any nation on earth imports 90 percent of its seafood from abroad. Mr. Greenberg writes regularly for the
New York Times
Magazine, Book Review and Opinion Page and also contributes to
National Geographic,
Vogue
,
GQ
,
The Times of London
,
Süddeutschen Zeitung
, and many other publications. He has lectured widely at institutions around the country including Harvard, Yale, Google, The United States Supreme Court and The Monterey Bay Aquarium. Over the last ten years he has been a W.K. Kellogg Foundation Food and Society Policy Fellow, New York's South Street Seaport Museum's Writer-in-Residence and a fellow with the Blue Ocean Institute. He is the recipient of a James Beard Award for Writing and Literature, and a Grantham Prize Award of Special Merit. In 2014 he began a three year Pew Fellowship in Marine Conservation during which he will write "The Omega Principle: The health of our hearts, the strength of our minds, and the survival of our oceans all in one little pill."
Twitter: @4fishgreenberg
Facebook: facebook.com/fourfish 
Web: www.fourfish.org
Coverage from NPR