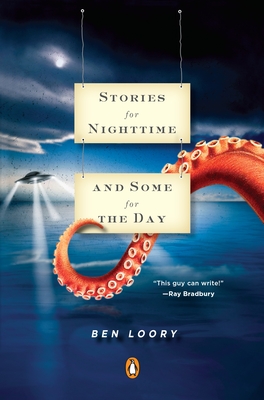 Stories for Nighttime and Some for the Day
Paperback

* Individual store prices may vary.
Description
"This guy can write!" —Ray Bradbury

Loory's collection of wry and witty, dark and perilous contemporary fables is populated by people-and monsters and trees and jocular octopi-who are united by twin motivations: fear and desire. In his singular universe, televisions talk (and sometimes sing), animals live in small apartments where their nephews visit from the sea, and men and women and boys and girls fall down wells and fly through space and find love on Ferris wheels. In a voice full of fable, myth, and dream, Stories for Nighttime and Some for the Day draws us into a world of delightfully wicked recognitions, and introduces us to a writer of uncommon talent and imagination.

Contains 40 stories, including "The Duck," "The Man and the Moose," and "Death and the Fruits of the Tree," as heard on NPR's This American Life, "The Book," as heard on Selected Shorts, and "The TV," as published in The New Yorker.
Praise For Stories for Nighttime and Some for the Day…
"Wild, dreamy debut . . . these stories are full of wit, humor, and heart. . . . Stories for Nighttime and Some for the Day is a wonderful introduction to a writer capable of finding inspiration in the most unlikely of places."
—Boston Globe
 
"Very good fun . . .Playing with and sometimes combining genres, including horror, allegory and fairy tale, Loory refreshes the story form while acknowledging apprenticeship to such masters as Ray Bradbury and Franz Kafka."
—San Francisco Chronicle
 
"Lovely tales of the fantastic."
—Elle Magazine (An "Elle Recommends" Pick)
 
"Loory bends reality with wry humor and anthropomorphic shenanigans. . . . These are some fractured fairy tales."
—Time Out NY
 
"[L]onely, haunting, and dreamlike."
—Gary K. Wolfe, Locus Magazine
 
"Strange, gorgeous fables—the reader isn't sure if she has dreamed them or read them."
—Susan Salter Reynolds, Los Angeles Review of Books
 
"Stories for Nighttime and Some for the Day might be the best collection of wonder and amazement I have ever read."
—Michael Jones, Blogcritics.org
 
"[I]mmensely entertaining."
—The AV Club
 
"The 40 cheerfully ominous stories in this collection feel like collaborations between Tex Avery and Franz Kafka."
—Publishers Weekly
 
"One of a kind: a thoroughly entertaining antidote to rigid thinking and excessive seriousness."
—Kirkus Reviews (starred review)
 
"Stories for Nighttime and Some for the Day is that rare find—a book that excites the reader. These tales are hilarious and vertiginous in the calmly absurd manner of Lydia Davis, Jack Handey and Etgar Keret. With his first book, Ben Loory proves he's already a master of the sleight of hand."
—Stewart O'Nan, author of Last Night at the Lobster
 
"If Mother Goose and Philip K. Dick had a love child, and Richard Brautigan raised him in Watermelon Sugar, he might write stories like Ben Loory."
—Jonathan Evison, author of West of Here
 
"Ben Loory's debut is a mesmerizing landscape of nightmares, daydreams, fables, and parables—sometimes all four at once—that crackles with prose so spare and clean you'll swear you can see it gleam, with themes so intensely personal, you'll want to weigh them in your palm and bear them away.
—Keith Dixon, author of Ghostfires
 
"Stories for Nighttime and Some for the Day is a book that comes alive when you read it. It will stand on its own, pet your hair while you sleep, and hold the umbrella over your head in the rain."
—Aaron Dietz, author of Super
 
"Stories for Nighttime and Some for the Day is a unique accomplishment. Short, terse, and disquieting, Loory's tales will compel readers to reflect upon our troubling times and grasp how our world has been turned upside down. In this respect, they are postmodern fairy tales which do not promise false happiness but enlighten us about the distorted manner in which our world has been transformed."
—Jack Zipes, editor of The Oxford Companion to Fairy Tales; author of Fairy Tales and the Art of Subversion
 
"Ben Loory's haunting fables spin off puzzlements that stay with you long after you've put down the book."
—Edward Packard, creator of Choose Your Own Adventure
 
"Some write like a dream, but each of these impressive stories reads like one (even those written 'for day'). Disarmingly simple and startlingly profound, Ben Loory's tales take readers through a wholly original universe of whimsy and pathos, moral darkness and brilliantly illuminated truths. Like the best dreams, they resonate, linger and haunt long after the Ambien wears off."
—James P. Othmer, author of The Futurist
 
"Quite unlike anything else I have read, a singular work that seems content to explore a universe all its own, in the manner of, say, 'Kubla Khan' or The Circus of Dr. Lao. The cumulative effect is not cloying but strangely exhilarating, both for its deadpan considerations of life and death and the things that happen in between and for some unexpected revelations about the essence of storytelling that arise from its stripped-down style. It will be exciting to see what this quietly fearless writer publishes next."
—Dennis Etchison, author of The Dark Country
 
"Ben Loory is a writer who makes me feel less alone in the world. He also makes me feel like the world is more—and not less—absurd than I had originally suspected, which always comes as a strange relief. All of this is another way of saying that Loory is an original, and a good one, and someone well worth reading. Funny, weird, insightful, and wry. A giver of wincing laughter. I recommend him highly and could easily see several cults forming around his work. Good cults, too. Not the staid, mediocre variety."
—Brad Listi, author of Attention. Deficit. Disorder.
 
"Ben Loory is a master cosmologist waiting to be discovered, with a parabolic telescope that will allow you to see right to the living heart, not of the matter, but of matter itself, of what matters."
—Andrew Ramer, author of Little Pictures: Fiction for a New Age
 
"Ben Loory's stories are small surprises of beauty and wonder—often tragic, sometimes comic, but always full of hope."
—Mary Gutterson, author of We Are All Fine Here
Penguin Books, 9780143119500, 224pp.
Publication Date: July 26, 2011
About the Author
Ben Loory's fables and tales have appeared in The New Yorker, Tin House, READ Magazine, and Fairy Tale Review, and been heard on This American Life and Selected Shorts. He is also the author of Tales of Falling and Flying and a picture book for children, The Baseball Player and the Walrus. A graduate of Harvard University and the American Film Institute MFA program in screenwriting, Loory lives in Los Angeles, where he is an Instructor for the UCLA Extension Writers' Program.
or
Not Currently Available for Direct Purchase