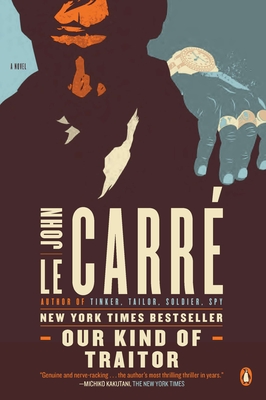 Our Kind of Traitor (Paperback)
A Novel
Penguin Books, 9780143119722, 320pp.
Publication Date: April 26, 2011
* Individual store prices may vary.
Description
From the New York Times bestselling author of A Legacy of Spies. John le Carré's new novel, Agent Running in the Field, is coming October 2019.

In this exquisitely told novel, John le Carré shows us once again his acute understanding of the world we live in and where power really lies.
 
In the wake of the collapse of Lehman Brothers and with Britain on the brink of economic ruin, a young English couple takes a vacation in Antigua. There they meet Dima, a Russian who styles himself the world's Number One money-launderer and who wants, among other things, a game of tennis. Back in London, the couple is subjected to an interrogation by the British Secret service who also need their help. Their acquiescence will lead them on a precarious journey through Paris to a safe house in Switzerland, helpless pawns in a game of nations that reveals the unholy alliances between the Russian mafia, the City of London, the government and the competing factions of the British Secret Service.
About the Author
New York Times bestselling author John le Carré (A Delicate Truth and Spy Who Came in from the Cold) was born in 1931 and attended the universities of Bern and Oxford. He taught at Eton and served briefly in British Intelligence during the Cold War. For the last fifty years he has lived by his pen. He divides his time between London and Cornwall.
Praise For Our Kind of Traitor: A Novel…
"One of our great writers of moral ambiguity, a tireless explorer of that darkly contradictory no-man's land…Our Kind of Traitor brims with deftly drawn characters navigating a treacherously uncertain landscape that seems ripped from yesterday's papers and re-created with an absolutely certain hand."—Tim Rutten, Los Angeles Times

"Part vintage John le Carré and part Alfred Hitchcock…the suspense in Our Kind of Traitor is genuine and nerve-racking."—Michiko Kakutani, The New York Times

"I would suggest immortality for John le Carré, who I believe one of the most intelligent and entertaining writers working today."—The Chicago Tribune.