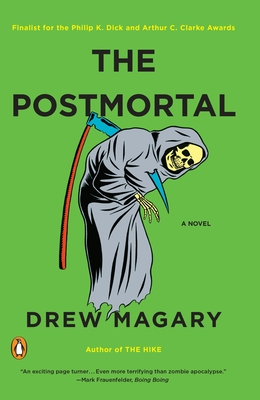 The Postmortal
A Novel
Paperback

* Individual store prices may vary.
Other Editions of This Title:
Digital Audiobook (12/4/2011)
MP3 CD (12/5/2011)
Compact Disc (12/5/2011)
MP3 CD (12/5/2011)
Compact Disc (12/5/2011)
Compact Disc (12/5/2011)
Description
• Finalist for the Philip K. Dick and Arthur C. Clarke Awards •
 
The gripping first novel by Drew Magary, Deadspin columnist, GQ correspondent, and author of The Hike

"An exciting page turner. . . . Drew Magary is an excellent writer. The Postmortal is . . . even more terrifying than zombie apocalypse." — Mark Frauenfelder, Boing Boing

John Farrell is about to get "The Cure."
Old age can never kill him now.
The only problem is, everything else still can . . .

Imagine a near future where a cure for aging is discovered and-after much political and moral debate-made available to people worldwide. Immortality, however, comes with its own unique problems-including evil green people, government euthanasia programs, a disturbing new religious cult, and other horrors. Witty, eerie, and full of humanity, The Postmortal is an unforgettable thriller that envisions a pre-apocalyptic world so real that it is completely terrifying.
Praise For The Postmortal: A Novel…
"Unnerving. . . . An absorbing picture of dawning apocalypse. . . . A disturbing portrait of a society convinced it's close to utopia when a cure for aging is invented. Unsurprisingly, it doesn't take long for that seeming utopia to dissolve into a planet-overstressed from overpopulation, food and fuel shortages, and general lawlessness-going into systemic failure. . . . The Postmortal is a suitably chilling entry into the 'it's-the-end-of-the-world' canon."
—The Austin Chronicle

"Magary's vision of future technology and science is eerily realistic. . . . By the time you finish, you'll want to hold your loved ones close and stockpile bottles of water. If all else fails, you could potentially make a living selling them a few decades from now."
—The New York Press

"An exciting page turner. . . . Drew Magary is an excellent writer. This is his first novel but he tells the story masterfully. . . . The most frightening thing about The Postmortal is that this could really happen-it's not a supernatural story, but it's even more terrifying than zombie apocalypse."
—Mark Frauenfelder, BoingBoing

"The first novel from a popular sports blogger and humorist puts a darkly comic spin on a science fiction premise and hits the sweet spot between Margaret Atwood and Kurt Vonnegut. . . . [Magary] understands that satire is most effective when it gives the real world a gently absurd nudge, then lets its characters react much as we ourselves might under the same circumstances."
—Ron Hogan, Shelf Awareness

"Immortality has figured in a number of sf novels prior to this one, but never, to my experience, in this way. . . . A very clear-eyed picture, one I don't think has been drawn before. . . . The Postmortal surprised me in a good way."
—Michelle West, Fantasy & Science Fiction magazine

"The Postmortal is a punchy, fast-paced and endearing story. . . . As the novel progresses, it turns from a snappy morality tale, to a noir-ish revenge fable, to an action movie; complete with guns, rogue religious cults and government-sanctioned hit men. The narrative comes to us through John's blog entries and collections of news bytes and pundit commentary. Through his sixty years as a 29-year-old, he experiences all the love, pain, grief, and terror of a standard lifetime and is still in good enough shape to kick some ass at the end. Like much good dystopian fiction, The Postmortal is an at-times unflattering commentary on human beings, present, past and future, that hits the mark in many ways. . . . For anyone intrigued with Life Extension science, it's a fun examination of our fears and expectations."
—The Nervous Breakdown

"A darkly comic, totally gonzo, and effectively frightening population-bomb dystopia in the spirit of Logan's Run, Soylent Green, and the best episodes of The Twilight Zone."
—Neal Pollack, author of Alternadad and Stretch

"As insanely entertaining as it is ambitious, The Postmortal takes us into an America set in the next few years and coming apart under the onslaught of a dreadful new plague--that of human immortality. Magary possesses an explosive imagination and let loose in The Postmortal, he creates an alternate history of the near future that feels real and is probably inevitable. Read The Postmortal if you want to find out what happened to the human race in our last violent and absurd few years in New York."
—Evan Wright, author of Generation Kill

"I suppose you could wait for the inevitable Postmortal movie. But then you might miss Magary's rendering, his word play, his singular sense of humor. A book that is, at once bracingly funny and—get this, Deadspin Nation—unmistakably poignant."
—L. Jon Wertheim, coauthor of Scorecasting

"As someone who is totally freaked out by the thought of dying, The Postmortal really stood on top of me and peed on my face. It's depiction of the future isn't filled with crappy robots fighting Will Smith. It's filled with eerily realistic portrayals of what the future could look like and does it all in an incredibly entertaining story."
—Justin Halpern, author of Sh*t My Dad Says
Penguin Books, 9780143119821, 400pp.
Publication Date: August 30, 2011
About the Author
Drew Magary is a correspondent for GQ and a columnist for Deadspin. He is the author of two novels, The Hike and The Postmortal, and the memoir Someone Could Get Hurt. His writing has appeared in Maxim, New York, The Atlantic, Bon Appétit, The Huffington Post, the Awl, Gawker, Penthouse, Playboy, Rolling Stone, and on Comedy Central, NPR, NBC, Yahoo!, ESPN, and more. He's been featured on Good Morning America and has been interviewed by the AV Club, the New York Observer, USA Today, U.S. News & World Report, and many others. He lives in Maryland with his wife and three kids, and is a Chopped champion.
Book Videos