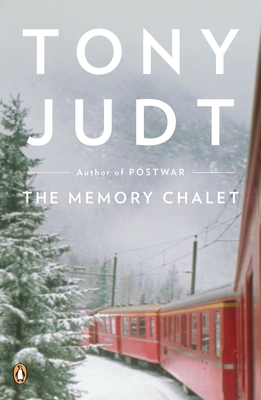 The Memory Chalet (Paperback)
Penguin Books, 9780143119975, 240pp.
Publication Date: October 25, 2011
Other Editions of This Title:
Hardcover (11/11/2010)
Hardcover, Chinese (7/1/2018)
Hardcover (11/1/2010)
Paperback (9/1/2011)
* Individual store prices may vary.
Description
Selected by The New York Times Book Review as a Notable Book of the Year
Final reflections on a happy life-from acclaimed historian Tony Judt.
Tony Judt's The Memory Chalet is a memoir unlike any other. Each essay brings the smallest details of personal experience into the larger frame of history. Judt's youthful love of a London bus route becomes a reflection on public civility. Food and trains and smells all come alive as Judt takes us from the postwar London of his childhood through Paris, Prague, and points east to New York, where he found his home. Judt brings his moral clarity and wit to bear on everything from fast cars to radical politics and, finally, the devastating illness that took his life. This book, composed when Judt was paralyzed and unable physically to write, found its shape in the ordered rooms of a Swiss Chalet of the mind: a warm refuge in the closing darkness of his final years.
About the Author
Tony Judt was the Erich Maria Remarque Professor of European Studies at New York University, as well as the founder and director of the Remarque Institute, dedicated to creating an ongoing conversation between Europe and the United States. He was educated at King's College, Cambridge, and the École Normale Supérieure, Paris, and also taught at Cambridge, Oxford, and Berkeley. Professor Judt was a frequent contributor to The New York Review of Books, The Times Literary Supplement, The New Republic, The New York Times, and many journals across Europe and the United States. He is the author or editor of fifteen books, including Thinking the Twentieth Century, The Memory Chalet, Ill Fares the Land, Reappraisals: Reflections on the Forgotten Twentieth Century, and Postwar: A History of Europe Since 1945, which was one of The New York Times Book Review's Ten Best Books of 2005, the winner of the Council on Foreign Relations Arthur Ross Book Award, and a finalist for the Pulitzer Prize. He died in August 2010 at the age of sixty-two.
Praise For The Memory Chalet…
"[A] tremendously moving memorial to a first-class historian and essayist... humane, fearless, unsparingly honest."
—The Financial Times

"Each of these beautifully crafted pieces presents a self-contained vignette. Together they form a picture of an age, seen through the prism of an extraordinary mind... Judt never pretended that the illness that befell him was a hidden blessing. 'Loss is loss, and nothing is gained by calling it a nicer name.' But if tragedy cannot be redeemed it can sometimes be defied, as Judt confirms in this exquisitely graceful memoir of a happy life."
—The Daily Beast

"More than a memoir, [The Memory Chalet is] a bracing spiritual autobiography of a man whose lofty and old-fashioned goal, repeatedly realized in these pages, was to think for himself - and push each of us to do the same."
—Milwaukee Journal-Sentinel

"[B]oth an autobiography and a lovely little social history of the second half of the 20th century... all in a spare and nicely demotic prose."
—Time

"Despite his stature as a 'public intellectual,' Judt's observations in this collection are more impressionistic than analytical. For the most part, he's not arguing points but simply re-savoring the things that once pleased him... This is a memorable collection from a memorable man."
—BookPage