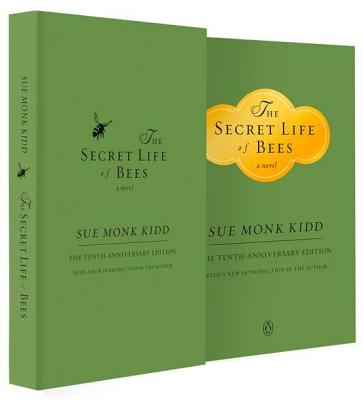 The Secret Life of Bees (Paperback)
A Novel (10th-Anniversary Edition)
Penguin Books, 9780143120261, 336pp.
Publication Date: November 23, 2011
* Individual store prices may vary.
Description
A beautiful slipcased special edition commemorating the 10th anniversary of Sue Monk Kidd's The Secret Life of Bees, a heartwarming coming of age tale set in 1960s South Carolina and a multi-million copy New York Times bestseller as well as a Good Morning America "Read This" Book Club pick
Fans of Kathryn Stockett'sThe Help and Beth Hoffman's Saving CeeCee Honeycutt will love Sue Monk Kidd's Southern coming of age tale. The Secret Life of Bees was a New York Times bestseller for more than 125 weeks, a Good Morning America "Read This" Book Club pick and was made into an award-winning film starring Dakota Fanning, Queen Latifah, Jennifer Hudson and Alicia Keys. Set in South Carolina in 1964, The Secret Life of Bees tells the story of Lily Owens, whose life has been shaped around the blurred memory of the afternoon her mother was killed.

When Lily's fierce-hearted black "stand-in mother," Rosaleen, insults three of the town's most vicious racists, Lily decides they should both escape to Tiburon, South Carolina—a town that holds the secret to her mother's past. There they are taken in by an eccentric trio of black beekeeping sisters who introduce Lily to a mesmerizing world of bees, honey, and the Black Madonna who presides over their household. This is a remarkable story about divine female power and the transforming power of love.  To celebrate the tenth anniversary of the book's debut, Penguin presents a beautiful special edition of this wonderful novel, including a new introduction by the author—a gorgeous book that women will share and pass on to their daughters for years to come.
About the Author
SUE MONK KIDD is the author of the New York Times bestselling novels, The Secret Life of Bees and The Mermaid Chair, and the memoirs Traveling with Pomegranates, which she wrote with her daughter Ann Kidd Taylor, The Dance of the Dissident Daughter, When the Heart Waits, as well as Firstlight, a collection of her early writings. The Secret Life of Bees has spent more than 125 weeks on the New York Times bestseller list and was adapted into an award-winning movie starring Dakota Fanning, Queen Latifah, Jennifer Hudson and Alicia Keys. The Mermaid Chair, a #1 New York Times bestseller, was adapted into a television movie. Both of her novels have been translated into more than 24 languages. The recipient of numerous literary awards, Sue lives with her husband on an island off the coast of Florida.
Praise For The Secret Life of Bees: A Novel (10th-Anniversary Edition)…
"A moving first novel...Lily is an authentic and winning character and her story is compellingly  told. The bees presage her journey toward self-acceptance, faith and freedom that is at the heart of this novel." —
USA Today
"Inspiring. Sue Monk Kidd is a direct literary descendant of Carson McCullers." —The Baltimore Sun 
"Fully imagined...the core of this story is Lily's search for a mother, and she finds one in a place she never expected." —The New York Times Book Review
"This is the story of a young girl's journey toward healing, and of the intrinsic sacredness of living in the world. Simply wonderful." —Anne Rivers Siddons
""The stunning metaphors and realistic characters are so poignant they will bring tears to your eyes." —Library Journal
"Kidd has written a triumphant coming-of-age novel that speaks to the universal need for love" —New Orleans Times-Picayune
"The chapters...dance on the edges of 'Magical Realism,' that blend of the fabulous and the ordinary that can invest a tale with a sense of wonderment, as is the case here." —Richmond Times-Dispatch
"I am amazed that this moving, original, and accomplished book is a first novel. It is wonderfully written, powerful, poignant, and humorous, and deliciously eccentric. Do read it." —Joanna Trollope
"A wonderful novel about mothers and daughters and the transcendent power of love." —Connie May Fowler
"A truly original Southern voice." —Anita Shreve
"It's as if Kidd loaded up a take-home plate with treats, and you said 'Oh, I couldn't,' and then scarfed it down in the car on the way home." —Entertainment Weekly
"The tale of one motherless daughter's discovery of what family really means—and of the strange and wondrous places we love." —The Washington Post
or
Not Currently Available for Direct Purchase