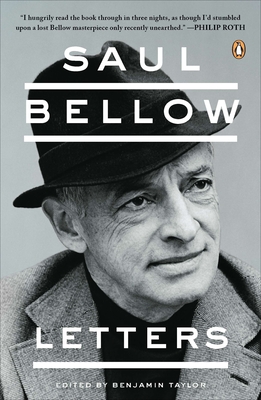 Saul Bellow
Letters
Paperback

* Individual store prices may vary.
Other Editions of This Title:
Paperback (7/16/2013)
Description
"I hungrily read the book through in three nights, as though I'd stumbled upon a lost Bellow masterpiece only recently unearthed."
-Philip Roth
A literary milestone in its own right, this selection of correspondence connects us as never before to one of the greatest writers of our time. Saul Bellow was winner of the Pulitzer Prize, three National Book Awards, and the Nobel Prize in Literature. He also wrote marvelously acute, unsparing, tender, ferocious, hilarious, and wise letters throughout his long life (1915-2005). Including letters to William Faulkner, John Cheever, Ralph Ellison, Cynthia Ozick, Martin Amis, and many others, this vast self-portrait-shows the influences at work in a seminal literary mind.
Praise For Saul Bellow: Letters…
Best of 2010 Lists
The New York Times, Michiko Kakutani's Top Ten of 2010
The Washington Post, John Yardley's Best of 2010
Minneapolis Star Tribune
"It comes as no surprise to find that the great novelist was a great correspondent as well. I hungrily read the book through in three nights, as though I'd stumbled upon a lost Bellow masterpiece only recently unearthed."
—Philip Roth
"In the Letters, as in everything he wrote, Saul Bellow never dipped below a certain level—and that level is stratospheric."
—Martin Amis
"Saul Bellow: Letters is a treasure trove. It's fascinating to see one of our great American writers take form."
—Nathan Englander
"Magnificent… The man is all here in this book, in his stunning, almost baffling plenitude. Bellow's letters are one of Bellow's greatest books. Benjamin Taylor records that it contains only two-fifths of what Bellow called his "epistling," but its riches are nonetheless immense. Taylor has selected and edited and annotated these letters with exquisite judgment and care. This is an elegantissimo book. Our literature's debt to Taylor, if our culture still cares, is considerable."
—Leon Wieseltier, The New York Times Book Review
"Full of those wonderful vignettes that pepper his books, comic and perceptive at the same time… There's so much going on here, such swift and impassioned dialogue between the spiritual and the physical, the place and those who inhabit it, that, as so often in his books, we can only gasp in joyful wonder."
—The Wall Street Journal
"Masterfully edit[ed]."
—Vanity Fair
"A hefty, handsome volume… Chatty yet polished, and always vibrant, Bellow's letters serve as the autobiography he never wrote."
—Los Angeles Times
"You must read this. If you're a lover of prose, someone who knows how to savor the taste of a scrumptious sentence, then you'll find morsels aplenty to set your eyes rolling to the back of your head in indecent pleasure."
—NPR
"Studded with brilliant passages… Just as Bellow's novels teem with the turbulence of raw immediate experience burnished by the refiner's fires of insight, emotion, and style, his letters make clear that his life was the source of that connected fullness."
—The New Yorker
"A window into literary genius."
—London Review of Books
"Arresting, seizing the reader by the lapels and refusing to let go… Bellow is a gifted and emotionally voluble letter writer. The Bellow that floats to the surface in this volume is a close spiritual relative of the heroes who populate his fiction: a seeker and searcher who also happens to be a first-class noticer; an intellectual, deep in what he once called "the profundity game," who is constantly trying to balance the equation between rumination and action, solipsism and distraction, the temptations of selfhood and the noise of the real world."
—Michiko Kakutani, The New York Times
"Bellow's sheer brio, his occasional feuds and deep friendships, his unquenchable enthusiasm for being human, and his incomparable prose, make this collection of letters an absolute must for anyone who is remotely interested in American literature of the 20th century."
—The Financial Times
"Bellow was an exceptionally astute man. He was also formidably well-read, an intellectual in the deepest sense of the word but also a lover of pleasure in many forms. His collected letters are probably the last book we shall have from him, and… a very good one."
—The Washington Post
"Drollery, mordancy, tenderness, quick-draw portraiture, metaphysical vaudeville, soul talk, heart pains, the whole human mess—Saul Bellow's letters are a Saul Bellow novel, the author himself the protagonist. A Saul Bellow novel! A gift from the grave, like Humboldt's. The great voice again, the peerless voice."
—William Deresiewicz, The Nation
"Reveal[s] Bellow's unfailingly high quality as a correspondent… Scarcely a letter in this volume is without an amusing phrase or arresting insight or interesting formulation."
—The New Criterion
"Feisty, smart, but most of all thrillingly intimate, these letters ripen and mature as they go along, just as some people do."
—Chicago Tribune
"These letters are rich in gossip, declarations of love and ambition, praise, criticism, and commiseration; the most touching among them are to the writers for whom he had tender feeling (John Berryman, Ralph Ellison, John Cheever) and those who appealed to him for help (William Kennedy, Wright Morris)."
—Bookforum
"So richly characteristic on every page. What makes Bellow rare, possibly unique, among the great writers of the past century was [his] conviction that seeing had a metaphysical warrant, that perception, and the recording of perception, was not a pastime but an "assignment.""
—Adam Kirsch, The Times Literary Supplement
"The letters are all zest and craving and demand—so many journeys, so many cities, so many liaisons, so many courtings, so many marriages and partings, so many spasms of rage, so many victories and downers, so many blue or frenetic melancholias and grievances; but cumulatively they add up to a rich montage of knowing, speckled now and again with laughter, that most metaphysical of emotions."
—Cynthia Ozick, The New Republic
"The virtue of these letters is found in their compassion."
—Playboy
"Ben Taylor's meticulously edited and annotated volume of Bellow's letters provides the most intimate glimpse we have yet received of how this voice emerged. Bellow's language in letters, as in fiction, is stunning. His is an English both earnestly and adoringly cerebral and earthy, drawing on the cadences of the Hebrew Bible and the New Testament, Hyde Park Trotskyism, the high-church intellectualism of the University of Chicago, and the guys and dolls patois of Damon Runyon."
—Jewish Review of Books
"Flecked with remarkable judgments on the people he knew… Bellow's letters reveal him as a restless, agitated truth-seeker, not unlike many of his characters."
—National Post
"These letters crackle with wit, often wicked and nonetheless satisfying for that."
—Commonweal Magazine
"Wonderful… offers a strong salve to — Praise for Saul Bellow: Letters
Penguin Books, 9780143120469, 640pp.
Publication Date: February 28, 2012
About the Author
Saul Bellow's dazzling career as a novelist has been marked with numerous literary prizes, including the 1976 Nobel Prize, and the Gold Medal for the Novel. His other books include The Adventures of Augie March, Herzog, More Die of Heartbreak, Mosby's Memoirs and Other Stories, Mr. Sammler's Planet, Seize The Day and The Victim. Saul Bellow died in 2005.
or
Not Currently Available for Direct Purchase