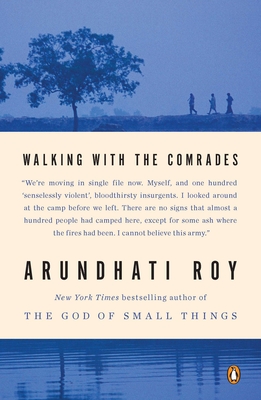 Walking with the Comrades (Paperback)
Penguin Books, 9780143120599, 240pp.
Publication Date: October 25, 2011
* Individual store prices may vary.
Description
From the award-winning author of The Ministry of Utmost Happiness and The God of Small Things comes a searing frontline exposé of brutal repression in India

In this fiercely reported work of nonfiction, internationally renowned author Arundhati Roy draws on her unprecedented access to a little-known rebel movement in India to pen a work full of earth-shattering revelations. Deep in the forests, under the pretense of battling Maoist guerillas, the Indian government is waging a vicious total war against its own citizens-a war undocumented by a weak domestic press and fostered by corporations eager to exploit the rare minerals buried in tribal lands. Roy takes readers to the unseen front lines of this ongoing battle, chronicling her months spent living with the rebel guerillas in the forests. In documenting their local struggles, Roy addresses the much larger question of whether global capitalism will tolerate any societies existing outside of its colossal control.

"A riveting account . . . a necessary book by one of India's most distinctive voices." -Washington Post
About the Author
Arundhati Roy is the author of The God of Small Things, winner of the prestigious Man Booker Prize. She has produced numerous works of political commentary and investigative journalism, including The Algebra of Infinite Justice, An Ordinary Person's Guide to Empire, and Listening to Grasshoppers. She lives in New Delhi, India.
Praise For Walking with the Comrades…
"A riveting account . . . a necessary book by one of India's most distinctive voices." -Washington Post

"A bell-clear exposé of corporate greed and governmental malfeasance that should--if there is any justice in the world--provoke a furious backlash in the name of human dignity." -Kirkus (starred review)

"Informed, impassioned, at times strident, and fleet and fascinating when describing life on the ground among the rebels, Roy's prose will both rouse and ruffle . . . she ultimately points to a global system in which all we're all crucially involved and implicated." -Publishers Weekly (starred review)
or
Not Currently Available for Direct Purchase