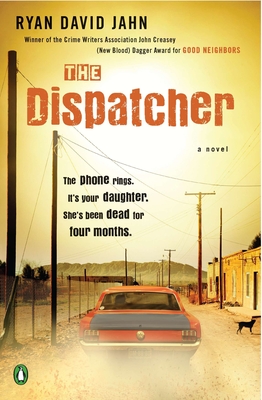 The Dispatcher (Paperback)
Penguin Books, 9780143120704, 351pp.
Publication Date: December 27, 2011
Description
From the author of the award-winning debut crime novel Good Neighbors-a white-knuckle thriller about the lengths a man will go to for his daughter.
The phone rings. It's your daughter. She's been dead for four months.
So begins East Texas police dispatcher Ian Hunt's fight to get his daughter back. The call is cut off by the man who snatched her from her bedroom seven years ago, and a basic description of the kidnapper is all Ian has to go on. What follows is a bullet-strewn cross-country chase from Texas to California along Interstate 10- a wild ride in a 1965 Mustang that passes through the outlaw territory of No Country for Old Men and is shot through with moments of macabre violence that call to mind the novels of Thomas Harris.
About the Author
Ryan David Jahn grew up in Arizona, Texas, and California. He left school at sixteen to work in a record store and subsequently joined the army. Since 2004 he has worked in television and film. His first novel, Good Neighbors, won the Crime Writers' Association John Creasy (New Blood) Dagger Award. Jahn lives in Los Angeles with his wife, Mary.
Praise For The Dispatcher…
"Violent, vivid, and disturbing, The Dispatcher is a stomach churner. If you want a book that grabs you-almost chokes you-and won't let go, this is it. But it should come with a warning label: Caution, a serious writer at work." -Ridley Pearson, #1 New York Times bestselling author of Killer  Summer

"The Dispatcher grabs the reader on page one and never lets go. It's a classic yet bracingly contemporary story of kidnapping, violence, and a father's ferocious courage."
--Jonathan Santlofer, author of Anatomy of Fear

"A well-written, fast-paced book . . . along the order of Quentin Tarantino and with a long and bloody trail to the end."
--Charlaine Harris, bestselling author of the Sookie Stackhouse series

"Reminiscent of Cormac McCarthy's tales of vengeance, The Dispatcher is an impressively accomplished performance that never strains for mythic power but nevertheless acquires it."
--Sunday Times (London)

"The breathless pace virtually demands a single-sitting read. . . . Over the past few years a new generation of crime writers has come perilously close to recreating the jaded mindset of the classic noir thrillers, but no one has succeeded quite like Jahn. . . . [He] leads the new noir pack with a series of palm-sweating situations that pay homage to the classics of the genre while feeling entirely fresh."
--Financial Times

"Reads at a cracking pace [and] is a one-sitting, fist-in-mouth read."
--The Guardian

"A cross between Richard Ford and James Patterson . . . I guarantee that if you pick this up, then everything else in your life will immediately be pushed to the margins. . . . If you only read one book tomorrow, make it this one."
--Dylan Jones, editor of GQ, in The Mail on Sunday

"A nerve-shredding thriller with plenty of energy and a tight plot."
--Big Issue

"Tense, thrilling. Jahn has written a real page-turner, well crafted with convincing characters and an involving plot."
--We Love This Book

"Near pitch perfect . . . An adrenaline-pumped storyline and one that will leave you with your lower jaw resting on your chest. I don't believe anyone else is offering Jahn's insight and style of writing today. . . . [His] clipped and economical prose is to the bone. . . . Make sure you allocate sufficient hours to read in one sitting."
--Rhian Davies, It's a Crime!

"Talk about page-turning . . . Jahn is the fastest rising star in the ever-competitive crime fiction world."
--Daily Mirror, Book of the Week
Advertisement