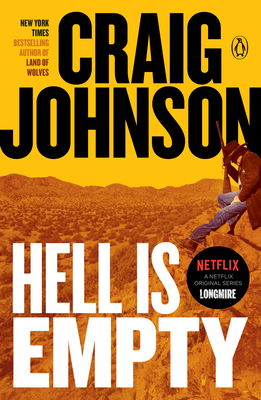 Hell Is Empty
A Longmire Mystery
Paperback

* Individual store prices may vary.
Other Editions of This Title:
Digital Audiobook (6/30/2011)
Hardcover (6/2/2011)
Description
Walt Longmire faces an icy hell in this New York Times bestseller from the author of Land of Wolves

Well-read and world-weary, Sheriff Walt Longmire has been maintaining order in Wyoming's Absaroka County for more than thirty years, but in this riveting seventh outing, he is pushed to his limits.

Raynaud Shade, an adopted Crow Indian rumored to be one of the country's most dangerous sociopaths, has just confessed to murdering a boy ten years ago and burying him deep within the Bighorn Mountains. Walt is asked to transport Shade through a blizzard to the site, but what begins as a typical criminal transport turns personal when the veteran lawman learns that he knows the dead boy's family. Guided only by Indian mysticism and a battered paperback of Dante's Inferno, Walt braves the icy hell of the Cloud Peak Wilderness Area, cheating death to ensure that justice--both civil and spiritual--is served.  


Praise For Hell Is Empty: A Longmire Mystery…
"With Hell is Empty, Craig Johnson delivers an action-packed Western thriller, rife with evocative setting and literary allusion. This seventh novel featuring wise-cracking Sheriff Walt Longmire creeps stealthily out of the corral with an increasingly tense setup." — The Boston Globe

"Johnson managed a rare feat: a mystery that is a literary novel. The story starts with a hilarious image: Longmire and his deputy sheriff, Santiago "Sancho" Saizarbitoria, hand-feeding a cheeseburger to a manacled prisoner. It gets infinitely more complex from there: an escaped prisoner with dead bodies in his wake; some unlikely unforeseen accomplices and hostages; and Longmire, never one to stand back and wait for help, tracking the criminals through the Bighorn Mountains." — The Pittsburgh Tribune Review

"Johnson crafts a chilling allegorical tale of resolve and endurance…[and] uses his intimate knowledge of the landscape and wildlife of Wyoming to full advantage, making them characters in the action. Despite the dire situation, Johnson continues to employ gentle, wry humor and an authentic, no-nonsense Western voice in his dialogue, especially in Walt's thoughts. And the immediacy of Walt's peril pulls readers into the complex plot. Good stories that take place in the West are in short supply these days, and Johnson's latest is the real deal with literary clout." — Denver Post

"Truly great. Reading Craig Johnson is a treat…[He] tells great stories, casts wonderful characters and writes in a style that compels the reader forward…He has outdone himself with his newest book, Hell Is Empty…A piece of quality fiction that is built on so many levels that you could read it two or three times and not catch all that Johnson is trying to say…This book deserves the attention of more than just mystery readers. It is a top-notch novel. It is worth both your money and your time." — Wyoming Tribune Eagle

"The story starts with a pitch-perfect piece of Johnson's trademark scene-setting and then roars off into the wilderness, hardly leaving readers time to catch their breaths…In some ways, this reads like a book-length version of the haunting, harrowing final sequence of Johnson's outstanding debut, The Cold Dish (2005). And when it comes to bad weather, western lore, and a chilling hint of the supernatural, few writers write it better. — Booklist

"Series fans and readers who enjoy C.J. Box and other authors of Western mysteries will be enthralled by this electrifying and intense work; a triumph." — Library Journal (starred review)

"Stellar…When [Raynaud] Shade, who's headed for death row in Utah, escapes and takes off into the wilderness with a blizzard threatening, Walt sets off alone on the killer's trail…Soon Walt is past the point of no return as the snow and ice accumulate on a journey that evokes Dante's Inferno." — Publishers Weekly (starred review)

"For Wyoming Sheriff Walt Longmire, the pursuit of a vicious murderer through a killer ice storm in the Bighorn Moutnains adds up to a cold day in hell…Deft as always." — Kirkus Reviews

"A muscular story of guns and grit, man against man and man against nature…the characters' ascent is indeed hellish, pulling them deeper into a hypothermic fever dream where the line between the living and the dead blurs." — ShelfAwareness.com

"Craig Johnson continues to crank out top-notch mystery novels featuring the adventures—and misadventures—of Walt Longmire, a modern-day Wymoning sheriff…Little wonder that he's a winner of the Spur Award given by the Western Writers of America." — The Charleston Gazette Mail
Penguin Books, 9780143120988, 352pp.
Publication Date: April 24, 2012
About the Author
Craig Johnson is the New York Times bestselling author of the Longmire mysteries, the basis for the hit Netflix original series Longmire. He is the recipient of the Western Writers of America Spur Award for fiction, the Mountains and Plains Booksellers Award for fiction, the Nouvel Observateur Prix du Roman Noir, and the Prix SNCF du Polar. His novella Spirit of Steamboat was the first One Book Wyoming selection. He lives in Ucross, Wyoming, population twenty-five.