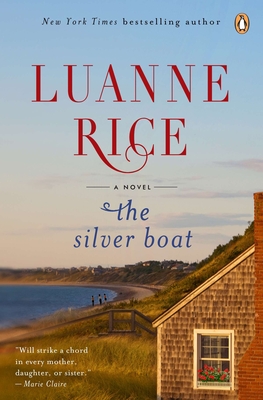 The Silver Boat (Paperback)
A Novel
Penguin Books, 9780143121039, 336pp.
Publication Date: May 29, 2012
* Individual store prices may vary.
Description
From New York Times bestselling author Luanne Rice, a moving family story that "will strike a chord in every mother, daughter, or sister" (Marie Claire)
In The Silver Boat, New York Times bestselling author Luanne Rice has written a heart-wrenching yet heartwarming portrait of a family in all its flawed complexity. The McCarthy sisters have come to Martha's Vineyard to say good-bye to their family's beach house—the place they were happiest together. Each has her own complicated issues and is struggling with the difficult process of letting go, but when a cache of old letters spurs them to visit Ireland, each woman comes to see herself in a new light. True-to-life sisters, the beach, laughter, and passionate love—The Silver Boat is Luanne Rice at her very best.
About the Author
Luanne Rice is the author of thirty-one novels, twenty-two of which have been New York Times bestsellers. Her recent novels include The Lemon Orchard, Little Night, and The Silver Boat. A native of Connecticut, she currently resides in New York City.
Praise For The Silver Boat: A Novel…
Praise for THE SILVER BOAT:
"Will strike a chord in every mother, daughter, or sister."
—Marie Claire

"Popular Rice, in her mellifluous style, captures the essence of family and sisterhood as each character deals with love and loss."
—Booklist

"Rice's writing effortlessly conveys the way family can bind as well as buoy us, reminding us that when the sea of life gets too choppy, by setting our prows toward the places that made us, we will find a safe harbor. Another winner from one of America's most beloved authors."
—BookPage

"Rice enriches familiar themes of family, failure, redemption, and romance with a watercolor-lovely portrait of Martha's Vineyard and sketches of the tug-of-war between sea and sand, rich and poor, development and preservation characteristic of the island."
—Publishers Weekly

"Compelling . . . a satisfying and worthwhile ride."
—Library Journal
Which boat is the one referred to in the title? How does it drive the events of the novel?
Discuss the ways in which their father's abandonment played out in the lives of each of the three sisters. What does the trip to Ireland represent for each of them?
Michael McCarthy loved his daughters, yet he felt compelled to leave them to find and claim his rightful legacy. Do you believe a mother would have left her children under the same circumstances? Do most men today still feel they need to be their families' main provider?
Dar's and Pete's respective experiences with alcoholism and drug addiction wreak damage beyond their individual lives. How does a history of substance abuse affect a family?
Would Dar have been an artist and writer if her father had not abandoned them? Is suffering an inherent part of the creative process?
Why did it mean so much to Cathleen McCarthy to meet Dar and her sisters? How does that affect them? Does the fact that their father had an affair with Cathleen diminish your opinion of him? Why or why not?
"Hence Bluepool's waving groves delight/Amuse the fancy, please the sight/And give such joy as may arise/From sylvan scenes and azure skies/The weary here in safe repose/Forgetting life's attendant woes/May sit secure, serene and still/And view with joy yon famed hill" (pp. 161 – 164). How does this poem—partially quoted by Cathleen and engraved on the Dalua Bridge—tie into the novel?
"'No, it's not that,' she said quickly. But he saw her look around. He felt how ashamed she was of all this, and was ready to drop it, just drive her home" (p. 222). Was Pete correctly interpreting Delia's feelings about going with him to the AA meeting? Why is it important to him that she be there?
"'Dear R & D, I know it's beside the point, but we now have an offer from the Rileys. I took the liberty of burning it'" (p. 248). Of the three sisters, only Dar wants to keep Daggett's Way. Rory and Delia see it as a beloved white elephant and imagine how helpful the money from its sale could be for their families. Might Dar feel differently if she had children of her own? If you are a parent, did your priorities change once your child was born? How?
What role does Harrison play in the novel? Why does he choose to live "off the grid" in Martha's Vineyard over a more conventional life elsewhere?
Ultimately, the sisters decide to sell Daggett's Way, but donate the even more valuable land grant. Why?