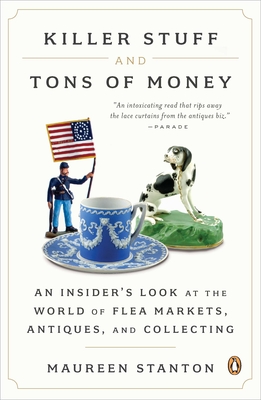 Killer Stuff and Tons of Money (Paperback)
An Insider's Look at the World of Flea Markets, Antiques, and Collecting
Penguin Books, 9780143121053, 336pp.
Publication Date: May 29, 2012
Other Editions of This Title:
Hardcover (6/9/2011)
Hardcover, Large Print (9/21/2011)
* Individual store prices may vary.
Description
Whether it's Antiques Roadshow or American Pickers, or any of the number of TV shows on flea markets, the world of collecting inspires a cult following of millions of Americans. Celebrated author Maureen Stanton takes readers behind the scenes and deep into the "flea-o-sphere," following master antiques dealer Curt Avery from the populist mayhem of flea markets, to the rarefied realm of high-end antiques shows, to the heart-pounding competition of auctions. Killer Stuff and Tons of Money is a captivating tour of the outrageous world of American antiques, jam-packed with colorful characters, high-stakes scores, and insider tips for all who seek hidden treasure.
About the Author
Maureen Stanton's writing has appeared in Creative Nonfiction, Fourth Genre, River Teeth, The Florida Review, Crab Orchard Review, The Sun, and many other journals, as well as several anthologies including Best of The Sun, Best of Brevity, and Best Texas Writing.  Five of her essays were listed as "Notable Essays" in Best American Essays series. She is the recipient of numerous awards, including a Pushcart Prize, a National Endowment for the Arts Literature Fellowship, a MacDowell Colony Fellowship, the Iowa Review nonfiction award, and the American Literary Review nonfiction prize. She currently teaches creative nonfiction at the University of Missouri.
Praise For Killer Stuff and Tons of Money: An Insider's Look at the World of Flea Markets, Antiques, and Collecting…
"Ms. Stanton captures the lower and middle echelons of the business with great skill, and her diverting and wholly unpretentious book makes a fine companion for a day at the beach—or a weekend spent treasure hunting at Brimfield." — The Wall Street Journal

"An intoxicating read that rips away the lace curtains from the antiques biz." — Parade

"After whipping through Maureen Stanton's utterly engaging, heavily researched account of her old college buddy's life on the yard-sale flea-market antiques-show auction-house circuit, I wanted to invite myself into his multi-state universe and hang out with all those dealers… Not since Larry McMurtry's fictitious rogue 'Cadillac Jack' has there been such a charming emissary from the world of the previously owned." — The Washington Post

"Ms. Stanton has a light, sure touch…if you truly love the subject matter, you will truly love [Killer Stuff and Tons of Money]." — The New York Times

"A fascinating look at the life of professional dealers who check out all the stuff at these shows before the rest of us even show up." — The Associated Press

"Maureen Stanton rips the lid off the whole business of antiques, hidden gems, dealers and auctions and the fevered American trade in objects of the past…Shaker furniture. Navajo rugs. Heirloom jewelry. Whale bone and weathervane. She takes us deep into the antiques biz." — Tom Ashbrook, on NPR's "On Point"

"Killer Stuff and Tons of Money is a deeply researched, memorably written narrative about the world of people who buy and sell antiques as their livelihoods...For anybody who treasures superb writing, this book will please page after page." — The St. Louis Post-Dispatch

"One of those books you'll start early and won't really be able to put down or shake till you're finished…You should be reading this book. You should be purchasing this promptly and giving yourself the time and quiet and cool to sit and get through the whole thing." — The Kenyon Review

"A fascinating look at Americans' obsession with collecting stuff and searching the shelves of antiques markets for some kind of jackpot." — The Portland Press Herald

"A treasure-trove of a book, especially for would-be antiquers." — Kirkus Reviews

"Killer Stuff is a killer read. Enjoy it, then hop in the station wagon and see if you strike gold." — Bookpage

"Stanton does a great job of educating the reader, of weaving in the history behind both objects and shows and recognizable names…Start this book when you have lots of time, because you won't want to put it down." — New England Antiques Journal

"Fascinating…Anyone who has ever wondered what life would be like as an antique dealer should read this eye-opening account." — Detroit News

"Very well-written… a truly good education about the lonely and hard life of the single middle market dealer struggling to make ends meet…a must-read for everyone in the trade [and] a narrative that will appeal to many people." — Antiques & Auction News

"[Stanton's] book educates and entertains while giving an honest insider view of the trade." — Maine Antiques Digest

"Full of interesting tidbits told in a fascinating way…I found this book hard to put down. [It is a nonfiction book so full of unbelievable stories you will think you are reading a novel." — Coastal Breeze News

"Treasure seekers will find plenty in this penetrating and lyrical account of flea market culture.  From the provenance of the Ouija board, to where to find the greatest "steals" in antiques (and it's not where you think) Killer Stuff and Tons of Money is chock full of wit, wisdom and surprises.  As Maureen Stanton's colorful protagonist puts it, "gold is where you find it," and this book hits the mother lode." — Ellen Ruppel Shell, author of CHEAP, THE HUNGRY GENE, A CHILD'S PLACE