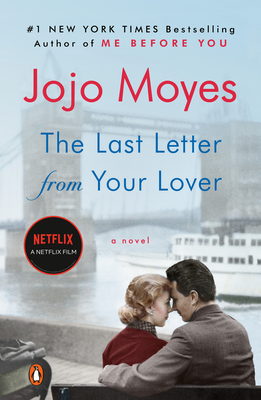 The Last Letter from Your Lover
A Novel
Paperback

* Individual store prices may vary.
Other Editions of This Title:
Digital Audiobook (7/6/2011)
Digital Audiobook (10/31/2010)
Hardcover, Large Print (9/7/2011)
Hardcover (7/7/2011)
CD-Audio (7/12/2016)
Paperback (2/1/2011)
Paperback (2/1/2011)
Description
Now a major motion picture streaming on Netflix starring Felicity Jones, Shailene Woodley, Callum Turner, Nabhaan Rizwan and Joe Alwyn

From the #1 New York Times bestselling author of The Giver of Stars, a sophisticated, page-turning double love story spanning forty years


It is 1960. When Jennifer Stirling wakes up in the hospital, she can remember nothing-not the tragic car accident that put her there, not her husband, not even who she is. She feels like a stranger in her own life until she stumbles upon an impassioned letter, signed simply "B", asking her to leave her husband. 

Years later, in 2003, a journalist named Ellie discovers the same enigmatic letter in a forgotten file in her newspaper's archives. She becomes obsessed by the story and hopeful that it can resurrect her faltering career. Perhaps if these lovers had a happy ending she will find one to her own complicated love life, too. Ellie's search will rewrite history and help her see the truth about her own modern romance. 

A spellbinding, intoxicating love story with a knockout ending, The Last Letter from Your Lover will appeal to the readers who have made One Day and The Guernsey Literary and Potato Peel Pie Society bestsellers.



Praise For The Last Letter from Your Lover: A Novel…
Praise for The Last Letter from Your Lover:

"With its realistically complicated characters and emotionally complex plot, The Last Letter from Your Lover is hopelessly and hopefully romantic."
—Chicago Tribune

"Crafting a love story that feels not just compelling but true is a very difficult thing indeed—and yet, with The Last Letter from Your Lover, Jojo Moyes has done it twice. I found myself utterly transfixed by both sets of lovers in this marvelous novel. Moyes is a tremendously gifted storyteller, and I'm all admiration."
—Paula McLain, New York Times bestselling author of The Paris Wife

"A fabulous, emotional, and evocative book—perfect for anyone who loves Mad Men."
—Sophie Kinsella, bestselling author of Confessions of a Shopaholic

"This story of passion and missed chances—with a twist that provides fresh perspective 40 years later—is entrancing."
—Parade (Top Pick)

"A prize-winning, cross-generational love story of missed connections and delayed gratification [that] hits a seam of pure romantic gold. . . . A cliffhanger-strewn tale of heartache in two strikingly different eras [and] a tour de force."
—Kirkus Reviews (starred review)

"Elegiac . . . emotionally ablaze . . . Moyes's genuinely captivating tale resonates deeply in today's fast-paced, less gracious world."
—Publishers Weekly

"Toggling between two eras, Moyes cleverly juxtaposes the conventions of old-fashioned and thoroughly modern romance."
—Booklist

"A modern yet ageless story of the human heart and its tenacity to hold on to a love that will not die or be replaced. Beautifully written . . . Jojo Moyes's novel gives the satisfaction of a fine wine and meal before the fireplace on a winter's night."
—Leila Meacham, New York Times bestselling author of Roses

"Exciting, moving, intriguing; the atmosphere's perfect, the plotting is masterly, the characters are brilliant."
—Penny Vincenzi, author of The Best of Times

"An engrossing double love story . . . a captivating tale of missed connections. The Last Letter from Your Lover is itself a love letter to the all-but-disappearing handwritten message."
—BookPage
Penguin Books, 9780143121107, 432pp.
Publication Date: June 26, 2012
About the Author
Jojo Moyes is the #1 New York Times bestselling author of The Giver of Stars, Still Me, Paris for One and Other Stories, After You, One Plus One, The Girl You Left Behind, Me Before You, The Last Letter from Your Lover, The Horse Dancer, Silver Bay, The Ship of Brides, and The Peacock Emporium. The Last letter From Your Lover will be released as a major motion picture by Netflix in July. She lives with her husband and three children in Essex, England.
What similarities are there between Ellie and Jennifer? How do their experiences reflect their respective eras? Of the two women, with whom do you empathize or identify the most?
Have you ever written or received a love letter? Have you ever sent a romantic e-mail or text? Do you think electronic communication has changed the nature of expression? How does the emotional weight of a love letter compare with that of spoken words?
Does Laurence love Jennifer? Imagine yourself in his position. What were his motives in lying to Jennifer about O'Hare's death?
How did your opinion of O'Hare develop over the course of the novel? Is he a traditional romantic hero?
If Jennifer and O'Hare had run away together, what would their lives have been like?
Jennifer's friends and her mother are reluctant to tell her much about her life before the accident, urging her to focus on the future. Why? Do you believe they knew about her affair?
Why does Yvonne react the way she does to Jennifer's decision to leave Laurence?
Think of Jennifer's many roles as mother, daughter, wife, lover, and friend. Is it possible to fill all those roles at once? Should any one role be a priority and, if so, which one? With this in mind, did Jennifer make the right choice in pursuing O'Hare?
Examine the female friendships in the novel, particularly the interactions between Ellie and her girlfriends. Had you been friends with Ellie, what advice would you have given her about John? What would you say to John?
Rory argues that being in love doesn't excuse someone from being responsible for their actions, that "everyone makes a choice" to do either the right or the wrong thing (p. 332). Ellie disagrees, believing that people can be swept away by emotion. What do you think?
Did you find the ending satisfactory? What happens next for Jennifer and Ellie?