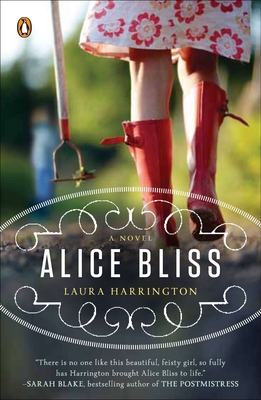 Alice Bliss (Paperback)
Penguin Books, 9780143121114, 306pp.
Publication Date: May 29, 2012
Description
A "Boston Globe "bestseller
"Nothing less than a fully realized vision of a young complicated girl." --"Entertainment Weekly"
Tomboy Alice Bliss is heartbroken when she learns that her father, Matt, is being deployed to Iraq. Matt will miss seeing Alice blossom into a full-blown teenager: she'll learn to drive, join the track team, go to her first dance, and fall in love--all while trying to be strong for her mother, Angie, and her precocious little sister. But the phone calls from her father are never long enough. At once universal and very personal, "Alice Bliss" is a profoundly moving story about those who are left at home during wartime and a small-town teenage girl bravely facing the future.
About the Author
Laura Harrington is an award-winning playwright, lyricist, and librettist. She teaches playwriting at MIT and lives in Gloucester, Massachusetts.
Praise For Alice Bliss…
Chosen as a "People Pick" by People Magazine, a "Listeners' Top Book Pick" by NPR's On Point with Tom Ashbrook, for the Barnes & Noble's "Discover Great New Writers" program, as an Entertainment Weekly "Best Reads of the Summer," as a Publishers Weekly First Fiction title, and was the winner of the Massachusetts Book Award in Fiction in 2012

"Harrington creates nothing less than a fully realized vision of a young complicated girl." --Entertainment Weekly

"I put down this book and thought, there is no one like this beautiful, feisty girl, so fully has Harrington brought Alice Bliss to life. The great sorrow, of course, is that there are many Alice Blisses out there. The power of Harrington's richly delineated novel lies in putting a girl like Alice before us and asking us to remember how many others are staring down the long hall of adulthood with a father or a mother gone to war."  --Sarah Blake, bestselling author of The Postmistress

"There are thousands of American kids like Alice, facing down their teen years with a parent gone to war. Her story is harrowing and heartbreaking, but it reads like truth." --People (Four Stars)

"This book may be the Our Town of the twenty-first century." --Anne Roiphe, bestselling author of Epilogue: A Memoir

"Though the fluid narration offers access to many characters, this is the story of Alice, her courage, fear, and optimism, and her heartbreaking discovery of the extent to which her father's life will shape and guide her own." --Publishers Weekly

"Heartbreaking yet edged with promise, Alice Bliss explores the wounds of war, love, and family bonds while illuminating the strength of a young girl's spirit. A stunning debut." --Beth Hoffman, New York Times bestselling author of Saving CeeCee Honeycutt

"Through the eyes of 15-year-old Alice Bliss, Laura Harrington brings to life the impact of war on our nation's most vulnerable. A beautifully told story about life, loss and the gift of unconditional love." --Tanya Biank, author of Army Wives

"This is a remarkably sensitive first novel, full of splendid characterizations … It's a heartbreaker—have tissues at hand—with promise shining through the pain." --Booklist (starred)

"You won't see Iraq in these pages … [Harrington's] book, in the end, really isn't about this war. It's about kids and fathers, about growing up with decent values and then being shaken hard and having to figure it out from there. It's a very fine book, and if rips your heart out, that's not a bad thing."
--Jesse Kornbluth, Headbutler 

"A powerful, wrenching story that reads as simple, unadorned truth." --School Library Journal (A Best of the Year So Far in the "Best Books 4 Teens" category)

"Alice Bliss adroitly illustrates the burden of war, not only on those deployed, but also on those left behind. And without saying so explicitly. Realistic in its portrayal of family dynamics, community life, and response to major life events, the story of Alice Bliss would be a helpful read for families whose loved one(s) are deployed." --New York Journal of Books

"Alice is a true heroine: intelligent, passionate, strong-minded. Watching her find her way is an absorbing pleasure."  --Margot Livesey, author of The House on Fortune Street

"Meet Alice Bliss, the heroine of Laura Harrington's gorgeous page-turner of a first novel. Like Scout in Harper Lee's To Kill a Mockingbird, Alice is destined to become a household name. In luminous, haunting prose Harrington enters the minds and hearts of all of her characters, imbuing her story with a timeless wisdom." --Charlotte Gordon, author of The Woman Who Named God and Mistress Bradstreet

"Alice Bliss is a poignant tale about the homefront horrors of war when a father leaves his wife and two girls for a tour of duty in Iraq. It is a touching reminder of our need for community to help those left behind find inner peace in a time of war." --JoeAnn Hart, author of Addled

 "Strong storytelling and a rich emotional core." --Jenny Downham, author of Before I Die

"Laura Harrington writes with grace, humor, and uncanny wisdom about loss and resilience and the workings of the human heart.  Alice's is a voice we need to hear, telling a story that lights up a dark corner of the sky.  ALICE BLISS is unforgettable." --Rachel Kadish, author of From a Sealed Room and Tolstoy Lied

"An incredibly poignant story. [Harrington's] portrayal of what families face when a loved one is deployed makes the novel appealing for males and females, adults and teens, alike." --ALAN's Picks
Advertisement