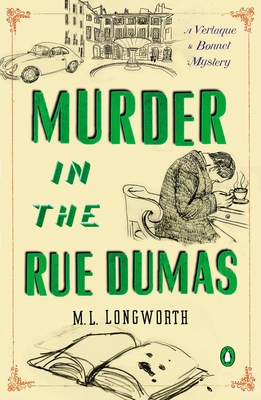 Murder in the Rue Dumas (Provencal Mystery #2) (Paperback)
Penguin Books, 9780143121541, 296pp.
Publication Date: September 25, 2012
Description
When a shocking murder rocks the theology department at Aix-en-Provence's university, chief magistrate Antoine Verlaque is on the case

The newest book in the Proven al Mystery series, The Secrets of the Bastide Blanche, is available now from Penguin Books When Dr. Georges Moutte is found mudrered, investigator Antoine Verlaque is stumped. Certainly the director of theology at the Universit d'Aix had his enemies. Moutte was just about to name the recipient of an elite fellowship as well as his own successor--a highly coveted position--when his lips were sealed permanently. But Verlaque isn't convinced that anyone in the tiny community of academics is capable of murder. Aided by his on-again, off-again girlfriend, law professor Marine Bonnet, Berlaque must turn Provence upside down, uncovering a world far more complicated than university politics, to find the killer before it's too late. A page-turning mystery that transports you to the south of France with its lush portrait of a charming seaside town, this continuation of the Verlaque and Bonnet series captivates. "What really makes Longworth's writing special is her deep knowledge of French history, landscape, cuisine, and even contemporary cafes and restaurants. This is that rare atmospheric mystery that is street-wise and caf -canny." --Booklist (starred review)
About the Author
M. L. Longworth has lived in Aix-en-Provence since 1997. She has written about the region for the Washington Post, the Times (London), the Independent(London), and Bon Appétit. She is the author of a bilingual collection of essays, Une Américaine en Provence. She divides her time between Aix and Paris, where she teaches writing at NYU's Paris campus.
Praise For Murder in the Rue Dumas (Provencal Mystery #2)…
"What really makes Longforth's writing special is her deep knowledge of French history, landscape, cuisine, and even contemporary cafes and restaurants. This is that rare atmospheric mystery that is street-wise and café-canny." – Booklist (starred review)

"As intricate as the mystery is, what provides the most pleasure in reading Murder in the Rue Dumas is Longworth's description of Verlaque and Bonet's daily lives… one can practically smell the freshly-baked croissants." – Seattle Post-Intelligencer 

"Fans of European sleuths with a taste for good food … will have fun." – PW

"Longworth's gentle procedural succeeds on several levels, whether it's for academic and literary allusions, police work, or armchair travel. With deftly shifting points of view, Longworth creates a beguiling read that will appeal to Louise Penny and Donna Leon fans." – Library Journal

"French-set mysteries have never been more popular [and] among the very best is a series set in Provence featuring Monsieur Verlaque, an examining magistrate, and his sometime girlfriend, law professor Marine Bonnet." – The Denver Post

Praise For Death at the Chateau Bremont  .
"This first novel in a projected series has charm, wit, and Aix-en- Provence all going for it. Longworth's voice is like a rich vintage of sparkling Dorothy Sayers and grounded Donna Leon...Longworth has lived in Aix since 1997, and her knowledge of the region is apparent on every page. Bon appétit." – Booklist
  .
"A promising debut for Longworth, who shows there's more to France than Paris and more to mystery than Maigret." – Kirkus   ."Mystery and romance served up with a hearty dose of French cuisine. I relished every word. Longworth does for Aix-en-Provence what Frances Mayes does for Tuscany: You want to be there-NOW!" – Babara Fairchild, former editor-in-chief, Bon Appetit magazine   ."Death at Chateau Bremont is replete with romance, mystery, and a rich atmosphere that makes the south of France spring off the page in a manner reminiscent of Donna Leon's Venice. A wonderful start to a series sure to gain a legion of fans." – Tasha Alexander, author of the Lady Emily mysteries  ."Longworth has a good eye and a sharp wit, and this introduction to Verlaque and Bonnet holds promise for a terrific series." – Globe and Mail   ."Death at Chateau Bremont offers charming French locales, vivid characters and an intriguing who-done-it." – Kevin R. Kosar, author of Whiskey: A Global History   ."Here's hoping the series lasts for years." – RT BookReviews   ."Your readers will eat this one up." – Library Journal   
Advertisement