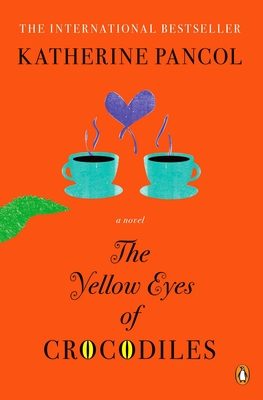 The Yellow Eyes of Crocodiles (Paperback)
Penguin Books, 9780143121558, 434pp.
Publication Date: December 31, 2013
Description
Le Divorce meets The Elegance of the Hedgehog in this hilariously entertaining mega-bestseller from France When her chronically unemployed husband runs off to start a crocodile farm in Kenya with his mistress, Josephine Cortes is left in an unhappy state of affairs. The mother of two--confident, beautiful teenage Hortense and shy, babyish Zoe--is forced to maintain a stable family life while making ends meet on her meager salary as a medieval history scholar. Meanwhile, Josephine's charismatic sister Iris seems to have it all--a wealthy husband, gorgeous looks, and a tres chic Paris address--but she dreams of bringing meaning back into her life. When Iris charms a famous publisher into offering her a lucrative deal for a twelfth-century romance, she offers her sister a deal of her own: Josephine will write the novel and pocket all the proceeds, but the book will be published under Iris's name. All is well--that is, until the book becomes the literary sensation of the season.
About the Author
Katherine Pancol is one of France's best-known contemporary authors, with millions of copies of her books in print in thirty languages. She lives in Paris.
Praise For The Yellow Eyes of Crocodiles…
"A satisfying read."
—The Washington Post

"Bonjour, book lovers. Get ready for best-selling French author Katherine Pancol's American debut. It's a charmer about fortysomething sisters Iris and Josephine, who have taken very different paths in life but come together when each finds herself in need of a little reinvention. Read it and ouip."
—Daily Candy

"Lucky you! You're about to succumb to France's most irresistible writer! At the end of this delicious, tender, funny, heartwarming novel, you'll feel as if Iris and Joséphine are part of your family."
—Tatiana de Rosnay, New York Times bestselling author of Sarah's Key

"Thought Parisian women are perfect? Think again. A delicious treat about separation, sisterhood, and turning tables."
—Inès de la Fressange, New York Times bestselling author of Parisian Chic

"There is a gorgeous and invigorating zip and sparkle to the writing. You read it with a big smile."
—Elizabeth Buchan, New York Times bestselling author of Revenge of the Middle-Aged Woman

"No wonder Katherine Pancol's books are all bestsellers, reading her feels like coming home. Her characters become like friends and family members, and you long to know how they get on. The Yellow Eyes of Crocodiles has all the quirks, tensions, and belly laughs that family, friendship, and sisterhood can entail. It is touching, entertaining, and vibrant."
—Cécile David-Weill, author of The Suitors

"This multilayered well-paced tale will delight you with its entertaining cast of characters and madcap adventures from Paris to the wilds of Africa."
—Katharine Davis, author of Capturing Paris

"Pancol deftly manages the constellation of characters in a cleareyed, warmly funny tale."
—Kirkus

"Pancol's runaway French bestseller is a satisfying Cinderella story. . . . delicious."
—Publishers Weekly

"Riveting . . . Delicious morsels involving every family member compel attention in a title that will appeal to fans of Marian Keyes and Olivia Goldsmith."
—Booklist
Advertisement