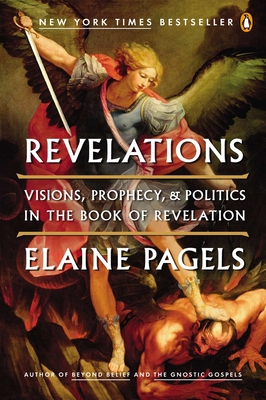 Revelations
Visions, Prophecy, and Politics in the Book of Revelation
Paperback

* Individual store prices may vary.
Other Editions of This Title:
Digital Audiobook (3/5/2012)
Hardcover (3/6/2012)
Compact Disc (3/6/2012)
Compact Disc (3/6/2012)
Description
A profound exploration of the Bible's most controversial book—from the author of Beyond Belief and The Gnostic Gospels
The strangest book of the New Testament, filled with visions of the Rapture, the whore of Babylon, and apocalyptic writing of the end of times, the Book of Revelation has fascinated readers for more than two thousand years, but where did it come from? And what are the meanings of its surreal images of dragons, monsters, angels, and cosmic war?
            Elaine Pagels,
New York Times
bestselling author and "the preeminent voice of biblical scholarship to the American public" (
The Philadelphia Inquirer
), elucidates the true history of this controversial book, uncovering its origins and the roots of dissent, violence, and division in the world's religions. Brilliantly weaving scholarship with a deep understanding of the human needs to which religion speaks, Pagels has written what may be the masterwork of her unique career.
Praise For Revelations: Visions, Prophecy, and Politics in the Book of Revelation…
"Revelations is a slim book that packs in dense layers of scholarship and meaning . . . One of [Elaine Pagels's] great gifts is much in abundance: her ability to ask, and answer, the plainest questions about her material without speaking down to her audience . . . She must be a fiendishly good lecturer."
— The New York Times

"One of the significant benefits of Pagels's book is its demonstration of the unpredictability of apocalyptic politics . . . The meaning of the Apocalypse is ever malleable and ready to hand for whatever crisis one confronts. That is one lesson of Pagels's book. Another is that we all should be vigilant to keep some of us from using the vision for violence against others."
— The New York Times Book Review (Editors' Choice)

"Pagels is an absorbing, intelligent, and eye-opening companion. Calming and broad-minded here, as in her earlier works, she applies a sympathetic and humane eye to texts that are neither subtle nor sympathetically humane but lit instead by fury." — Adam Gopnik, The New Yorker

"Any book in the Bible that can be cited simultaneously by deeply conservative end-of-times Christians who see the Apocalypse around the corner and by Marxist-friendly Christians looking forward to justice at the End of History must have a compelling back story. That back story is told well and concisely by Elaine Pagels in her new book, Revelations." — The Boston Globe
Penguin Books, 9780143121633, 256pp.
Publication Date: February 26, 2013
About the Author
Elaine Pagels is the Harrington Spear Paine Professor of Religion at Princeton University and the author of Reading Judas, The Gnostic Gospels-winner of the National Book Critics Circle Award and the National Book Award- and the New York Times bestseller Beyond Belief. She lives in Princeton, New Jersey.