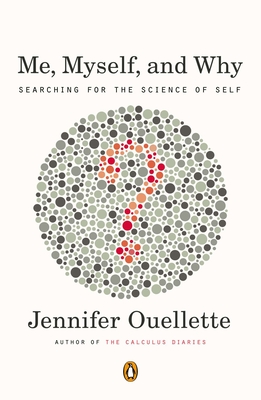 Me, Myself, and Why (Paperback)
Searching for the Science of Self
Penguin Books, 9780143121657, 336pp.
Publication Date: January 28, 2014
Other Editions of This Title:
Digital Audiobook (1/31/2014)
* Individual store prices may vary.
Description
As diverse as people appear to be, all of our genes and brains are nearly identical. In Me, Myself, and Why, Jennifer Ouellette dives into the miniscule ranges of variation to understand just what sets us apart. She draws on cutting-edge research in genetics, neuroscience, and psychology-enlivened as always with her signature sense of humor-to explore the mysteries of human identity and behavior. Readers follow her own surprising journey of self-discovery as she has her genome sequenced, her brain mapped, her personality typed, and even samples a popular hallucinogen. Bringing together everything from Mendel's famous pea plant experiments and mutations in The X-Men to our taste for cilantro and our relationships with virtual avatars, Ouellette takes us on an endlessly thrilling and illuminating trip into the science of ourselves
About the Author
Jennifer Ouellette is the author of three previous books. She writes the popular science and culture blog Cocktail Party Physics for Scientific American. She lives in Los Angeles, California.
Praise For Me, Myself, and Why: Searching for the Science of Self…
Praise for Me, Myself, and Why

"Ouellette is a smart, well-studied, and personable companion. . . . There are a number of approaches to defining a person, and this task has engaged philosophers, theologians, scientists, and pretty much everyone who has ever lived, at least since mirrors were invented. Ouellette looks at all of the methods listed above, and more, in trying to figure out who she is and what tools are at hand for figuring out who anyone is."
—The Wall Street Journal

"In Me, Myself, and Why Ouellette offers curiosity-inspiring glimpses into science , coupled with an obvious love for the material and a healthy dose of humor. . . . The combination of historical anecdote and current research is impressive."
—The New York Times Book Review

"Ouellette explores the concept of identity through scientific, medical, and psychological testing on her journey of self-discovery. She is an expert at communicating tough scientific concepts to broad audiences, and here she uses personal narrative to appeal to her readers as she skillfully recounts her experiences."
—Psychology Today

"Very entertaining . . . It is hard to imagine a more delightful guide to the science of self than Jennifer Ouellette."
—Jim Holt, Prospect

"Tackling 'the science of self' could easily get tedious or even a little boring, but in the capable hands of Jennifer Ouellette, it's nothing but fun. . . .  Her ability to make rather advanced theories interesting and relatable makes this a must read for those who have a passion for science but would rather be reading Joan Didion."
—Bust

"An engrossing and often amusing tour of elite labs and edgy research."
—Nature

"Who are we? Who am I? Those are the questions Ouellette tackles in this elegant and very personal inquiry into identity and the science of the self. . . . An entertaining, insightful, and thoughtful reflection on our assumptions about ourselves and the mystery that is at the heart of the human story."
—Booklist (starred review)

"Solid science well infused with readable history, pop culture and personal stories. . . . Ouellette's personal anecdotes reveal a writer with keen intelligence, curiosity, a spirit of adventure and a sense of humor."
—Kirkus Reviews

"A clear, direct tour of the biology of the self . . . from an author with a flair for making complex subjects simple."
—Publishers Weekly