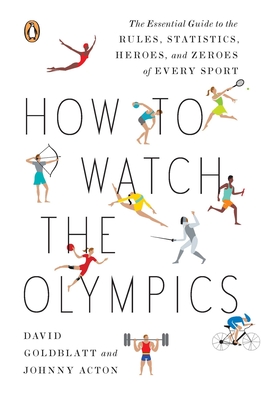 How to Watch the Olympics (Paperback)
The Essential Guide to the Rules, Statistics, Heroes, and Zeroes of Every Sport
Penguin Books, 9780143121879, 400pp.
Publication Date: May 29, 2012
* Individual store prices may vary.
Description
The must-have guide to the Summer Olympic Games
This summer, millions of Americans will tune into the Olympic Games, the largest and most popular sporting event in the world. Yet while it's easy to be fascinated by agile gymnasts, poised equestrians, and perfectly synchronized swimmers, few of us know the real width of a balance beam, the intricate regulations of dressage, or the origin of those crowd-pleasing legs-in-the-air swimming formations. Luckily, David Goldblatt and Johnny Acton have created this utterly thorough and always fun guide to the rules, strategy, and history of each sport. Originally timed to 2012 London Games, their book is every bit as useful for Rio de Janeiro in 2016. With witty, detailed descriptions and clever illustrations, How to Watch the Olympics will help anyone grasp handball, archery, wrestling, fencing, and every other Olympic event like a true pro.
About the Author
David Goldblatt is a sports columnist, radio commentator, and the author of
The Ball Is Round: A Global History of Soccer
.
Johnny Acton is a writer specializing in obscure nuggets of information—ranging from pickling food (Preserved ) to the history of balloons (The Man Who Touched the Sky).
Praise For How to Watch the Olympics: The Essential Guide to the Rules, Statistics, Heroes, and Zeroes of Every Sport…
Praise for How to Watch the Olympics
 
"Goldblatt and Acton offer information from the ground up about every sport in the Summer Games—they explain why it's worth watching canoeing and field hockey—along with loads of facts about the rules, the scoring, and even the equipment specs."
—Louis Menand, The New Yorker
 
"Rich in intriguing background . . . a wonderfully entertaining, informative read, one that caught me incessantly putting 'Did you know. . .' questions to my friends. . . . Stories, after all, are the foundation for why we watch sports in the first place. It is our good fortune to join these storytellers for the ride."
—Christian Science Monitor
 
"Delicious facts sprint through How to Watch the Olympics. It's by a pair of cheeky Brit sportswriters, David Goldblatt and Johnny Acton, and sorry to sound like an infomercial, but if you only buy one book on the Olympics, buy this. I'm keeping my copy next to the remote control, from the opening ceremony to the final sign-off."
—Boston Globe
 
"You can rely on TV commentators to help you, or you might wander through the pages of this helpful, comprehensive guide. Want to know what to look for in the opening and closing ceremonies? Why should you care about archery or rowing, not just gymnastics or swimming? The answers are here."
—Los Angeles Times
 
"The authors clearly and engagingly explain the rules, competitors, and strategies of all the sports you'll be watching during this summer's Olympics. Whether it's archery or kayaking, synchronized swimming or the marathon, this book tells you everything you need to know to converse intelligently about the games."
—Minneapolis Star-Tribune
 
"No slapdash Olympic cash-in, this work distill the basics, tactics, and traditions of each sport without sounding like the tax code. While there's plenty of facts for the Olympic geek, How To Watch the Olympics also presents a witty and informed account of the politics, history and controversies of the Olympics. At the center of it are the athletes—underdogs turned champions, honorable failures, dopers and cheaters. Authors David Goldblatt and Johnny Acton made it their mission to penetrate the hype and spectacle of the games to celebrate the spirit that's kept the torch aflame for more than 100 years."
—Pittsburgh Tribune-Review

"Even Olympic-watching pros have to be impressed with this handy, one-volume guide to every sport for couch potatoes to become instant authorities on whatever they're watching. Where else will you get 12 splendid, simple pages telling you everything you could ever want to know about fencing? It goes without saying, of course, that foil matches are thoroughly delineated from those with the épée and sabre."
—Buffalo News

"This handbook, with its fast facts and useful overviews of the many events, plus its thumbnail portraits of past Olympic performers, should rest comfortably on the easy chair, ready for quick access as the TV broadcasts commence."
—BookPage
or
Not Currently Available for Direct Purchase