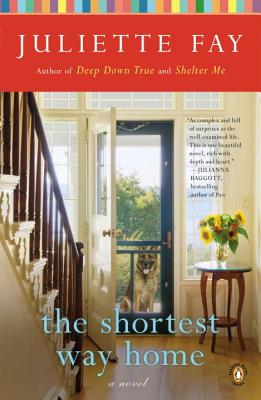 The Shortest Way Home (Paperback)
Penguin Books, 9780143121916, 416pp.
Publication Date: October 30, 2012
Description
A NOVEL FULL OF HUMOR AND HOPE FOR FINDING YOURSELF WHERE YOU LEAST EXPECTED
Sean has spent twenty years in Third World war zones and natural disaster areas, fully embracing what he d always felt was his life's mission. But when burnout sets in, Sean is reluctantly drawn home to Belham, Massachusetts, the setting of Fay's much-loved Shelter Me. There, he discovers that his steely aunt, overly dramatic sister, and quirky nephew are having a little natural disaster of their own. When he reconnects with a woman from his past, Sean has to wonder if the bonds of love and loyalty might just rewrite his destiny. Completely relatable, The Shortest Way Home is another perfect serving of a slice of life from the irresistible Fay.
Winner of the Library Journal Award for Best Women's Fiction
About the Author
Juliette Fay's first novel, Shelter Me, was a 2009 Massachusetts Book Award Book of the Year. Her second novel, Deep Down True, was short-listed for the Women's Fiction Award by the American Library Association. She received a bachelor's degree from Boston College and a master's degree from Harvard University. She lives in Massachusetts with her husband and four children. The Shortest Way Home is her third novel.
Praise For The Shortest Way Home…
Praise for The Shortest Way Home:

"Fay is one of the best authors of women's fiction, and her novels are not to be missed. A moving, introspective look at what it means to be family, and to be truly home."—Library Journal, starred review

"Fans of Fay's first novel, Shelter Me (2009), will spot a familiar face in Sean's hometown, and readers old and new will fall in love with the flawed, endearing cast of characters. A beautifully written novel infused with Fay's generous spirit."—Booklist

"Fay's third novel (after Deep Down True) is a touching exploration of a damaged family working to repair itself, with universal appeal."—Publishers Weekly

"Full of humorous and tender moments as well as subtle revelations, The Shortest Way Home is a quietly powerful exploration of one man's journey back to himself."
–Bookreporter.com

"The Shortest Way Home is as complex and full of surprises as the well-examined life. This is one beautiful novel, rich with depth and heart."
—Julianna Baggott, bestselling author of Pure

"The Shortest Way Home is Juliette Fay's best yet and shows us that loving the people in your life can be as exciting, as daring, as difficult an adventure as any."
—Marisa de los Santos, New York Times bestselling author of Falling Together and Love Walked In

"The Shortest Way Home is full of heart and of understanding about the often awkward
collection we call 'family.'"
—Meg Waite Clayton, bestselling author of The Wednesday Sisters

"If you've ever thought you or anyone in your family might be just a bit less than perfect, read this book."
—Nancy Thayer, author of Summer Breeze

"With trademark wit and grace, Juliette Fay portrays a man forced to rescue his family as he reaches for his own freedom. She keeps you turning the pages, even as you want to stop and admire her writing."
—Randy Susan Meyers, author of The Murderer's Daughters

"Insightful, funny, and tender-hearted…full of truths about family, falling in love, and finding out who we are meant to be."
—Amy Hatvany, author of Best Kept Secret and Outside the Lines

"A touching and engrossing story about the lengths to which we'll go to avoid where we're meant to be, and the way the heart leads us gently back."
—Nichole Bernier, author of The Unfinished Work of Elizabeth D.

"A smart, sincere look at the meaning of home, the complicated nature of family ties, and how the things we run from are often what we need the most."
—Allie Larkin, author of Why Can't I Be You

"Heartfelt... Juliette Fay does a wonderful job creating this quirky, lovable cast of characters finding their way in life and love."—Shilpi Somaya Gowda, New York Times bestselling author of Secret Daughter

"Powerful, beautifully written, and at times heartbreaking… a meditation on the impossibility and the inevitability of finding our way home."
—Julie Buxbaum, author of After You

Praise for Deep Down True:
 
"Sincere, powerful and heartfelt, Deep Down True will resonate with women everywhere . . . I loved Fay's true-to-life characters and her ability to portray the intricate dynamics of friendship and family in such an immediately recognizable way."
—Emily Giffin, New York Times bestselling author of Heart of the Matter and Where We Belong

"I love Deep Down True for its intensely human characters and for the way the author grants them their flaws as generously as she celebrates their daily decencies, their persistent hopefulness, their moments of personal grace."
—Marisa de los Santos, New York Times bestselling author of Falling Together and Love Walked In
 
"Enormously readable and hugely relatable!"
—Kelly Corrigan, New York Times bestselling author of The Middle Place and Lift 
 
"Engrossing, touching, and immensely satisfying. The truth shines on every page. I'd almost be willing to go back to junior high if I could sit at Juliette Fay's lunch table!"
—Beth Harbison, New York Times bestselling author of Thin, Rich, Pretty and When in Doubt, Add Butter
 
"Fay deals honestly with Dana's emotional journey . . . and gives readers a believable cast, from the daughter struggling with the wolf-pack mentality of middle school to Dana's sometimes obnoxious yet fiercely loving sister. It expertly walks a heavily trodden path."
—Publishers Weekly 
 
"Fay imbues Dana with the smarts and insecurities that war within most of us. Highly recommended for fans of women's fiction featuring resilient heroines."
—Library Journal 
 
"Heartwarming, funny, well-penned . . . a solid page-turner, right through to the touching end."
—Booklist
 
"Tackles a host of serious issues in a remarkably thoughtful fashion . . . What's more, it's just a genuinely good story."
—Bookreporter

Praise for Shelter Me:
 
"Fay keeps the reader engaged with a vivid descriptive palette evoking the little details of life in a small town. She also does a beautiful job capturing the ebb and flow of single motherhood, from small miracles and little annoyances to the big ordeals."
—The Boston Globe
 
"A wise and inspirational debut. Readers will be charmed."
—Publishers Weekly
 
"What a gorgeous paradox of a book: a deep, thoughtful exploration of a young mother's first year of widowhood that is as much a page-turner as any thriller. The translucent beauty of the writing and the sheer humanity of the characters pulled me along."
—Marisa de Los Santos, New York Times bestselling author of Falling Together and Love Walked In
 
"Juliette Fay can hit the high notes of emotion with unexpected moments of redemption and wry humor."
—Jacqueline Sheehan, author of Lost & Found
 
"A richly told story. Fay writes with vivid dialogue and conjures up characters that feel real enough to be sitting in your kitchen."
—Lee Woodruff, New York Times bestselling author of In An Instant
Advertisement