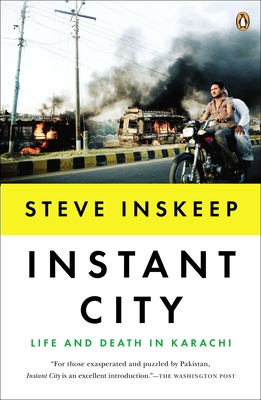 Instant City (Paperback)
Life and Death in Karachi
Penguin Books, 9780143122166, 304pp.
Publication Date: September 25, 2012
Other Editions of This Title:
Hardcover (10/13/2011)
* Individual store prices may vary.
Description
Morning Edition cohost Steve Inskeep presents a riveting account of a single harrowing day in December 2009 that sheds light on the constant tensions in Karachi, Pakistan—when a bomb blast ripped through a Shia religious procession, followed by the torching of hundreds of businesses in Karachi's commercial district. Through interviews with a broad cross section of Karachi residents, Inskeep peels back the layers of that terrible day. It is the beginning, and a constant touchstone, in a journey across the city's epic history and its troubled present Thrilling and deeply researched, Instant City tells the story of one of the world's fastest-growing metropolises and the forces competing to shape its future.
About the Author
STEVE INSKEEP is a co-host of Morning Edition, the most widely heard radio news program in the United States. After the September 11 attacks, he covered the war in Afghanistan, the hunt for al-Qaeda suspects in Pakistan, and the war in Iraq. He won a National Headliner Award for investigating a military raid that went wrong in Afghanistan; the Robert F. Kennedy journalism award for "The Price of African Oil," about conflict in Nigeria; and shared an Alfred I. Dupont award for The York Project, a groundbreaking series of conversations on race in America.  This is his first book.
Praise For Instant City: Life and Death in Karachi…
"It is
an act of courage
for Inskeep to write a book about Karachi based on interviews in that city. As the well-known host of NPR's "Morning Edition," he must have been aware of the possible dangers he faced…
A tribute to Karachi is long overdue, and Inskeep provides one.
"If this book succeeds at all," he writes, "it lets the city speak for itself and be judged on its own terms." For those exasperated and puzzled by Pakistan,
Instant City
is
an excellent introduction
." —
THE WASHINGTON POST"Informative, ambitious, chaotic, and sometimes glorious"
—
CHRISTIAN SCIENCE MONITOR"Absorbing… reads like a sophisticated thriller
as the author traces the movements of a number of people… he keeps his narrative well paced and full of small surprises. The book sparkles when Inskeep takes an unexpected turn and follows a stranger, or when he tracks down a new trend to illuminate a new facet of the city. The old man he encounters outside a liquor shop, the slum under construction, the upscale leisure park tell us more about the city than any bomb blast…
Not many politicians read books in Karachi, but if they were to read one, let it be Instant City.
—
PUBLISHERS WEEKLY
"Steve Inskeep has written
a magnificent, engrossing book about one of the world's most vivid and fascinating cities.
His subject – urban Pakistan's struggles and zig-zagging achievements – is of deep and timely importance. His voice reflects the best traditions of politically alert travel writing, endowed with calm wisdom and curious empathy." —
Steve Coll, author of GHOST WARS and THE BIN LADENS
"Urbanity is our certain and fixed future. How human beings live together—or fail to live together—compacted into great cities where a world's races, religions and ancestries share ever-tighter quarters—this is the fundamental question for the new century. With Instant City, Steve Inskeep tells the story of a single violent and volatile day in the teeming streets of Karachi, Pakistan. In doing so, he reveals what is now at stake not just for Pakistan, or Asia, but for the human species. This is thoughtful, important work."
—
David Simon, creator of HBO's "The Wire;" author of HOMICIDE
or
Not Currently Available for Direct Purchase