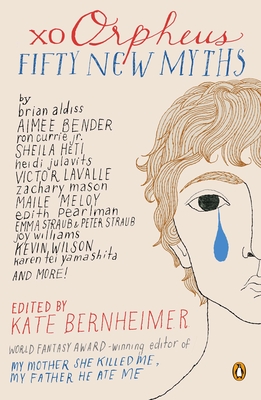 xo Orpheus
Fifty New Myths
Paperback

* Individual store prices may vary.
Description
Fifty leading writers retell myths from around the world in this dazzling follow-up to the bestselling My Mother She Killed Me, My Father He Ate Me.

Icarus flies once more. Aztec jaguar gods again stalk the earth. An American soldier designs a new kind of Trojan horse—his cremains in a bullet. Here, in beguiling guise, are your favorite mythological figures alongside characters from Indian, Punjabi, Inuit, and other traditions.
 
Aimee Bender retells the myth of the Titans.

Elizabeth McCracken retells the myth of Lamia, the child-eating mistress of Zeus.

Madeline Miller retells the myth of Galatea.
 
Kevin Wilson retells the myth of Phaeton, from Ovid's Metamorphoses.
 
Emma Straub and Peter Straub retell the myth of Persephone.
 
Heidi Julavits retells the myth of Orpheus and Euridice.
 
Ron Currie, Jr. retells the myth of Dedalus.
 
Maile Meloy retells the myth of Demeter.
 
Zachary Mason retells the myth of Narcissus.
 
Joy Williams retells the myth of Argos, Odysseus' dog.
 
If "xo" signals a goodbye, then xo Orpheus is a goodbye to an old way of mythmaking. Featuring talkative goats, a cat lady, a bird woman, a beer-drinking ogre, a squid who falls in love with the sun, and a girl who gives birth to cubs, here are extravagantly imagined, bracingly contemporary stories, heralding a new beginning for one of the world's oldest literary traditions.
Praise For xo Orpheus: Fifty New Myths…
"An abundant and often impressive collection, addressing a wildly varied cast of characters." —The New York Times Book Review

"Bernheimer . . . does a fantastic job of selecting stories—ranging from archaic and straightforward to contemporary and experimental—without repeating tone or genre. . . . xo Orpheus reads like a dream encyclopedia in which well-known faces become shuffled, obscured and reset in new surroundings. . . . Fans of mythology should have plenty of room for getting lost." —Time Out New York

"Vastly entertaining . . . Fascinating . . . A brilliant showcase of current talent within the short story . . . From Norse, Greek, and Roman myths to Native American coyote myths, there is something for everyone to read in this anthology, and it is definitely a must-read." —San Francisco Book Review

"In this searing yet ebullient collection, contemporary authors and one graphic artist move beyond merely updating classic myths of multiple cultures by performing gut-rehabs while maintaining the stark, terrifying moments of fate-altering choices. . . . The form is as inventive as the content. . . . Edith Hamilton, the great classicist who made Greek mythology accessible, is officially put on notice by this explosive anthology." —Booklist, starred review

"Enthralling . . . A courageously wild declaration of a new beginning for the world's oldest form of storytelling . . . Bernheimer reignites the world of myth in her ingenious new anthology." —Publishers Weekly

"Fascinating . . . Beautiful . . . It's proof that the old relationship [between myth and literature] is still vital to human life." —The Portland Mercury
 
"A visceral, many-faceted collection of retold myths. Bernheimer shows a deft and cohesive touch in the stories she has chosen here; it is a beautiful, sometimes sad and harrowing collection." —Shelf Awareness
Penguin Books, 9780143122425, 576pp.
Publication Date: September 24, 2013
About the Author
Kate Bernheimer is the editor of the World Fantasy Award-winning anthology My Mother She Killed Me, My Father He Ate Me: Forty New Fairy Tales and the founder and editor of the literary journal Fairy Tale Review. The author of numerous works of fiction, including How a Mother Weaned Her Girl from Fairy Tales, she teaches in the English department at the University of Arizona.