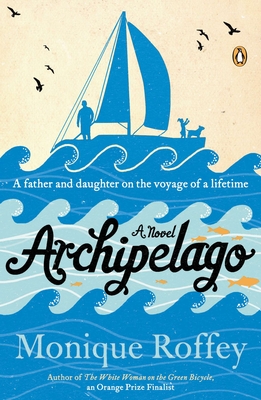 Archipelago (Paperback)
Penguin Books, 9780143122562, 360pp.
Publication Date: May 28, 2013
* Individual store prices may vary.
or
Not Currently Available for Direct Purchase
Description
A mesmerizing tale of a father and daughter's sailing adventure from Trinidad to the Galapagos Islands, winner of the 2013 OCM Bocas Prize for Caribbean Literature and finalist for the 2014 Orion Book Award
Monique Roffey, vibrant new voice in Caribbean fiction and author of the Orange Prize finalist The White Woman on the Green Bicycle, returns with Archipelago, a new novel that is a journey of redemption, healing, and hope in the wake of devastating loss.
When a flood destroys Gavin Weald's home in Trinidad and rips his family apart, life as he knows it will never be the same. A year later he returns to his house and tries to start over, but when the rainy season arrives, his daughter's nightmares about the torrents make life there unbearable. So father and daughter and their dog embark upon a voyage to make peace with the waters. Their journey takes them far from their Caribbean island home, as they sail through archipelagos, encounter the grandeur of the sea, and meet with the challenges and surprises of the natural world.
About the Author
Monique Roffey was born in Port of Spain, Trinidad, and educated in the UK. Since then she has worked as a center director for the Arvon foundation and has held the post of Royal Literary Fund Fellow at Sussex, Chichester, and Greenwich universities. She is the author of the highly acclaimed novels sun dog and The White Woman on the Green Bicycle, which was shortlisted for the Orange Prize for Fiction in 2010 and the Encore Award 2011. She has also written a memoir, With the Kisses of His Mouth. Read more about her writing at www.moniqueroffey.co.uk.
Praise For Archipelago…
"The challenge the author sets up is a big one: How to show that this ruined family could ever recover. And Ms. Roffey, who won the OCM Bocas Prize for Caribbean Literature for this novel, gracefully delivers on this front. Every wonder our sailors encounter — an octopus, a giant tortoise — brings a sense of believable peace."
—The New York Times
 
"Archipelago is the kind of tale that once you start reading it you can't bear to see it end. With sweeping emotion, extraordinary characters and the utter unpredictability of the sea, Roffey creates a timeless story featuring Gavin Weald, his daughter Océan, and their faithful dog Suzy, who travel by boat from their home in Trinidad to the Galápagos Islands. Father and daughter experience both adventure and heartbreak, and ultimately return to their homeland irreparably changed."
—The Minneapolis Star Tribune
 
"Like The Odyssey, Archipelago is ultimately a journey toward home."
—The Milwaukee Journal Sentinel
 
"Written in a style as fluid as water, Roffey's narrative weaves a perfect description of land and seascapes and explores the value of friendship and various types of love. . . . As heart-grabbing and memorable as her other books, e.g., The White Woman on the Green Bicycle, this new work will have readers cheering for Gavin, Ocean, and Claire. An excellent choice for book groups." —Library Journal (starred review)
 
"Roffey's stirring novel is one to place on the shelf next to Moby Dick and other notable seafaring stories. . . . Roffey (The White Woman on the Green Bicycle) is a masterful writer whose words are subsumed in the pictures they paint and the tales they spin."
—Publishers Weekly
 
"This is a love of a writer; read her."
—Barbara Hoffert, Library Journal
 
"[A] stunning adventure story and coming-of-age tale. . . . [A] poignant, beautifully rendered saga of one family's struggle to survive a tragic loss."
—Booklist
 
"Appealingly warmhearted; readers will empathize with the endearing characters and want them to have a happy ending."
—Kirkus Reviews
 
"An adventure blazing with a lust for life. . . . Monique Roffey has established herself as a fearless writer with her choices of subject and her visceral style. . . . Archipelago travels to new, intoxicating latitudes. . . . Roffey excels equally at the hands-on descriptions of yachting, the intricacies of island navigation, the beauty and terror of the sea, and the inner life of her rudderless protagonist. The girl is captured with pitch-perfect empathy. . . . [A] big-hearted Moby-Dick story for our times." —Kapka Kassabova, The Guardian
 
"Arresting . . . . Strikingly vivid . . . . Archipelago beautifully evokes the pared-back rawness of being adrift, at the mercy of nature, first by accident and then by design.
—Maria Crawford, The Financial Times  
"Engrossing. . . . [Archipelago] washes over the reader's imagination with the force of a tidal wave as its protagonists embark on a perilous journey along the Caribbean Sea. . . . A haunting portrayal of the dangers and delights, trials and tribulations, of surviving in an archipelago. Roffey evocatively conjures the life and landscape of the Caribbean islands. . . . Roffey here creates an incrementally powerful reflection on grief, an acute study of a father-daughter relationship, with a compelling account of climate change and a transformative journey. . . . The novel shows what remains in the heart when we have lost what we love, and the inner resources needed to rebuild a life from its ruins." —Anita Sethi, The Independent  
"[Archipelago shows] the finesse Roffey reveals in her understanding of men in extremis. . . . As a writer, Roffey meets the challenge confidently, structuring her narrative adeptly and holding the reader's attention throughout. . . . It's a powerful story of endurance and triumph in the face of adversity, and one that also offers answers to questions of how we might respond in a rapidly changing world when things start to go wrong." —Jim Ferguson, The Scotsman  
"Archipelago is beautifully done. There's a warmth to it, an exuberance and a wisdom. It's funny, and sometimes bitingly poignant. Monique Roffey writes the male central character so well, and as for the little girl at the centre of the story, it's one of the most vivid and charming portraits of a young child I can remember reading in years. A brilliant piece of storytelling." —Andrew Miller, author of Pure, winner of the Costa Book of the Year Award  
"Compelling. . . . Roffey, herself from Port of Spain, writes like one who knows these waters well, their beauty and their capacity to cleanse, but also their volatility. The writing is studded with striking images—the dog's nose is as pink as a scrap of ballet shoe—and there's a real sense of momentum. . . . Roffey is adept at conveying wonder." —The Observer (UK)
 
"A man's family home is destroyed by flood in Trinidad, but after it is rebuilt the nightmare continues. Roffey's lyrical style won her accolades for The White Woman on the Green Bicycle, this is just as enchanting."
—Elle (UK)  
"Read this novel by Monique Roffey for its craft, its intense, elemental optimism and for the lyricism of a joyful girl-child's discovering of the different faces of an archipelago." —Earl Lovelace, author of Is Just a Movie and Salt, winner of the Commonwealth Writers' Prize  
"[ARCHIPELAGO] is lovely: a novel full of sensual, elemental description, soaked in loss and damage and softly haunted by the Caribbean's bloody history of slavery." —Claire Allfree, Metro (UK)  
"A stirring narrative. . . . Roffey captures the impotence of man in the face of the extremes of ­nature quite superbly." —Scotland on Sunday  
"Most people dream of escaping to the Caribbean; the hero of Roffey's novel is mad keen to escape from Trinidad after his house is destroyed by a flood. He returns to rebuild his home with his six-year-old daughter, but memories of the flood haunt him and he takes to his boat. You can feel the sea breeze on your face and you'll be itching to dive into 'the green and turquoise leopard print sea.'" —Sebastian Shakespeare, Tatler
 
Advertisement