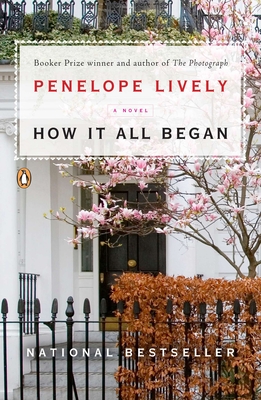 How It All Began (Paperback)
Penguin Books, 9780143122647, 229pp.
Publication Date: November 27, 2012
Description
A vibrant new novel from Penelope Lively
--
a wry, wise story about the surprising ways lives intersect
Look out for Penelope Lively's new book,
The Purple Swamp Hen and Other Stories.
When Charlotte Rainsford, a retired schoolteacher, is accosted by a petty thief on a London street, the consequences ripple across the lives of acquaintances and strangers alike. A marriage unravels after an illicit love affair is revealed through an errant cell phone message; a posh yet financially strapped interior designer meets a business partner who might prove too good to be true; an old-guard historian tries to recapture his youthful vigor with an ill-conceived idea for a TV miniseries; and a middle-aged central European immigrant learns to speak English and reinvents his life with the assistance of some new friends.
Through a richly conceived and colorful cast of characters, Penelope Lively explores the powerful role of chance in people's lives and deftly illustrates how our paths can be altered irrevocably by someone we will never even meet. Brought to life in her hallmark graceful prose and full of keen insights into human nature, How It All Began is an engaging, contemporary tale that is sure to strike a chord with her legion of loyal fans as well as new readers. A writer of rare wisdom, elegance, and humor, Lively is a consummate storyteller whose gifts are on full display in this masterful work.
About the Author
Penelope Lively was born and raised in Egypt, before moving to England for boarding school and later reading Modern History at St Anne's College, Oxford. Lively is the author of many children's books and adult novels, including Family Album, The Photograph, and Moon Tiger, which won the Man Booker Prize. She was awarded an OBE in 1989 and a CBE in 2001 and is a Fellow of the Royal Society of Literature. In recognition of her contributions to British literature, she was elevated to Dame Commander of the Order of the British Empire in 2012.
Praise For How It All Began…
 
"Here, one of our most talented writers has written an elegant, witty work of fiction, deceptively simple, emotionally and intellectually penetrating, the kind of novel that brings a plot to satisfying closure but whose questions linger long afterward in the reader's mind."
-The New York Times Book Review

 
"In this mischievous novel, Lively traces the genealogy of randomness that messes up the lives of strangers. . . . Moving skillfully between streams-of-consciousness and a wry omniscient voice, Lively investigates her characters' motives and afterthoughts with precision and tenderness."
-The New Yorker

 
"How It All Began is another virtuoso performance. I found it even more delightful a second time through, appreciating once more the elegance of Lively's design, the grace notes of thematic underpinning shining through. . . . In her own late 70s now, with a legion of regular readers and newcomers with every book, Lively continues to surprise and illuminate, writing to ever more dazzling effect."
-The Boston Globe

 
"The ever-productive, ever-graceful Penelope Lively returns to several pet themes—memory, history and the powerful role of happenstance in reshaping lives—with a fresh and charming novel. . . . She has provided a golden passport that will sweep you through the border control of other people's lives."
-The Washington Post

 
"Lively's novel is skillfully constructed, with a thoroughly engaging plot. It also has much to say about the role of chance in human affairs, the aging process and the importance of memories."
-Minneapolis Star-Tribune

 
"Lively is a consummate storyteller who once again illuminates the ways that the vagaries of chance bring powerful alteration to the ordinary plans of ordinary people. . . . The characters in this novel are, each and all, well drawn and fully conceived. . . . Everyone in this elegantly told tale is connected by chance and the power of story."
-The Seattle Times

 
"Startling and soothing, uncommonly paced, this is a book to treasure. . . . To a person, each character is wholly developed, and the trajectory of all the chaotically intersecting lives moves forward. Ms. Lively attends to these with great care, and with every detail and keenly observed moment, the reader accrues more information about where it all leads. There are consequences to missteps and random acts. . . . Three cheers for this gorgeous writing."


-The Washington Times

 
"In this densely patterned novel . . . Lively observes how the 'strange notional movements' of world economies can 'wreck individual lives.' This novel shows that if minor events wreak major effects, so can grand systems shape our own small ends—and our beginnings, too."
-San Francisco Chronicle

 
"Wonderful . . . British treasure Penelope Lively examines the effects of a seemingly random crime on a group of London acquaintances and strangers."
-Marie Claire

 
"Lives intersect in unexpected and comical ways in this breezy, engrossing novel. . . . Lively infuses her motley cast of characters with a blend of pathos and sharp satire, and though How It All Began is light fare, this deftly paced novel remains compulsively readable throughout."
-Entertainment Weekly

 
"This delightful, absorbing novel relies on a sophisticated and skillfully realized structure to introduce and then follow its endearingly ordinary characters. . . . The interdependency of the characters' lives, which they remain largely unaware of, builds intriguing momentum, and the pace quickens as the novel develops. Throughout, prolific Booker Prize–winning author Lively illustrates her knack for charming familiarity and just the right dash of surprise."
-Publishers Weekly
How It All Began is a book about reading and writing. What does reading give to Lively's more literate characters? What does the absence of reading deny to the others?
How might Lively's application of chaos theory to human relations conflict with the idea of a divinely ordered universe? What quarrels might a religious person have with Lively's representation of events and their causes?
Given the randomness of events in the world that Lively describes, where seemingly wicked events can produce unforeseen happy results, how is it possible to distinguish good from evil?
Lively is fond of inserting historians into her fiction. What precisely does a character like Lord Henry contribute to the mood and structure of How It All Began?
What are the differences in the ways in which Charlotte and Lord Henry confront old age? Which approach should we admire more?
Charlotte's mugger notwithstanding, the characters who come closest to true evil in How It All Began are unscrupulous professional men like the grasping solicitor Paul Newsome and the amoral financier George Harrington. What does Lively appear to think about the ethics of powerful people in the modern age?
Lively shows us two married couples whose shared lives are endangered by infidelities, either real or contemplated. How might these two subplots be compared and contrasted?
How It All Began is acutely conscious of the European debt crisis. However, the novel's embattled characters tend to have either marketable skills or salable property that they can eventually fall back on. How might How It All Began have been different if Lively had chosen to make her characters' circumstances more dire?
What does How It All Began suggest about the effect of television on the intellectual culture of Britain? Does Lord Henry, for all of his dry pomposity, deserve more of a soapbox than electronic media are prepared to give him?
What characteristics does Lively seem to most admire in a woman?
What traits does she evidently most despise in a man?
Does Rose make the right choice between Gerry and Anton? What are the arguments on either side of this question?
Near the end of How It All Began, Lively gives us a glimpse of the baby who lives next door to Charlotte. How does this brief insertion fit in thematically with the rest of the novel?
Charlotte observes that the modern novel has tried to free itself of messages but that they still seem to "creep in here and there" (69). What messages do you think have crept into How It All Began, and did Lively really try all that hard to keep them out?
Advertisement