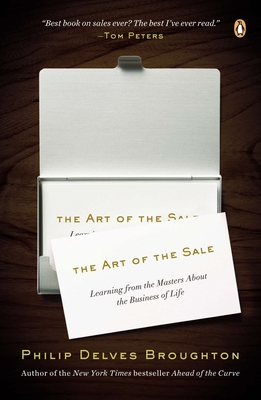 The Art of the Sale: Learning from the Masters about the Business of Life (Paperback)
Learning from the Masters about the Business of Life
Penguin Books, 9780143122760, 291pp.
Publication Date: March 26, 2013
Description
From the author of Ahead of the Curve, a revelatory look at successful selling and how it can impact everything we doThe first book of its kind, The Art of the Sale is the result of a pilgrimage to learn the secrets of the world's foremost sales gurus. Bestselling author Philip Delves Broughton tracked down anyone who could help him understand what it took to achieve greatness in sales, from technology billionaires to the most successful saleswoman in Japan to a cannily observant rug merchant in Morocco. The wisdom and experience Broughton acquired, revealed in this outstanding book, demonstrates as never before the complex alchemy of effective selling and the power it has to overcome challenges we face every day.
About the Author
Philip Delves Broughton reported from more than twenty-five countries as a foreign correspondent for the Daily Telegraph (London) before getting his MBA at Harvard Business School. He is the author of the bestselling Ahead of the Curve: Two Years at Harvard Business School and lives in Litchfield, Connecticut.
Praise For The Art of the Sale: Learning from the Masters about the Business of Life…
"Best book on sales ever? Who knows, but it surely is the best I've ever read. As a gazillion-mile traveling salesman (ideas) myself, I learned an amazing amount about who I am and what I do from this. We all live by selling: ideas or products or peace in our time. The Art of the Sale is perhaps unique—a marvelous book about selling, and life, and who we are and how we tick. And the case studies are dazzling."
-Tom Peters


"For the author, sales is where the rubber hits the road, where the deals are done . . . Broughton has met with top sellers around the world, traveling to Japan, Morocco, and the United Kingdom in search of the keys to success in sales . . . Entertaining, balanced, and provocative."
-Kirkus Reviews (starred review)

"Broughton, promoting the idea that sales is a virtuous calling . . . makes an appealing, contrarian pitch."
-The Wall Street Journal

"A descriptive account . . . long overdue."
-The Economist


"Like Malcolm Gladwell, Delves Broughton is drawn to success stories where natural talent takes second place to hard work, but he's also willing to explore the manipulative, deceptive aspects of the task, as well as the endless rejection salespeople must face. His enthusiasm and admiration for skilled practitioners of the art is contagious."
-Publishers Weekly
Advertisement