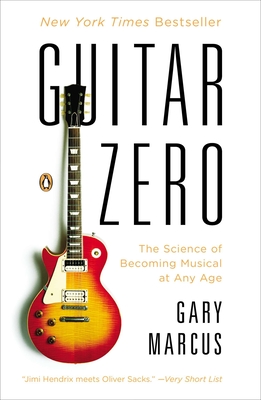 Guitar Zero (Paperback)
The Science of Becoming Musical at Any Age
Penguin Books, 9780143122784, 288pp.
Publication Date: December 24, 2012
Other Editions of This Title:
Digital Audiobook (1/18/2012)
Hardcover (1/19/2012)
* Individual store prices may vary.
Description
Just about every human being knows how to listen to music, but what does it take to make music? Is musicality something we are born with? Or a skill that anyone can develop at any time? If you don't start piano at the age of six, is there any hope? Is skill learning best left to children or can anyone reinvent him-or herself at any time?

For anyone who has ever set out to play a musical instrument—or wished that they could—Guitar Zero is an inspiring and fascinating look at the pursuit of music, the mechanics of the mind, and the surprising rewards that come from following one's dreams. Gary Marcus, whom Steven Pinker describes as "one of the deepest thinkers in cognitive science," debunks the popular theory that there is an innate musical instinct while challenging the idea that talent is only a myth. From deliberate and efficient practicing techniques to finding the right music teacher, Marcus translates his own experience—as well as reflections from world-renowned musicians—into practical advice for anyone hoping to become musical or learn any new skill.
About the Author
Gary Marcus, described by the New York Times as "one of the country's best known cognitive psychologists," directs the Center for Language and Music at New York University, where he studies language, music, cognitive development, and evolution. His previous book, Kluge: The Haphazard Construction of the Human Mind, was a New York Times Editors' Choice pick.
Praise For Guitar Zero: The Science of Becoming Musical at Any Age…
"Jimi Hendrix meets Oliver Sacks in this great new science book." —
VeryShortList.com
"Guitar Zero is a refreshing alternation between the nitty-gritty details of learning rock-guitar licks and Mr. Marcus's survey of the relevant scientific literature on learning and the brain . . . makes some delightful counterintuitive fine points. . . . For those who look forward, in 'retirement,' to honoring the lifelong yearnings they have neglected, Guitar Zero is good news."
—
Norman Doidge, The Wall Street Journal
"[Guitar Zero is] the sort of book where Steven Pinker (Dr. Marcus's mentor and collaborator) mixes with K. Anders Ericsson (the psychologist most associated with the '10,000 hours' theory of expertise) and Tom Morello (the lead guitarist from Rage Against the Machine)."
—
The New York Times
"This book in the end is about more than a desire to shred like Eddie Van Halen. Marcus examines how our brains are affected by creativity—learning a musical instrument, for instance, or a new language—and how these experiences remain open to all of us, no matter our age."
—
Los Angeles Times
"An entertaining and enlightening memoir, filled with insight about music, learning, and the human mind, by Gary Marcus, one of the deepest thinkers in cognitive science."
—
Steven Pinker, bestselling author of The Better Angels of Our Nature