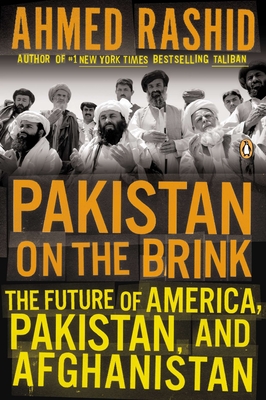 Pakistan on the Brink: The Future of America, Pakistan, and Afghanistan (Paperback)
The Future of America, Pakistan, and Afghanistan
Penguin Books, 9780143122838, 256pp.
Publication Date: February 26, 2013
Description
An urgent, on-the-ground report from Pakistan from the bestselling author of Descent Into Chaos and Taliban
Ahmed Rashid, one of the world's leading experts on the social and political situations in Pakistan and Afghanistan, offers a highly anticipated update on the possibilities and hazards facing the United States after the death of Osama bin Laden and as Operation Enduring Freedom winds down. With the characteristic professionalism that has made him the preeminent independent journalist in Pakistan for three decades, Rashid asks the important questions and delivers informed insights about the future of U.S. relations with the troubled region. His most urgent book to date, Pakistan on the Brink is the third volume in a comprehensive series that is a call to action to our nation's leaders and an exposition of this conflict's impact on the security of the world.
About the Author
Ahmed Rashid, a Pakistani journalist based in Lahore, is the author of Descent Into Chaos and the #1 New York Times bestseller Taliban. He is a regular contributor to the Financial Times and the New York Times, and appears regularly on NPR, CNN, and the BBC World Service.
Praise For Pakistan on the Brink: The Future of America, Pakistan, and Afghanistan…
"[Rashid] literally wrote the book on the Taliban and now has added a superb work on the future of Pakistan."
-The Washington Post

"Insightful . . . Readers will welcome this insider's lucid, expert account of a disaster in the making."
-Kirkus Reviews

"Pakistan on the Brink is a page turner. Through Ahmed Rashid's eloquent, incisive, objective, and fact-based descriptions of events and blunders repeatedly committed by the Afghan, Pakistani, and American establishments, the reader gets a great understanding of the genesis of the quagmire for which President Obama has coined the phrase AfPak."
-Louisville Courier-Journal

"Ahmed Rashid's latest work provides essential insights for anyone who hopes to understand what's going on in Central Asia and the alternative futures that stretch out before it."

-Pittsburgh Post-Gazette

"A clear-headed, sobering look at a country whose ties with the U.S. are becoming ever more frayed."
-Publishers Weekly (starred review)
Advertisement