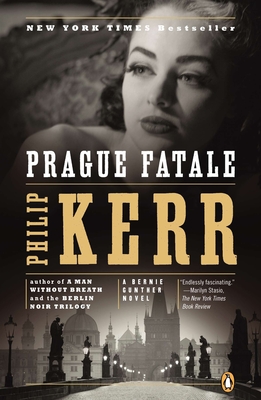 Prague Fatale (Paperback)
Penguin Books, 9780143122845, 401pp.
Publication Date: March 26, 2013
* Individual store prices may vary.
or
Not Currently Available for Direct Purchase
Description
The latest New York Times bestseller from the author of the Berlin Noir trilogy and the New York Times bestseller Field Gray brings Bernie Gunther back--to a house party from hell
First introduced in Philip Kerr's celebrated Berlin Noir trilogy, Bernie Gunther is an honest cop living in the most ruthless of times. Prague Fatale is Bernie's latest outing, and it's a tantalizing locked-door mystery-cum-political-thriller that's poised to build on Field Gray's success, confirming Kerr as a master of espionage literature.
It's 1941 and Bernie is back from the Eastern Front, once again working homicide in Berlin's Kripo and answering to Reinhard Heydrich, a man he both detests and fears. Heydrich has been newly named Reichsprotector of Czechoslovakia. Tipped off that there is an assassin in his midst, he orders Bernie to join him at his country estate outside Prague, where he has invited some of the Third Reich's most odious officials to celebrate his new appointment. One of them is the would-be assassin. Bernie can think of better ways to spend a beautiful autumn weekend, but, as he says, "You don't say no to Heydrich and live."
About the Author
Philip Kerr is the author of seven Bernie Gunther novels. As P. B. Kerr, he is the author of the young adult series Children of the Lamp. He lives in London.
Praise For Prague Fatale…
"Inside this mesmerizing novel, set mainly in a country house outside Prague, is a tantalizing locked-door murder mystery that will thrill fans of Philip Kerr's Bernie Gunther novels." —Carol Memmott, USA Today

"[Prague Fatale] is clever and compelling, proving once again that the Bernie Gunther books are, by a long chalk, the best crime series around today." —The Daily Beast

"[Philip Kerr] is an absolute master of the genre." —The Courier-Journal

"In Prague Fatale, [Bernie Gunther] is back in the early days of the Second World War, dealing with a case that combines espionage, terrorism and a locked-room mystery [. . .] Philip Kerr does his usual fine job of setting the scenes and portraying the personalities of the era.  His Nazis are note-perfect creations, as are the other characters, fictional and historical, of Second World War-era Europe, all of it flavoured by the wisecracking, tough-talking Gunther, who has been called the Sam Spade of Germany.  Kerr knows his modern German history, and is gifted at storytelling, and Gunther is a dark anti-hero for the ages." —H. J. Kirchhoff, The Globe and Mail

"Bernie Gunther, the indomitable Berliner at the heart of this great series, is a man pummeled by history. . . . The great strength of Field Gray is Kerr's overpowering portrait of the war's horrors, [and] the glue holding it all together is Bernie himself, our battered, defiant German Everyman." —Patrick Anderson, The Washington Post

"Prague Fatale is classic Philip Kerr, a first-person noir detective story worthy of Dashiell Hammett or Raymond Chandler in every regard, seamlessly transplanted to war-era Europe. Every time I finish another Gunther novel, I think, 'This is as good as it gets.' Then inevitably, the next one comes along and is even better!" —Bruce Tierney, BookPage.com

"German private detective Bernie Gunther would have been respected by Philip Marlowe and the two of them would have enjoyed sitting down at a bar and talking." —Jonathan Ames, Salon.com

"The allure of these novels is that Bernie is such an interesting creation, a Chandleresque knight errant caught in insane historical surroundings." —John Powers, Fresh Air, NPR
Advertisement