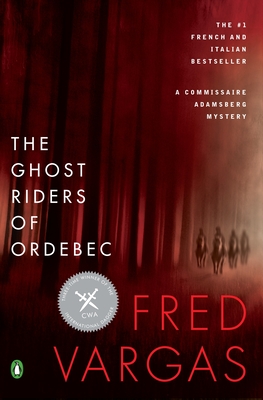 The Ghost Riders of Ordebec (A Commissaire Adamsberg Mystery #5) (Paperback)
Penguin Books, 9780143123125, 368pp.
Publication Date: June 25, 2013
* Individual store prices may vary.
Description
A # 1 French and Italian bestseller from the three-time winner of the CWA's International Dagger Award
More than ten million copies of Fred Vargas's Commissaire Adamsberg mysteries have been sold worldwide. Now, American readers are getting hooked on the internationally bestselling author's unsettling blend of crime and the supernatural.

As the chief of police in Paris's seventh arrondissement, Commissaire Adamsberg has no jurisdiction in Ordebec. Yet, he cannot ignore a widow's plea. Her daughter Lina has seen a vision of the Ghost Riders with four nefarious men. According to the thousand-year-old legend, the vision means that the men will soon die a grisly death. When one of them disappears, Adamsberg races to Ordebec, where he becomes entranced by the gorgeous Lina—and embroiled in the small Normandy town's ancient feud.

A Climate of Fear, the latest Commissaire Adamsberg mystery, will soon be available from Penguin. 
About the Author
Fred Vargas is an archaeologist, a historian, and an internationally bestselling author. She lives in Paris.
Praise For The Ghost Riders of Ordebec (A Commissaire Adamsberg Mystery #5)…
Advance Praise for The Ghost Riders of Ordebec

"Exquisite… only Christopher Fowler's Peculiar Crimes Unit can compare with the Paris policeman's eccentric colleagues in the Serious Crime Squad, who include a narcoleptic, a walking encyclopedia, and a naturalist…Vargas's combination of humor and fair-play plotting, reminiscent of John Dickson Carr, has never been better."—Publishers Weekly (starred review)

"[Vargas's] mysteries are darkly whimsical—magical realism with its feet on the ground in a highly entertaining French way."—Washington Post

"Prodigious"—Philly.com

Praise for Fred Vargas and her Commissaire Adamsberg Mysteries 

"A wildly imaginative series."—The New York Times
 
"Spry, ironic, yet fully engaged with the horror of contemporary reality"—Los Angeles Times
 
 "It's a full, rich and strange plate." — Seattle Times
 
"[A] high degree of intelligence, sophistication and perversity informs [Vargas'] fiction…I continue to be delighted by the workings of [her] imagination. It's a tangled web she weaves, and a hard one to escape."—Patrick Anderson, The Washington Post
 
"Bizarre crimes drive Vargas…who's won the CWA International Dagger three times, [and] keeps her zany plot under tight control all the way to the surprising finish."—Publishers Weekly (starred review)
 
"Few crime stories are as apt to leave a reader wondering so ardently: Who dunnit?...Vargas' characters are like something out of a fairy tale – eternal opposites, ever-renewing archetypes despite their fresh adventures each time. That's why each novel's opening feels new."—The Philadelphia Inquirer
 
"Vargas writes with the startling imagery and absurdist wit of a latter-day Anouilh, about fey characters who live in a wonderful bohemian world that never was but should have been."—The New York Times Book Review
 
"Anyone who enjoys kooky characters and intricate detail will happily follow Vargas along." – Entertainment Weekly
 
 "Readers should settle in to be unsettled. Delight is found not so much in the details of plot as in the oddities of character. The crime, the suspects, and the commissaire are all pleasantly off-kilter and equally baffling. A definite pick for Francophile mystery buffs who also enjoy Georges Simenon's Maigret series and Pierre Magnan (Death in the Truffle Wood)."—Library Journal
 
"As droll and fascinating as la ville lumière itself."—Kirkus Reviews  
 
"Adamsberg, always an intuitive sleuth rather than a rational one, is the perfect hero for a series where reality is always a moving target."—Booklist

"Worlds that closely resemble the real one, except that beliefs, tales, apparitions, even professions, from the Middle Ages fit in seamlessly."—The Philadelphia Inquirer
 
"Vargas is, by some distance, the hottest property in contemporary crime fiction." – The Guardian (London)
 
"Vargas' characters inhabit a world where reason and myth collide, and the result is a thrilling read."—Sunday Times (London)

 "Vargas [is] beyond doubt a cool, clever, original and deeply humane crime writer." – The Times Literary Supplement (London)
 
"It is enthralling and great fun from start to finish…all done with great nerve, wit and invention." – The Scotsman (Scotland)
 
"Only one's dreams after a champagne-fuelled night at the Follies Bergere have quite the same nightmarish-but-entertaining quality as Vargas's delightful crime novels." – The Sunday Telegraph (London)
 
"[Vargas is] one of the most exciting, addictive and inventive purveyor of classy crime fiction currently pounding the publishing beat."— Independent on Sunday
 
"I'd recommend any and all of Fred Vargas' detective stories…Vargas has a particular respect for misfits and failures. I admire her humour and her sense of pace." –The Observer (London)