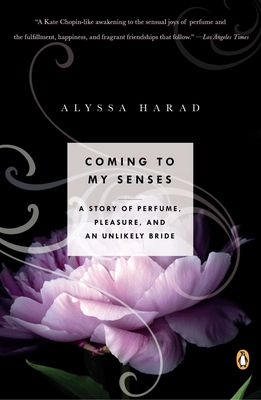 Coming to My Senses
A Story of Perfume, Pleasure, and an Unlikely Bride
Paperback

* Individual store prices may vary.
Other Editions of This Title:
Hardcover (7/5/2012)
Description
Honest and beautifully written—a nuanced exploration of femininity and pleasure through the enchanting world of fragrance
Alyssa Harad's affair with scent begins in secret, late at night, by the glow of her computer screen when she stumbles on a blog devoted to perfume. Bookish and practical, and a stranger to beauty counters, she is surprised to find herself lured into a sensual underworld of quirky characters that changes her mind about much more than perfume. Candid, elegant, and full of lush description and humor, Coming to My Senses takes readers from a private museum of rare essences in Austin, Texas, to the glamorous fragrance showrooms of Manhattan, and finally to a homecoming in Boise, Idaho, to prepare for Harad's wedding. This deeply personal story reveals the intimate connections between scent, our senses, and the people we are and want to become.
Praise For Coming to My Senses: A Story of Perfume, Pleasure, and an Unlikely Bride…
"Harad recounts her Kate Chopin-like awakening to the sensual joys of perfume and the fulfillment, happiness and fragrant friendships that follow."
—Denise Hamilton, Los Angeles Times
"Bursting with sensuous delights . . . Throughout the book, Harad manages to pull off word sorcery, layering one scented note of description atop another, until the reader is afloat in a sea of sensations ranging from louche to pristine. One is ridiculously tempted to put one's nose to the printed page and sniff, as if the paper might somehow carry the scents that would complete the experience of reading about perfumes. . . . Harad was fortunate: Her accidental discovery of perfume helped make her less shy, more confident in herself. It also helped her become a beautiful, happy bride and a better writer. What greater magic could any woman ask?"
—Dallas News
"This is a book that arouses and galvanizes the senses—all of them. . . . The very word puts a lot of us on edge—perfume—but turns out it's just the elbow crook inching open the door into Harad's memoir, which is as much about her surprise at delighting in perfume's history, community, and aromatic allures as it is about her own reckoning with what it means to be a woman. . . . For the reader, her pleasure is catching."
—Austin Chronicle  

"Inspirational . . . Woodsy and seductive, with a hint of spice, 
Coming to My Senses
offers a luscious immersion in the world of perfume obsession. But what makes this memoir so appealing are its deeper notes, the ones that linger on after reading: the story of a how a no-nonsense, underemployed English Ph.D., who usually dresses like 'an unmade bed,' discovers the pleasures of femininity and her own senses through an affair with fragrance."
—Catherine Hollis, BookPage (Top Pick)  


 
"Harad charms everyone—with stories, recommendations, and delight. . . . This memoir is lovely and evocative, as she becomes more comfortable with herself and her open appreciation for things, like perfume, that are about beauty and pleasure."
—Publishers Weekly  

"A charming memoir about how a woman's 'torrid affair' with perfume changed her life. . . . As Harad learned to put perfume scents into words and understand the complex ways in which perfumes unfold upon the skin, her desire to experience other scents grew. . . . But most surprisingly of all, Harad found herself reclaiming a femininity that she had disowned. . . . Like a good perfume, this book is slow to unfold, but the author's account of her experiences is well worth the wait. A quiet delight."
—Kirkus Reviews
"Few delights match the instant, primal gratification given by a beautiful fragrance—yet too often we ignore the power of this sense. Alyssa Harad's fascinating (and often funny) story of how she became bewitched by the pleasures and culture of perfume will give readers a new appreciation for scent's intimate role in their lives."
—Gretchen Rubin, author of 
The Happiness Project
"By turns witty, sensuous, and poignant,
Coming to My Senses
is a book that demands to be savored and shared. And I challenge anyone to read this without ransacking the dark corners of their closets and cosmetics bags for a scent to put on, and then another and then another…"
—Deborah Harkness, author of
A Discovery of Witches
Penguin Books, 9780143123385, 272pp.
Publication Date: June 25, 2013
About the Author
Alyssa Harad holds a PhD in English from the University of Texas, Austin. She has written about perfume for O, The Oprah Magazine and the award-winning perfume blogs Now Smell This and Perfume-Smellin' Things. She lives with her husband in Austin, Texas.
or
Not Currently Available for Direct Purchase