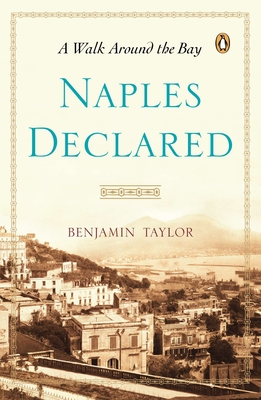 Naples Declared (Paperback)
A Walk Around the Bay
Penguin Books, 9780143123460, 256pp.
Publication Date: April 30, 2013
Other Editions of This Title:
Hardcover (5/10/2012)
MP3 CD (8/16/2016)
* Individual store prices may vary.
Description
A lively, elegantly concise historic tour of Italy's city by the bay
An invaluable addition to the art of literary travel writing, Naples Declared presents an informative and compulsively readable account of three thousand years of Naples history. From the catacombs of San Gennaro to the luminous paintings of Caravaggio to the ruins of Pompeii in nearby Campania, renowned author Benjamin Taylor takes readers on a stroll around the city Italians lovingly call Il Cratere. Gracefully written and full of good humor, wisdom, and amusing anecdotes, Naples Declared is a wholly original work that will be welcomed by anyone seeking to know more about the art, culture, and history of this fabled place.
About the Author
Benjamin Taylor is the author of two acclaimed novels—The Book of Getting Even and Tales Out of School—and the editor of Saul Bellow: Letters. He lives in New York City.
Praise For Naples Declared: A Walk Around the Bay…
"Splendid."  - Stacy Schiff, author of
Cleopatra: A Life 
"There is no more witty, worldly, cultivated or amiably candid observer imaginable than Benjamin Taylor.  This book belongs on the shelf of the very best literary travel guides."

- Phillip Lopate, author of Waterfront: A Journey Around Manhattan
"Erudite and charming, Naples Declared is a remarkable book; it's about place and history and survival; it's fresh, it's wise, and it's not to be missed." 
-Brenda Wineapple, author of White Heat: The Friendship of Emily Dickinson and Thomas Wentworth Higginson
"From novelist/essayist/editor Taylor, an idiosyncratic, atmospheric portrait of 'the great open-air theater of Europe.' The author wears his formidable erudition lightly as he cites classical authors and 20th-century travel writers with equal zest and acuity. Yet some of his most enjoyable pages are present-day encounters with a fervently communist doctor, with a chain-smoking student of Faulkner, and with novelist Shirley Hazzard, one of Naples many devoted longtime, part-time residents. Packed with elegant apercus and vibrant with the author's rueful understanding that 'Naples the glorious and Naples the ghastly have always been one place," [in his] highly personal book the Neapolitan spirit is palpable."—
Kirkus
starred review
"Taylor's book, like his subject, Naples, is a lot of things at once; there are lengthy discussions of history, philosophy, religion, art, culture, literature, customs.  The book meanders between past and present, wanders in stream-of-thought fashion through the Naples streets, delves deeply into the city's stories, lives, and lore, and drops in for conversations with locals; it is an accurate representation of what travel is and what it means.  Scholarly and insightful and balanced with wit and levity, [
Naples Declared
] is written with an effortless poeticism."—
Library Journal
"Superb . . . What Chatwin did for Australia and Mathiessen for the Himalayas, Taylor now does for the storied city of Naples.  I will steal a line from Leon Wieseltier's review of Taylor's previous book, "Saul Bellow: Letters" to describe his newest one:  "an elegantissimo book."  [In Naples Declared,] Taylor deftly sums up more than 3,000 years of history, ranging from the establishment of a Mycenaean entrepôt in 1800 B.C.E. to the signal event of 2011: "Renewed garbage crisis." Like all great travel memoirs, however, "Naples Declared" owes some of its best moments to the firsthand experiences of the author in the place he writes about. He is a watchful traveler and a charming raconteur, and so we are treated to accounts of his successful effort to cure the hiccups of an aristocratic Englishwoman known to the hotel staff as "Lady So-and-So," his inventory of the cast-off items and the poignant graffiti that he spots in an ancient aqueduct used as a bomb-shelter during World War II . . . Taylor's book offers a full measure of history and reportage. "My modus operandi," he explains, "has been to walk a knowledge of Naples into my bloodstream." But the book is also a reverie. "In this place, my dream said, trust to the promise of renewable wonder," he concludes, "every lover's hope and prayer." There is no better way to sum up what Taylor has captured in "Naples Declared," a wholly delightful example of what the literary travel memoir can achieve."--Jonathan Kirsch, JewishJournal.com
or
Not Currently Available for Direct Purchase