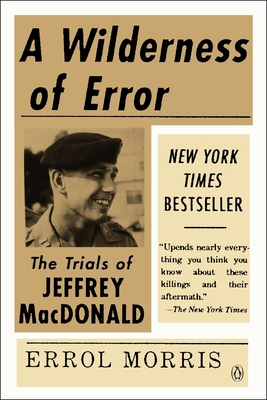 A Wilderness of Error (Paperback)
The Trials of Jeffrey MacDonald
Penguin Books, 9780143123699, 576pp.
Publication Date: January 22, 2014
Other Editions of This Title:
MP3 CD (9/28/2012)
Hardcover (9/4/2012)
Compact Disc (9/28/2012)
Compact Disc (9/28/2012)
* Individual store prices may vary.
Description
Academy Award–winning filmmaker Errol Morris examines one of the most notorious and mysterious murder trials of the twentieth century

In this profoundly original meditation on truth and the justice system, Errol Morris—a former private detective and director of The Thin Blue Line—delves deeply into the infamous Jeffrey MacDonald murder case. MacDonald, whose pregnant wife and two young daughters were brutally murdered in 1970, was convicted of the killings in 1979 and remains in prison today. The culmination of an investigation spanning over twenty years and a masterly reinvention of the true-crime thriller, A Wilderness of Error is a shocking book because it shows that everything we have been told about the case is deeply unreliable and that crucial elements of case against MacDonald are simply not true.
About the Author
Errol Morris is a world-renowned filmmaker whose body of work includes A Brief History of Time, The Thin Blue Line, and the Academy Award winner The Fog of War. He is the recipient of a MacArthur "genius award" and the author of Believing Is Seeing: Observations on the Mysteries of Photography. He lives in Cambridge, Massachusetts.
Praise For A Wilderness of Error: The Trials of Jeffrey MacDonald…
A Publishers Weekly Best Nonfiction Book of 2012

"The literary equivalent of one of [Morris's] movies. It's a rough-hewed documentary master class.... A Wilderness of Error upends nearly everything you think you know about these killings and their aftermath. Watching Mr. Morris wade into this thicket of material is like watching an aggrieved parent walk into a teenager's fetid, clothes- and Doritos-strewed bedroom and neatly sort and disinfect until the place shines. ...He will leave you 85 percent certain that Mr. MacDonald is innocent. He will leave you 100 percent certain he did not get a fair trial... If this headstrong book doesn't change your sense of the Jeffrey MacDonald case, I'll eat my Chuck Taylors."
—Dwight Garner, The New York Times

"Critics sometimes confuse great books with important books — exceptionally written literature isn't always the same as literature that can powerfully affect society. But A Wilderness of Error is both great and important — it's a beautifully written book, and it has the potential to change the way the country thinks about a justice system that has obviously lost its way."
—Michael Shaub, NPR

"Mr. Morris has produced a brilliant book about the vulnerability of justice to the preconceptions of prosecutors and the power of certain narratives to crowd out all others, even highly plausible ones. I strongly recommend this book."
—Wall Street Journal

"A Wilderness of Error is a beautifully produced book, with chapters set off by line drawings of crucial objects in the case: a toppled coffee table, a flower pot, a rocking horse. It's reminiscent of the recurring images in 'The Thin Blue Line,' iconic and mysterious, always on the verge of revealing the secrets they stand for but never quite yielding them. Morris may geek out on minutiae and hypotheticals, but he is enough of an artist to convey that every crime scene is a dialogue between time, as it sweeps away the irrecoverable past, and the material world."
—Salon