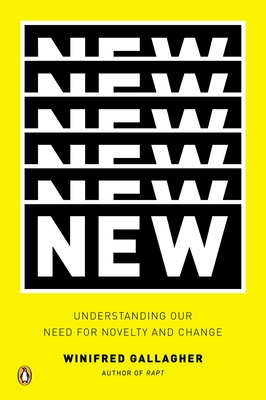 New (Paperback)
Understanding Our Need for Novelty and Change
Penguin Books, 9780143123743, 259pp.
Publication Date: September 24, 2013
Other Editions of This Title:
Hardcover (12/29/2011)
Compact Disc (12/1/2012)
MP3 CD (12/1/2016)
Compact Disc (1/17/2012)
MP3 CD (1/1/2012)
Compact Disc (1/1/2012)
MP3 CD (12/1/2012)
MP3 CD (1/17/2012)
* Individual store prices may vary.
Description
An exploration of how humans respond to novelty from the "New York Times "bestselling author of "Rapt"
Why are we attuned to the latest headline, diet craze, smartphone, and fashion statement? Why do we relish a change of scene, eye attractive strangers, and develop new interests?
Follow a crawling baby around and you ll see that right from the beginning, nothing excites us more than something new and different. Our unique human brains are biologically primed to engage with and even generate novelty. This neophilia has enabled us to thrive in a world of cataclysmic change, but now we confront an unprecedented deluge of new things one that shows no sign of slowing. In "New" acclaimed behavioral science writer Winifred Gallagher, using cutting-edge research and interviews with countless experts, shows us how we can use our adaptive gift to navigate more skillfully through our rapidly changing world by focusing on the new things that really matter.
About the Author
Winifred Gallagher is the author of several books including "Rapt: Attention and the Focused Life," "House" "Thinking," and "Just the Way You Are." She has written for numerous publications, such as the "Atlantic Monthly," "Rolling Stone," and the "New York Times." She lives in Dubois, Wyoming.
Praise For New: Understanding Our Need for Novelty and Change…
"Considering experiences that range from video games to consumer food preferences, this book is an engaging, enjoyable read… An accessible, well-researched work that crosses a variety of disciplines and will satisfy scientifically curious readers. It will appeal to those who enjoy Stephen Jay Gould and Oliver Sacks."  –Library Journal

"It's difficult to categorize Gallagher's exuberant survey through so many areas of interest, but she proves her point: curiosity about and hunger for the new can certainly take you to many fascinating places." --BookList

"A bright look at our fascination with the new and different… [Gallagher]… notes neophilia will undoubtedly prove valuable in a future where the only certainly is constant change. Engaging and cautionary." --Kirkus
or
Not Currently Available for Direct Purchase