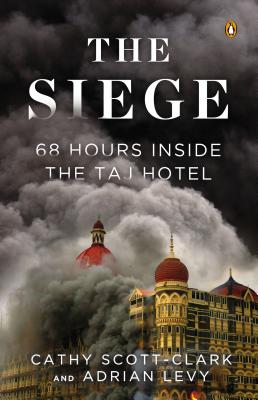 The Siege (Hardcover)
68 Hours Inside the Taj Hotel
Penguin Books, 9780143123750, 352pp.
Publication Date: October 29, 2013
Other Editions of This Title:
Digital Audiobook (10/28/2013)
Paperback (8/26/2014)
* Individual store prices may vary.
Description
Winner of the CWA Nonfiction Dagger Award, the definitive account of the 2008 terrorist attacks in Mumbai
Mumbai, 2008. On the night of November 26, Lashkar-e-Toiba terrorists attacked targets throughout the city, including the Taj Mahal Palace Hotel, one of the world's most exclusive luxury hotels. For sixty-eight hours, hundreds were held hostage as shots rang out and an enormous fire raged. When the smoke cleared, thirty-one people were dead and many more had been injured. Only the courageous actions of staff and guests including Mallika Jagad, Bob Nichols, and Taj general manager Binny Kang prevented a much higher death toll.
With a deep understanding of the region and its politics and a narrative flair reminiscent of "Midnight in Peking," journalists Cathy Scott-Clark and Adrian Levy vividly unfold the tragic events in a real-life thriller filled with suspense, tragedy, history, and heroism.
About the Author
Cathy Scott-Clark and Adrian Levy are the authors of four nonfiction books. They live in France.
Praise For The Siege: 68 Hours Inside the Taj Hotel…
"An investigative masterpiece." – Tina Brown, NPR
 
"A propulsive and exceedingly well-reported book that offers an intense ticktock account, the fullest we have had, of the attack on the Taj…It's a tragedy and a thriller with concussive human and political resonance. I read it in what felt like three blinks." – Dwight Garner, The New York Times
  
"Mr. Levy and Ms. Scott-Clark recreate in vivid detail the genesis of Operation Bombay... THE SIEGE reads like a thriller." – The Wall Street Journal

"[A] spectacular narrative… reads like an expertly-constructed thriller that's all the more heart-stopping because it actually happened." – The Daily Beast

"Compelling, pacey, unsettling" – The Economist

"Absolutely spine-chilling…as action-packed as any thriller and so hard to put down that it must surely end up as a movie." – The Times of London

"This minute-by-minute account of the siege comes at you like a battering ram and takes your breath away. With a masterly control of its wide canvas, it marshals a cross-section of guests, security services and heroic Taj staff, each of them, at some point, in fear for their lives" – The Daily Mail

"I could not put this book down. It is the humanizing of the story that was riveting." – Antonio Mendez, author of Argo
 
"A compulsive readable and brilliantly researched piece of non-fiction that reads like a fast-paced but almost unbearably harrowing thriller." – William Dalrymple
  
"Meticulously researched, beautifully written and an unstoppable read. This is not your ordinary thriller." Ahmed Rashid, author of Descent into Chaos
  
"A heart-pounding read and an investigative tour de force, The Siege is an essential primer on terror in the 21st Century. As it dissects the 2008 attack on Mumbai, The Siege shows where mass-murderers come from, how they think and what it is like to be caught in the cross-hairs of their madness." – Blaine Harden, author of the New York Times bestselling Escape from Camp 14
  
"Totally unputdownable, utterly absorbing – Scott-Clark and Levy's minute-by-minute account of the 2008 attacks on one of the world's most vibrant cities humanizes the tragedy more than any rolling news coverage ever could. Here we have victims, hostages, police and terrorists before us; their every fateful action and decision explained – the moments of sheer chaos as well as, the crucial seconds of clarity and the absurdity of those 68 horrific hours. But, perhaps more importantly, The Siege evocatively captures the atmosphere of the city under unparalleled onslaught as ordinary Mumbaikars looked on as their city's major landmark burned." – Paul French, author of the Edgar Award-winning Midnight in Peking
 
"This impressive work of journalistic research and reconstruction offers a revelatory look inside the November 2008 terror attacks on Mumbai… Scott-Clark and levy deliver a meticulous, insightful, and dramatic account of an extraordinary episode in modern warfare" – Publisher's Weekly (starred review)
  
"Veteran Southeast Asia journalists Scott-Clark and Levy recreate this cataclysmic disaster with all the pulse-pumping intensity of a cinematic action thriller, recounting astonishing episodes of personal heroism while issuing a sobering indictment of the ineptitude of the government and security agencies that failed to prevent the attack and protect civilians." – Booklist
  
"Thorough and compulsively readable" – Library Journal

"Important and enlightening… a great read that gives readers a better understanding of a terrorist attack from many points of view." – Kirkus Reviews
or
Not Currently Available for Direct Purchase