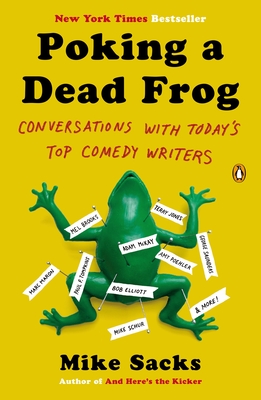 Poking a Dead Frog (Paperback)
Conversations with Today's Top Comedy Writers
Penguin Books, 9780143123781, 480pp.
Publication Date: June 24, 2014
* Individual store prices may vary.
Description
A NEW YORK TIMES BESTSELLER
NAMED A BEST BOOK OF THE YEAR BY NPR

Amy Poehler, Mel Brooks, Adam McKay, George Saunders, Bill Hader, Patton Oswalt, and many more take us deep inside the mysterious world of comedy in this fascinating, laugh-out-loud-funny book. Packed with behind-the-scenes stories—from a day in the writers' room at The Onion to why a sketch does or doesn't make it onto Saturday Night Live to how the BBC nearly erased the entire first season of Monty Python's Flying Circus—Poking a Dead Frog is a must-read for comedy buffs, writers and pop culture junkies alike.
About the Author
Mike Sacks is the author of three previous books including And Here's the Kicker: Conversations with 21 Top Humor Writers on Their Craft. Currently on the editorial staff of Vanity Fair, he has also written for the New Yorker, the New York Times, Esquire, GQ,  McSweeney's, Vice, and Salon.
Praise For Poking a Dead Frog: Conversations with Today's Top Comedy Writers…
"A series of rich, intimate conversations about the ins and outs of turning funny ideas into real-world art….[Sacks] dives deep with everyone from Saturday Night Live lifer James Downey to Cheers creator Glen Charles to Mel Brooks, and every interview is refreshingly candid. Sacks asks the right questions…to inspire lively conversations….As a sort of expert witness to comedy's history, he's reverent, though his subjects are also clearly chosen because they understand the absurdity of their own vocation. He pokes and prods just enough to reveal some guts, and most of the time they're just as fascinating as what's on the surface."
—A.V. Club, The Onion
 
"A fascinating look into the ways stand-up comedians, directors, and even short stories authors write funny….An absolute must."
—Flavorwire
 
"A greater look into the craft and business of comedy writing than you can find anywhere else….A comedy nerd bible."
—Splitsider

"Filled with intelligent conversations… Even if you're not interested in a comedy writing career, at least you'll get great suggestions for your Netflix queue."
—NPR, 2014's "Great Reads"
 
"[A] pleasingly thick work, born to be well thumbed."
—Los Angeles Times
 
"[Mike Sacks'] conversations with humorists poke at some fundamental concepts of comedy without chloroforming any frogs. More revealingly, the book examines what kind of person comes to make a living putting funny words on paper."
—Wall Street Journal
 
"Short chapters offering 'Ultraspecific Comedic Knowledge'…should be of particular interest to anyone thinking about pursuing a career in comedy. The longer interviews should be of interest to pretty much anybody."
—The New York Times Book Review
 
"The true usefulness of Poking a Dead Frog to an aspiring comedy writer is in its clear-eyed picture of the gritty inner workings of the comedy industry….Reading about how a joke goes from the mind of a writer to an episode of Community is like watching a magician reveal his secrets: Sure, it dispels some of the magic, but it inspires new reverence for the real skill that went into producing the effect."
—Slate
 
"An effort to understand what elicits the guffaw [and] an investigation of the comedic mind and how it works…. Poking a Dead Frog also surprises as a how-to-get-in-the-business kind of book, a thread that holds valid entertainment value….Amid these [stories of] wild successes, we get insights into what is funny, why it is funny, and just how hard it is to write the perfect joke….If you have members of your family who dream of being a comedy writer, give them this book."
—Paste
 
"Unusually insightful…Sacks teases deep wisdom from comedy titans."
—Departures
 
"[These] intimate discussions of comedy in all its forms are engaging, and Sacks's obvious passion is contagious. Whether writers themselves or just fans of funny, humor-loving readers will relish Poking a Dead Frog."
—ShelfAwareness
 
"Fascinating interviews with some comedic heavy hitters…full of great moments that are funny, thought provoking, and poignant. If a casual humor enthusiast can appreciate the work this much, the book is going to be snapped up by comedy writers and aficionados."
—Library Journal, starred review
 
"[An] excellent book…[Sacks] once again displays his ability to get fascinating and honest interviews from comic luminaries."
—Publishers Weekly
 
"If you're a fan of funny — and who isn't? — you're sure to find something of interest in Sacks' follow-up to And Here's the Kicker." 
—New York Post
 
"No one generates more interesting, revealing, entertaining interviews than Mike Sacks. His love and knowledge of comedy are apparent, and, as a result, the fascinating and sometimes tight-lipped comedy greats open up to him in ways they rarely do. Poking a Dead Frog is a classic." 
—Bob Odenkirk, co-creator of Mr. Show and former writer, Saturday Night Live
 
"This book is what I really look forward to in a book about humor: rich with words and humor, and funny stories with words. Thank you for your time."
—Will Ferrell
 
"These interviews go to dark depths and offer useful, applicable insight into how excellent comedy is written. If you read it, you're going to be better at writing comedy and may even wind up in a position where you can take jobs away from the younger interviewees. I specify the younger interview subjects because some of the older ones will die soon."
—Rob Delaney
 
"I wish I'd had a book like this when I was trying to break in. Also, a book on personal hygiene."
—Jack Handey, author of Deep Thoughts and The Stench of Honolulu
 
"There are few better interviewers than Mike Sacks. Poking a Dead Frog is a must-read for any comedy nerd or fan of pop culture history."
—Dana Brown, Vanity Fair