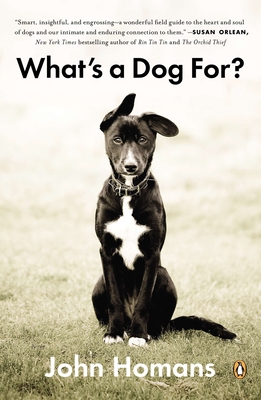 What's a Dog For? (Paperback)
The Surprising History, Science, Philosophy, and Politics of Man's Best Friend
Penguin Books, 9780143124122, 272pp.
Publication Date: October 29, 2013
Other Editions of This Title:
Digital Audiobook (11/12/2012)
Hardcover (11/8/2012)
* Individual store prices may vary.
Description
As dogs take their place as coddled family members and their numbers balloon to over 77 million in the United States alone, it's no surprise that canine culture is undergoing a massive transformation. Now subject to many of the same questions of rights and ethics as people, the politics of dogs are more tumultuous and public than ever—with fierce moral battles raging over kill shelters, puppy mills, and breed standards. Incorporating interviews and research from scientists, activists, breeders, and trainers, What's a Dog For? investigates how dogs have reached this exalted status, and why they hold such fascination for us humans.
About the Author
John Homans has been the executive editor of New York magazine since 1994. This is his first book. He lives in New York City.
Praise For What's a Dog For?: The Surprising History, Science, Philosophy, and Politics of Man's Best Friend…
"Smart, insightful, and engrossing—a wonderful field guide to the heart and soul of dogs and our intimate and enduring connection to them."
—Susan Orlean, New York Times bestselling author of Rin Tin Tin and The Orchid Thief

"[An] engaging, informative book that is both a survey of the latest research on canine cognition and a memoir of [Homans's] years with his Lab mix, Stella... perfect and poignant."
—The New York Times Book Review

"A remarkable chronicle of the domestic dog's journey across thousands of years and straight into our hearts, written with equal parts tenderness and scientific rigor... Beautifully written and absolutely engrossing."
—Brain Pickings

"[An] artful exploration of human-canine relations... Homans travels around the country, exploring various dog cultures and speaking to scientists, aid workers, lawyers, and breeders to discover how dogs have achieved this 'honorary personhood.'"
—The New Yorker

 "A remarkable chronicle of the domestic dog's journey across thousands of years and straight into our hearts, written with equal parts tenderness and scientific rigor… Beautifully written and absolutely engrossing, What's a Dog For? goes on to examine such fascinating fringes of canine culture as how dogs served as Darwin's muse, why they were instrumental in the birth of empathy, and what they might reveal about the future of evolution."
—The Atlantic
 
"Through careful observation and analysis, New York executive editor Homans opens the door into the world of dogs, from the scientific to the humorous... illuminating nuggets of information on the ever-changing and complex world of people and their pets."
—Kirkus

"If you've ever pondered the lump or fluff on your rug and wondered what he's thinking—and why you care—this wonderful look at dogs' increasingly central place in our lives will strike a chord."
—People

"Writing in an engaging, straightforward manner, Homans combines great personal charm with an intense interest in his subject matter."
—Publishers Weekly

"A fascinating tour through ever-changing perceptions of dogs as pets."
—New York Post

"Retraces [the] journey from Darwin's study of canine emotions to puppy mills to a canine-science conclave in Vienna... covers doggie consciousness and evolution... Homans hits his stride on topics like the read-state (pro)/blue state (con) divide over euthanasia and the aristocratic origins of canine pedigree. Sprinkled throughout are charming anecdotes that will delight dog lover and even likely appeal to die-hard cat people."
—Mother Jones

"John Homans has written an intensely readable, thoughtful look at man's best friend and its place in our world. Factually fascinating and emotionally satisfying, What's a Dog For? is a great gift for dog lovers and those who wonder what they're about."
—Julie Klam, New York Times bestselling author of You Had Me at Woof and Friendkeeping

"John Homans's What's a Dog For? is a romp across time and space and evolution that ends right up right in our own living rooms—a book as winning and companionable as the canines snoozing on our sofas. It's a fresh and amicable look at dog science, history, and training, both an indispensable guide for dog lovers and a terrific read for anyone looking for an enlightening glance at the world we live in."
—Melissa Fay Greene, award-winning author of Praying for Sheetrock and No Biking in the House Without a Helmet

"A few years ago, John Homans and his family walked into a Long Island animal shelter petless and emerged, fortunately for readers, with a lovable, slightly skittish mongrel named Stella. Her almost instant transformation from stranger to a family member with 'honorary human' status inspired Homans to plum the mysterious, age-old bond between humans and canines—a quest that takes him from Darwin to Updike and from New York City dog runs to a Vienna conference on 'canine science.' The result is a beautifully written natural history of the complex and evolving relationship between dogs and their owners and a sort of thinking man's Marley & Me. It will enlighten pet owners not just about their beloved animals but also themselves."
—Warren St. John, author of Outcasts United: An American Town, a Refugee Team, and One Woman's Quest to Make a Difference