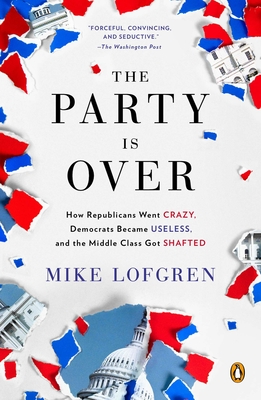 The Party Is Over (Paperback)
How Republicans Went Crazy, Democrats Became Useless, and the Middle Class Got Shafted
Penguin Books, 9780143124214, 256pp.
Publication Date: August 27, 2013
Other Editions of This Title:
Digital Audiobook (8/1/2012)
MP3 CD (8/2/2012)
Compact Disc (8/2/2012)
Hardcover (8/2/2012)
Compact Disc (8/2/2012)
Pre-Recorded Audio Player (8/20/2012)
* Individual store prices may vary.
Description
The New York Times bestselling exposé of what passes for business as usual in Washington today

There was a time, not so very long ago, when perfectly rational people ran the Republican Party. So how did the party of Lincoln become the party of lunatics? That is what this book aims to answer. Fear not, the Dems come in for their share of tough talk— they are zombies, a party of the living dead.

Mike Lofgren came to Washington in the early eighties—those halcyon, post–Nixonian glory days—for what he imagined would be a short stint on Capitol Hill. He has witnessed quite a few low points in his twenty-eight years on the Hill—but none quite so pitiful as the antics of the current crop of legislators whom we appear to have elected.

Based on the explosive article Lofgren wrote when he resigned in disgust after the debt ceiling crisis, The Party Is Over is a funny and impassioned exposé of everything that is wrong with Washington. Obama and his tired cohorts are no angels but they have nothing on the Republicans, whose wily strategists are bankrupting the country one craven vote at a time. Be prepared for some fireworks.
About the Author
Mike Lofgren spent twenty-eight years in Congress, the last sixteen as a senior analyst on the House and Senate Budget committees. He holds two degrees in history and received a Fulbright scholarship. He lives in Alexandria, Virginia.
Praise For The Party Is Over: How Republicans Went Crazy, Democrats Became Useless, and the Middle Class Got Shafted…
"Lofgren's ideas are trenchant and far-reaching. . . . With the feel of a long-repressed confession and the authority of an insider's testimony, like the anti-war views of a decorated infantry officer . . . he writes about how the Republican party took advantage of a profoundly ignorant electorate, an easily conned and distracted media, and a cowed Democratic Party to press the ideological struggle in spite of the deep unpopularity of many of its positions."
—George Packer, The New Yorker
"A fast-moving, hard-hitting, dryly witty book-length account of the radicalization of the Republican party, the failures of Democratic rivals and the appalling consequences for the country at large. Like the essay that inspired it,
The Party Is Over
is forceful, convincing and seductive."
—The Washington Post
"Expect demand for this inside view of Washington, D.C., by a staffer who spent a quarter-century on Capitol Hill before publishing a screed on "America's broken political system" at truthout.org. Lofgren criticizes Democrats . . . but his long service to GOP office-holders inevitably makes his critique of that party more detailed and fascinating. . . . A pungent, penetrating insider polemic."
—Mary Carroll, Booklist (starred review)
"A scrupulously bipartisan diagnosis of the sick state of American politics and governance . . . Lofgren devotes close attention to budget issues rarely accorded so much detail in garden-variety op-ed warfare. Sustaining his original thesis well beyond Internet-browsing attention span, Lofgren has crafted an angry but clear-sighted argument that may not sit well at family reunions or dinner parties, but deserves attention."
—Publishers Weekly
"A well-argued call for more sanity in American politics."—
Kirkus Reviews
or
Not Currently Available for Direct Purchase