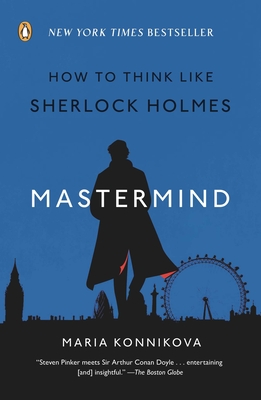 Mastermind
How to Think Like Sherlock Holmes
Paperback

* Individual store prices may vary.
Other Editions of This Title:
Digital Audiobook (1/2/2013)
Compact Disc (5/24/2016)
Paperback, Chinese (10/3/2013)
MP3 CD (1/3/2013)
Compact Disc (1/3/2013)
MP3 CD (5/24/2016)
Description
The New York Times bestselling guide to thinking like literature's greatest detective. "Steven Pinker meets Sir Arthur Conan Doyle" (Boston Globe), by the author of The Confidence Game. 
No fictional character is more renowned for his powers of thought and observation than Sherlock Holmes. But is his extraordinary intellect merely a gift of fiction, or can we learn to cultivate these abilities ourselves, to improve our lives at work and at home?
We can, says psychologist and journalist Maria Konnikova, and in Mastermind she shows us how. Beginning with the "brain attic"—Holmes's metaphor for how we store information and organize knowledge—Konnikova unpacks the mental strategies that lead to clearer thinking and deeper insights. Drawing on twenty-first-century neuroscience and psychology, Mastermind explores Holmes's unique methods of ever-present mindfulness, astute observation, and logical deduction. In doing so, it shows how each of us, with some self-awareness and a little practice, can employ these same methods to sharpen our perceptions, solve difficult problems, and enhance our creative powers. For Holmes aficionados and casual readers alike, Konnikova reveals how the world's most keen-eyed detective can serve as an unparalleled guide to upgrading the mind.
Praise For Mastermind: How to Think Like Sherlock Holmes…
"Steven Pinker meets Sir Arthur Conan Doyle in this entertaining, insightful look at how the fictional London crime-solver used sophisticated mental strategies to solve complex problems of logic and deduction…  practical and enjoyable."
—Boston Globe

"An entertaining blend of Holmesiana and modern-day neuroscience."
—New York Times
 
"A clearly written guide to the mysteries of logical deduction."
—Dallas Morning News
 
"The book is part literary analysis and part self-help guide, teaching readers how to sharpen the ways they observe the world, store and retrieve memories, and make decisions."
—Scientific American
 
"Mastermind: How to Think Like Sherlock Holmes is fascinating from cover to cover — highly recommended."
—Brain Pickings
 
"Your favorite mental short-cuts and slip-ups are all here. But Ms. Konnikova finds an ingenious delivery system. Holmes and Watson, she shows, respectively personify our rational and intuitive modes of thought. In story after story, taking the time to think carefully allows Holmes to school his slack-jawed sidekick."
—The Wall Street Journal
 
"The book is part literary analysis and part self-help guide, teaching readers how to sharpen the ways they observe the world, store and retrieve memories, and make decisions."
—Scientific American
 
"The fast-paced, high-tech world we inhabit may be more complex than Sherlock Holmes's Baker Street, but we can still leverage the mental strategies of the renowned reasoner…Forcing the mind to observe, imagine and deduce can make the brain more precise—important for solving cases or simply staying sharp as we age."
—Psychology Today
 
"Devotees of Arthur Conan Doyle's conundrum-cracker will be thrilled by this portmanteau of strategies for sharpening cognitive ability... A few hours in Konnikova's company and, along with Holmes, you might intone, 'give me the most abstruse cryptogram or the most intricate analysis, and I am in my own proper atmosphere' (The Sign of Four, 1890)."
—Nature
 
"Have you ever thought about how your mind organizes information? Have you ever wished you could access that data more quickly? Could recollect it easier? Or have you simply wanted to think more clearly at key moments?... This book is an absolute must if you're in the market for training yourself to think more like Sherlock Holmes."
—SheKnows.com
 
"A bright and entertaining how-to aimed at helping readers engage in the awareness described by psychologists from William James to Ellen Langer."
—Kirkus Reviews
 
"Not for Baker Street Irregulars alone, this fascinating look at how the mind works—replete with real-life case studies and engaging thought experiments—will be an eye-opening education for many." —Publishers Weekly (Starred Review)
 
"A delightful tour of the science of memory, creativity, and reasoning, illustrated with the help of history's most famous reasoner, Sherlock Holmes himself. Maria Konnikova is an engaging and insightful guide to this fascinating material, which will help you master your own mind."
—Steven Pinker, Harvard College Professor of Psychology, Harvard University, and author of How the Mind Works and The Stuff of Thought
 
"Far from elementary, Maria Konnikova's new book is a challenging and insightful study of the human mind, illustrated with cases from the career of Sherlock Holmes. Holmes himself would have been proud to author this fine work!"
—Leslie S. Klinger, New York Times-best-selling author/editor of The New Annotated Sherlock Holmes
 
"Maria Konnikova's bright and brilliant new book is nothing less than a primer on how be awake, a manual on how to work ourselves free of our unconscious biases, our habitual distractions, and the muddle of our everyday minds. Holmes fan or not, the reader will find Mastermind to be bracing, fascinating, and above all — and most important — hopeful."
—Daniel Smith, author of Monkey Mind
 
"Since my earliest days as a reader I dreamt of being more like Sherlock Holmes and failed miserably whenever I tried. Needless to say, MASTERMIND is the book I didn't realize I was waiting for. Maria Konnikova has crafted a surprising and ingenious book that lets us all come closer to Holmes's genius, giving a gift to all readers interested in Conan Doyle, mysteries and scientific thinking as well as those who simply want to be more self-aware about the inner workings of our minds."
—Matthew Pearl, New York Times-bestselling author of The Dante Club
 
"'You know my methods,' Sherlock Holmes once said to Dr. Watson. 'Apply them!' Science writer Maria Konnikova has made those instructions the inspiration for what turns out to be a delightfully intelligent book. Using Holmes and Watson as both muse and metaphor, she shows us some of modern psychology's most important lessons for using our minds well. I probably won't be able to solve murders after having read Mastermind, but I will have much to reflect on."
—Carl Zimmer, author of Soul Made Flesh and Parasite Rex
Penguin Books, 9780143124344, 288pp.
Publication Date: December 31, 2013
About the Author
Maria Konnikova is the author of Mastermind and The Confidence Game. She is a regular contributing writer for The New Yorker, and has written for the Atlantic, the New York Times, Slate, the New Republic, the Paris Review, the Wall Street Journal, Salon, the Boston Globe,  the Scientific American MIND, WIRED, and Smithsonian. Maria graduated  from Harvard University and received her Ph.D. in Psychology from Columbia University.