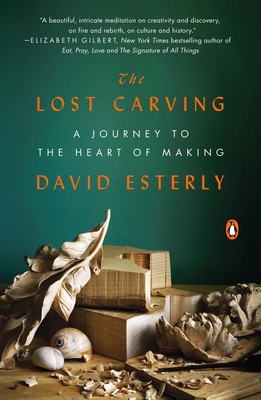 The Lost Carving
A Journey to the Heart of Making
Paperback

* Individual store prices may vary.
Other Editions of This Title:
Hardcover (12/27/2012)
Description
"A beautiful, intricate meditation on creativity and discovery, on fire and rebirth." —Elizabeth Gilbert
Awestruck at the sight of a Grinling Gibbons carving in a London church, David Esterly chose to dedicate his life to woodcarving—its physical rhythms, intricate beauty, and intellectual demands. Forty years later, he is the foremost practitioner of Gibbons's forgotten technique, which revolutionized ornamental sculpture in the late 1600s with its spectacular cascades of flowers, fruits, and foliage.
After a disastrous fire at Henry VIII's Hampton Court Palace, Esterly was asked to replace the Gibbons masterpiece destroyed by the flames. It turned out to be the most challenging year in Esterly's life, forcing him to question his abilities and delve deeply into what it means to make a thing well. Written with a philosopher's intellect and a poet's grace, The Lost Carving explores the connection between creativity and physical work and illuminates the passionate pursuit of a vocation that unites head and hand and heart.
Praise For The Lost Carving: A Journey to the Heart of Making…
"A beautifully written account of craft and inspiration."—
The New Republic 
(Best Books of 2012)
"A remarkable, beautifully written book."—The Times Literary Supplement (Best Books of 2013)
"This is a strange and wonderful book, simultaneously a meditation on the nature of making and a reflection on time. It is riveting."—Edmund de Waal,
New York Times
bestselling author of
The Hare with Amber Eyes
"David Esterly's memoir is a beautiful, intricate meditation on creativity and discovery, on fire and rebirth, on culture and history. Truly, this is a story to be pored over with love and admiration."—Elizabeth Gilbert,
New York Times
bestselling author of
Eat, Pray, Love
and
Committed
"This is a beautiful and remarkable book. David Esterly is a rare bird.  First and foremost, he is an artist and a craftsman. A virtuoso carver of wood, he makes objects of sublime beauty and accomplishment that enchant and amaze. He is also a gifted scholar. As a maker, he practices a tradition that operates, as he puts it "near the bedrock" of human cultural activity. His own story is woven through with fascinating insights into this tradition and the towering influences on his own practice. And he is a gifted writer. With the literary sensibilities of a poet, he describes how he came late upon his passion for carving and how the objects he makes take shape from the vibrant relationships between the wood, his tools and his own creative energies. Esterly writes in the same way that he carves - with a nuanced feel for structure and form, a revealing use of metaphor and an incisive sense of style.  Part cultural history, part detective story and part memoir,
The Lost Carving
will enlighten and delight anyone with a real interest in creativity, aesthetics and the human spirit."—Sir Ken Robinson,
New York Times
bestselling author of
The Element


"Every now and then there comes along a memoir that stands out for its beauty, its ability to charm, and its insights into a life given over to art. This lovely book about woodcarving is just such a work. Entrancing."—Alexander McCall Smith,
New York Times
bestselling author of
The Limpopo Academy of Private Detection


"A gripping account of the political maneuverings involved in a major restoration project and an intimate meditation on the nature and meaning of carving…Its heart lies in Esterly's moving ruminations about the spiritual value inherent in fine craftsmanship and technique…Photos of Gibbons' magnificent works enhance this romantic, lyrical prose portrait."—
Kirkus Reviews
"Esterly's masterfully witty and nuanced prose makes it clear his writing prowess is at least on par with his woodworking skills."—Carl Hays,
Booklist
"A big moment for the obscure world of wood carving."—
The Wall Street Journal
"The Lost Carving is a book about the rewards of hard work and learning to appreciate one's limits. It's also an exploration of the ways in which great art can enrich our lives in the most tangible ways. This is a serious, beautiful book."—The Boston Globe

"Profoundly satisfying. Gorgeous. The Lost Carving is a book about making, not just thinking."—Star Tribune

"Profound and wondrous. Pulled off with such fluidity. Rich in thought and lovely in style. Esterly is that uncommon thing, a visual artist who can coax as much beauty from words as he can from his primary medium. Breathtaking."—Salon.com

"A meditation on such universal issues as artisanship, creativity, and experimentation."—Fine Art Connoisseur Magazine

"[Esterly] is in love with the physicality of his art, the flowing together of hand and brain, of chisel and creativity."—The Economist
 
"As intricate as his carvings, Esterly has shaped a story that captures the effort and uncertainty that lies behind the creation of art and beauty."—Publishers Weekly
 
"[T]he lushness of Esterly's language, his passion for creation, his reverence for the physical act of work…. [He] approaches life much the way he approaches his beloved wood: with reverence, passion, and respect, but also with a sense of delight."—Philly.com
 
"The Lost Carving is beautifully written and hauntingly evocative, a graceful meditation on art and craft…and the ties that bind us to the past."—Maclean's (Canada)


 
Penguin Books, 9780143124412, 288pp.
Publication Date: December 31, 2013
About the Author
David Esterly is the author of Grinling Gibbons and the Art of Carving and curated the Victoria and Albert Museum exhibition on Gibbons in 1998. He has been a professional limewood carver since the 1970s and has been profiled in The New York Times, The New Yorker, and The Financial Times. He has written for many magazines, including The Times Literary Supplement and House & Garden. He lives in upstate New York.
or
Not Currently Available for Direct Purchase