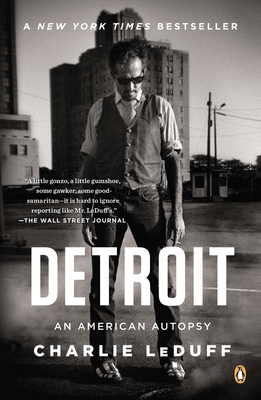 Detroit (Paperback)
An American Autopsy
Penguin Books, 9780143124467, 304pp.
Publication Date: January 28, 2014
Other Editions of This Title:
CD-Audio (5/21/2013)
Hardcover (2/7/2013)
* Individual store prices may vary.
Description
An explosive exposé of America's lost prosperity by Pulitzer Prize­–winning journalist Charlie LeDuff
 
Back in his broken hometown, Pulitzer Prize-winning journalist Charlie LeDuff searches the ruins of Detroit for clues to his family's troubled past. Having led us on the way up, Detroit now seems to be leading us on the way down. Once the richest city in America, Detroit is now the nation's poorest. Once the vanguard of America's machine age—mass-production, blue-collar jobs, and automobiles—Detroit is now America's capital for unemployment, illiteracy, dropouts, and foreclosures. With the steel-eyed reportage that has become his trademark, and the righteous indignation only a native son possesses, LeDuff sets out to uncover what destroyed his city. He beats on the doors of union bosses and homeless squatters, powerful businessmen and struggling homeowners and the ordinary people holding the city together by sheer determination. Detroit: An American Autopsy is an unbelievable story of a hard town in a rough time filled with some of the strangest and strongest people our country has to offer.
About the Author
Charlie LeDuff is a Pulitzer Prize–winning journalist, formerly at the New York Times and the Detroit News, and currently on Detroit's Fox 2 News. He is the author of Sh*tshow!: The Country's Collapsing . . . and the Ratings Are Great, US Guys and Work and Other Sins. He lives near Detroit.
Praise For Detroit: An American Autopsy…
"LeDuff returns, by the books end, to the bar where his sister was last seen, only to find it unrecognizable. A black man outside explains the changes. 'they trying to put something nice up' in this hellhole he says, speaking of the bar specifically, though his words spread across the city and pay tribute, in equal measure, to its dreamers, its pessimists and to those, resigned and wrung out, who love it despite all. 'Can't say it's working. But what you gonna do? You ain't gonna be reincarnated, so you got to do the best you can with the moment you got. Do the best you can and try to be good.' LeDuff has done his best, and his book is better than good."
—Paul Clemens, New York Times Book Review

"One cannot read Mr. LeDuff's amalgam of memoir and reportage and not be shaken by the cold eye he casts on hard truths... A little gonzo, a little gumshoe, some gawker, some good-Samaritan—it is hard to ignore reporting like Mr. LeDuff's."
—The Wall Street Journal

"Pultizer-Prize-winning journalist LeDuff (Work and Other Sins) delivers an edgy portrait of the decline, destruction, and possible redemption of his hometown…LeDuff writes with honesty and compassion about a city that's destroying itself–and breaking his heart."
—Publishers Weekly, STARRED REVIEW

"A book full of both literary grace and hard-won world-weariness…. Iggy Pop meets Jim Carroll and Charles Bukowski"
—Kirkus

"This is our pick for a sleeper nonfiction hit next year. Charlie LeDuff is a remarkable journalist, and this book is filled with incredible writing as he witnesses his home city crumble through neglect and corruption."
—Huffington Post

"What to do when you're a reporter and your native city is rotting away? If you're LeDuff, you leave The New York Times and head into the wreckage to ride with firemen, hang with the corrupt pols, and retrace your own family's sad steps through drugs. Others have written well about the city, but none with the visceral anger, the hair-tearing frustration, and the hungry humanity of LeDuff."
—Newsweek

"You wouldn't think a book about the stinking decay of the American dream could be this engaging, this irreverent, this laugh-at-loud funny. But not everyone can write like Charlie LeDuff. I'm tempted to say he's the writer for our desperate times the way Steinbeck and Orwell were for other people's desperate times, except he's such an original he's like no one but himself."
—Alexandra Fuller, author of Cocktail Hour Under the Tree of Forgetfulness and Don't Let's Go to the Dogs Tonight

"Charlie LeDuff is a drunkard, a blowhard, a Fox News Reporter -- and a brilliant writer. Detroit is full of righteous anger and heartbreaking details. It's also funny as hell. Hunter S. Thompson would've loved every page of this book."
—Eric Schlosser, author of Fast Food Nation and Reefer Madness

"In Detroit: An American Autopsy, Charlie LeDuff brings alive the reality of our beloved city. The city where I was shot at eight times during my twenty six year police career. Yet, Detroit has survived in spite of corruption, political ineptness, poor education, and decades of unemployment. Detroit: An American Autopsy is a must read for all of America."
—Detroit Police Chief Ike McKinnon (retired); Associate Professor of Education, University of Detroit Mercy