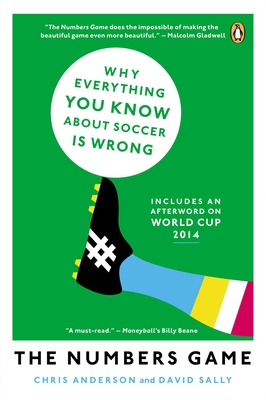 The Numbers Game
Why Everything You Know About Soccer Is Wrong
Paperback

* Individual store prices may vary.
Description
Moneyball meets Freakonomics in this myth-busting guide to understanding—and winning—the most popular sport on the planet.

Innovation is coming to soccer, and at the center of it all are the numbers—a way of thinking about the game that ignores the obvious in favor of how things actually are. In The Numbers Game, Chris Anderson, a former professional goalkeeper turned soccer statistics guru, teams up with behavioral analyst David Sally to uncover the numbers that really matter when it comes to predicting a winner. Investigating basic but profound questions—How valuable are corners? Which goal matters most? Is possession really nine-tenths of the law? How should a player's value be judged?—they deliver an incisive, revolutionary new way of watching and understanding soccer.
Praise For The Numbers Game: Why Everything You Know About Soccer Is Wrong…
"The Numbers Game does the impossible of making the beautiful game even more beautiful." - Malcolm Gladwell, author of The Tipping Point and Blink

"Chris Anderson and David Sally have the ability to see football in a way few have before them. Be warned: The Numbers Game will change the way you think about your favorite team or player, and the way you watch the beautiful game." – Billy Beane, Manager of the Oakland A's and subject of Moneyball
 
"I learned a lot, and it's hard not to applaud a project that is bent on the disenchantment of football's internal conversations and archaic practices, while simultaneously acknowledging an ineradicable core of the unpredictable and random at its heart." - David Goldblatt, author of The Ball Is Round: A Global History of Soccer for the Times Literary Supplement

"…North American soccer fans would do very well to pick up this book.  It will not only help them understand the game better, but it will also stimulate new ways to analyze and think about the game."  – Forbes
  
"[This] is the book that could change the game forever." – The Times (London)
   
"By any standards, this is a landmark book, scrupulously researched and bound to be influential." – Booklist (starred review)

"Witty and thoughtful…should appeal not just to soccer fans, but to readers of Malcolm Gladwell and Freakonomics." – Kirkus Reviews

"Their rather innovative and revolutionary way of looking at the game makes for fascinating reading." - The Library Journal

"A highly original contribution to our understanding of what we are seeing at a match, their book is unbeatable" – The Independent on Sunday
 
"Pundits, armchair fans and professionals, will find that several of their long-cherished truisms are not true at all." – The Guardian
 
"Superb" – GQ
Penguin Books, 9780143124566, 400pp.
Publication Date: July 30, 2013
About the Author
Chris Anderson is a pioneer of soccer analytics and a professor at London School of Economics in the U.K. and Cornell University in the U.S.

David Sally is a professor at the Tuck School of Business at Dartmouth.
or
Not Currently Available for Direct Purchase