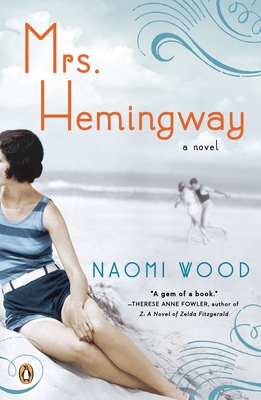 Mrs. Hemingway (Paperback)
A Novel
Penguin Books, 9780143124610, 336pp.
Publication Date: May 27, 2014
Other Editions of This Title:
Digital Audiobook (5/26/2014)
Pre-Recorded Audio Player (6/2/2014)
Compact Disc (5/27/2014)
MP3 CD (5/27/2014)
Compact Disc (5/27/2014)
Hardcover, Large Print (12/1/2014)
* Individual store prices may vary.
Description
The Paris Wife was only the beginning of the story . . .
A New York Times Book Review Editor's Choice
A Richard & Judy UK Pick

Paula McLain's New York Times–bestselling novel piqued readers' interest about Ernest Hemingway's romantic life. But Hadley was only one of four women married, in turn, to the legendary writer. Just as T.C. Boyle's bestseller The Women completed the picture begun by Nancy Horan's Loving Frank, Naomi Wood's Mrs. Hemingway tells the story of how it was to love, and be loved by, the most famous and dashing writer of his generation. Hadley, Pauline, Martha and Mary: each Mrs. Hemingway thought their love would last forever; each one was wrong.

Told in four parts and based on real love letters and telegrams, Mrs. Hemingway reveals the explosive love triangles that wrecked each of Hemingway's marriages. Spanning 1920s bohemian Paris through 1960s Cold War America, populated with members of the fabled "Lost Generation," Mrs. Heminway is a riveting tale of passion, love, and heartbreak.
About the Author
Naomi Wood was awarded the 2012 inaugural Eccles Centre British Library Writer in Resident Award. She is the Young Patrons Ambassador at the British Library and teaches at the University of East Anglia. She lives in London. Mrs. Hemingway is her American debut.
Praise For Mrs. Hemingway: A Novel…
Praise for
Mrs. Hemingway 
***A Harper's Bazaar (UK) Best Book of 2014***
***A Stylist Magazine (UK) Best Book of 2014***
***A Richard & Judy (UK) Pick in 2015***

"Magnetic… assembles a satisfying puzzle of personalities, bringing each relationship's beginning, end and overlap into vivid focus."
—Leisl Schillinger, The New York Times Book Review

"[A] compelling fictionalization of Ernest Hemingway's four marriages. . . . We see [the women] interacting, often even liking each other -- but the frustrations and heartbreaks are just as present, giving 'Mrs. Hemingway' a frisson of constant conflict . . . It's a heady time, and Wood nails it."
— The Boston Globe

"Puts imaginative flesh on the bones of what we know about [Hemingway]. . . .   [and] suggests that he was not as brutish as he is sometimes portrayed." — USA Today

"So beautifully written and evocative that I could not put it down."
—Jojo Moyes, New York Times bestselling author of Me Before You

"Finally, all four women who married the Great American Novelist get to tell their sides of the story."
— Good Housekeeping
 
"Wood has given us a fascinating, astutely observed, gorgeously written account of the Hemingway wives and their charismatic, enigmatic, troubled and troublesome husband. This is a gem of a book."
—Therese Anne Fowler, New York Times bestselling author of Z: A Novel of Zelda Fitzgerald
 
"Naomi Wood's absorbing, illuminating novel offers fascinating portraits of four extraordinary women and the tortured literary genius who loved them. If you thought you knew all there was to know about Ernest Hemingway's wives, their passions, and their heartbreak, think again."
—Jennifer Chiaverini, New York Times bestselling author of Mrs. Lincoln's Dressmaker and Mrs. Lincoln's Rival
 
"With remarkable insight and boldness, Naomi Wood brilliantly takes on one of history's most remembered writers and the women who loved him. Obsessively readable, fascinating, and heartbreaking, Mrs. Hemingway captures a time and people in a style the legend himself would no doubt admire."
—Erika Robuck, bestselling author of Hemingway's Girl
 
"Forget everything you thought you knew about Ernest Hemingway's four wives.  In a quartet of searing interlocked portraits, Naomi Wood brings vividly to life the real women who loved and lost the legendary charmer and great writer.  Mrs. Hemingway is a luminous heartbreaking novel.  Wood is a writer to watch."
—Ellen Feldman, Orange Prize-shortlisted author of Lucy
 
"A detailed and deeply affecting account of the complex relationship between love and work."
—Ian Sansom, author of The Case of the Missing Books
 
"It's superb, everything about it - the sentences, details, dialogue, but also the architecture, the way it's built. It flirts with all that's already known, but the women feel real and fresh, and through their eyes so does Hemingway."
—Andrew Cowan, author of Pig
 
"Luminous, intoxicating…A passionate novel based on real lives, full of betrayals and moments of heartbreaking intimacy as Wood gives four remarkable women star billing."
—Marie Claire (UK)
 
"Readers who enjoyed Loving Frank and The Paris Wife will adore this ideal summer read. Seamlessly blending known facts with fiction, Mrs. Heminway is an absorbing, tender glimpse inside the lives of those in Hemingway's inner circle."
—Booklist

"Well researched . . .  interesting . . . [and] cleverly done."
—Literary Review (UK)
 
"Exquisitely written, the Mrs. Hemingways finally have their say in this beautiful novel."
—Stylist Magazine (UK)
 
"A beautiful read and an amazing insight into the life of the man . . . superb."
—Red (UK)
 
"Very occasionally, a piece of fiction based on facts is so good that I catch myself thinking: 'Oh, so that's how it really was.' Wood achieves this in this breathtakingly good look at the lives of Ernest Hemingway's four wives . . . . Sublime."
—The Bookseller (UK)