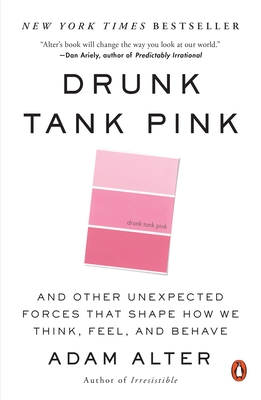 Drunk Tank Pink (Paperback)
And Other Unexpected Forces That Shape How We Think, Feel, and Behave
Penguin Books, 9780143124931, 272pp.
Publication Date: February 25, 2014
Other Editions of This Title:
Hardcover (3/21/2013)
Paperback, Chinese (10/28/2013)
* Individual store prices may vary.
Description
A New York Times bestseller! 

A revelatory look at how our environment unconsciously yet dramatically shapes the judgments and decisions we make every day

Most of us go through life believing that we are in control of the choices we make—that we think and behave almost independently from the world around us. But as Drunk Tank Pink illustrates, the truth is our environment shapes our thoughts and actions in myriad ways without our permission or even our knowledge. Armed with surprising data and endlessly fascinating examples, Adam Alter addresses the subtle but substantial ways in which outside forces influence us—such as color's influence on mood, our bias in favor of names with which we identify, and how sunny days can induce optimism as well as aggression. Drunk Tank Pink proves that the truth behind our feelings and actions goes much deeper than the choices we take for granted every day.
About the Author
Adam Alter is an associate professor of marketing at New York University's Stern School of Business. He is the author of the New York Times bestseller, Drunk Tank Pink: And Other Unexpected Forces That Shape How We Think, Feel, and Behave, and has written for the New York Times, New Yorker, Atlantic, WIRED, Slate, Washington Post, and Popular Science, among other publications.
Praise For Drunk Tank Pink: And Other Unexpected Forces That Shape How We Think, Feel, and Behave…
"Alter not only explains the source of many cognitive quirks, but convincingly argues that comprehending them affords a better understanding of broader behaviors, from cyclical poverty to altruism... In Alter's hands, case studies take on new life... fluently moves between psychology, medicine, and cultural history, offering surprises to readers at many levels of expertise."
—Publishers Weekly

"Solid, down-to-earth insights into why we think, feel and act the way we do."
—Kirkus

"In this fascinating book, Adam Alter tells us about the forces that shape our thoughts and actions. More than you would ever imagine, your life is influenced by factors such as the first letter of your name, the average climate of our country, and whether you are in the presence of the color pink. With remarkable clarity and subversive humor, Alter presents a radical new perspective on human nature."
—Paul Bloom, author of How Pleasure Works
 
"Adam Alter has collected the most wonderfully strange and surprising nuggets of recent psychological research in one book. I guarantee you'll be want to share the incredible anecdotes in Drunk Tank Pink with friends."
—Joshua Foer, New York Times bestselling author of Moonwalking with Einstein
 
"Drunk Tank Pink is a smart and delightful introduction to some of psychology's most curious phenomena and most colorful characters."
—Daniel Gilbert, New York Times bestselling author of Stumbling on Happiness
                                                                                                                              
"Reading Adam Alter's book will change the way you look at our world. Seemingly banal things will begin to mean more than you ever realized."
—Dan Ariely, New York Times bestselling author of Predictably Irrational
 
"You'll laugh, you'll gasp, you'll shake your head in disbelief as Alter shows you that we are all, to some degree, balls in a giant pinball machine. If you want to see the bumpers—and regain some control of your destiny—read this delightful book."
—Jonathan Haidt, Author of The Righteous Mind
 
"A fascinating compendium of the hidden currents that influence our thoughts, beliefs, and actions."
—Gary Marcus, New York Times bestselling author of Guitar Zero
or
Not Currently Available for Direct Purchase