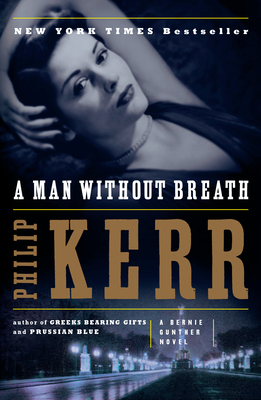 A Man Without Breath (Paperback)
Penguin Books, 9780143125136, 465pp.
Publication Date: March 25, 2014
Description
The New York Times-bestselling author of Prague Fatale and Field Gray is "in a league with John le Carre" (The Washington Post) Berlin, March 1943. A month has passed since Stalingrad and morale is low. Then Berlin learns of a Red massacre of Polish troops near Smolensk. In a rare instance of agreement, both the Wehrmacht and Propaganda Minister Goebbels want irrefutable evidence of this Russian atrocity. And so Bernie Gunther is dispatched. In Smolensk, Prussian aristocrats look down at the wise-cracking Berlin bull. But Bernie doesn't care about fitting in. He only wants to uncover the identity of a savage killer--before becoming a victim himself.
About the Author
Philip Kerr is the New York Times-bestselling author of the Bernie Gunther series. He is also the author (as P. B. Kerr) of the young adult series Children of the Lamp. He lives in London.
Praise For A Man Without Breath…
Praise for A Man Without Breath
 
"This is the most intelligent brand of crime fiction, and there is moral complexity here in spades."—The Daily Beast
 
"An engrossing story."—South Florida Sun-Sentinel
 
"A Man Without Breath is a masterful accomplishment that delivers a gripping mystery wrapped around meticulously researched history…It brings the deadly past to life."—The Arizona Republic

"By the time we have reached the 465th and final page we have had not only a stirring novel of World War II, but a deep immersion into the war's history. Let's hear it for a Gunther Novel No. 10!"—Express Milwaukee

"Kerr just keeps raising the ante with this series. And this is the best book yet."—Dayton Daily News
 
"One of these days World War II will come to an end, and then how will we manage without Bernie Gunther, the cynical Berlin cop who has somehow contrived to stay alive and retain some vestige of personal integrity in Philip Kerr's harrowing historical thrillers?"—The New York Times Book Review
 
"This ninth Bernie Gunther tale (after Prague Fatale) focuses on two months of 1943, mixing real-life characters with fictional ones. Kerr's historical knowledge and writing skills merge these elements seamlessly in a gripping story of murder, but it is Bernie who holds it all together even as he questions the absurdity of attempting normalcy during war. Mystery, historical fiction, and military history buffs will join existing Bernie fans in welcoming this latest installment in the series."—Library Journal
 
"Captivating . . . Kerr makes everything look easy, from blending history with a clever and intricate whodunit plot to powerful descriptions of cruelty."—Publishers Weekly (starred review)
 
"Kerr's sketch of Goebbels dazzles. The author pulls the reader down into the dark underground of Der Führer's rabbit hole of totalitarian horror . . . [A Man Without Breath] masterfully explores morality's shadowy gray edge."—Kirkus
 
 
Advertisement