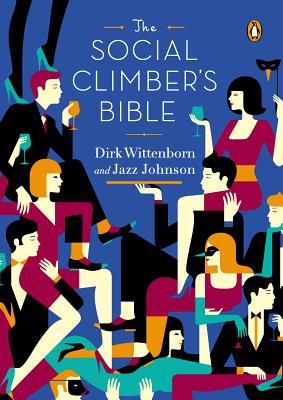 The Social Climber's Bible (Hardcover)
A Book of Manners, Practical Tips, and Spiritual Advice for the Upwardly Mobile
Penguin Books, 9780143125204, 320pp.
Publication Date: October 28, 2014
* Individual store prices may vary.
Description
Welcome fledging Social Climbers! Allow us to show you the way.
Birds do it, bees do it, even educated fleas do it, so what's the big deal? You shouldn't be punished for wanting to improve your lot in life! This is America, after all. 
Johnson & Johnson heiress Jazz Johnson is a lifelong insider in that rarefied world that fans of both
Downton Abbey
and
Gossip Girl
dream about. Raconteur Dirk Wittenborn is old enough to remember when sex was safe and cocaine wasn't addictive. In short, Jazz belongs to some of the most exclusive clubs in the world, whereas Dirk has been kicked out of them. Who better to guide you?
In the grand tradition of 
True Prep
 and
 The Hipster Handbook,
The Social Climber's Bible
 will teach you everything you need to know to become a pro Mountaineer:
The Art of Social Climbing at gallery openings, cocktail parties, and funerals
Social Climbing as a family
How to handle sex, dating, marriage, and love
Your social climbing IQ and how to improve it
How to spot a Big Fish, Whale, Turtle or Unicorn, and what they can do for you
About the Author
Jazz Johnson is the daughter of James L. Johnson and Gretchen Wittenborn Johnson. She manages her family's estate in New Jersey and raises heritage breed turkeys.

Dirk Wittenborn is a screenwriter, producer, and the author of Pharmakon and Fierce People. He lives in Brooklyn and summers on the wrong side of the tracks in East  Hampton.
Praise For The Social Climber's Bible: A Book of Manners, Practical Tips, and Spiritual Advice for the Upwardly Mobile…
"Any social climber coming to America should read this hilarious book on the plane in. Jazz & Dirk will show you how to win friends, influence people and never have to fly commercial again." – Plum Sykes

"This will be a big hit for the young professional crowd…Wryly clever…" - The Library Journal


"Savagely funny and brilliantly observed: a how-to manual for social climbers with a sting in its tale.  Swiftian satire at its best." – Andrew Scull, Distinguished Professor of Sociology